Blood drives save lives
Though it looks a little different when compared to the past, blood donation is still important and is needed now more than ever.
With the continued threat of the COVID-19 virus, many blood drive organizations are facing the challenge of losing donations. Between the shortage of donors and the increased demand for blood, the responsibility of donation falls to the community and its members.
Many people, whether it is because they are sick or are simply too cautious to risk donation, are steering away from donating blood during the pandemic. Though this is understandable, BHS medical-related careers teacher Heather Frey continues to encourage those who can to donate.
"We never know when a family or friend would need blood. It could happen to any one of us at any time," said Frey. "Donating blood ensures that there is enough of a supply to be available when those critical times arise."
Frey has been a long-time supporter and donor of blood and is no stranger to the typical process one goes through. 
"The first thing that happens is that you have to fill out a questionnaire online or answer questions with the phlebotomist. They will also take your vital signs and will poke your finger to check your hemoglobin," Frey said. "If all of that is good, they will take you to the donation room, where they give you a snack and water. They will put your feet up – you can watch TV or look at your phone."
After the preparation process is complete, they will proceed with drawing the blood, which can take anywhere from 10 to 20 minutes.
"They will put a tourniquet on your arm and find a vein to put the needle in. Once the needle is in and hooked up to a bag, you will squeeze a ball every few seconds. The needle will be in your arm until the bag is full, [equal to] about a pint of blood. The needle is in your arm [for] about 10 to 20 minutes. They will take out the needle, you will rest for a few minutes, then you will go to the waiting area and eat snacks. You will wait there for about 15 minutes to make sure that you're not feeling light-headed, then you're free to go!" said Frey.
Frey has donated at least 20 times in her life and has found the motivation to continue doing so in an unlikely place.
"I have been donating blood every year on my birthday. It is strange, but I was inspired to do so in honor of the people who are fighting to see more birthdays," Frey said.
But before one can go to donate, there are a few requirements that need to be met in order to be eligible.
"You need to be 16 and have a parent's signature. Once you're 18, you won't need a parent's signature. Donors also need to weigh at least 110 lbs and be in generally good health," said Frey. "You should also not donate while you are sick."
For those who are eligible, donations can take place at Vitalant Bismarck Donation Center, 517 S. 7th St. Bismarck, or at Biolife Plasma Service, 1800 Burnt Boat Road Bismarck. Since the experience varies from person to person, professionals are there through the entire process to make sure everything goes accordingly.
"I imagine that it is different for every person," BHS FACS teacher Alexis Heaton said. "Regardless of what experience anyone may have, the professionals there are so kind and understanding to help with any complication that may arise. You feel like you are in good hands."
Though the process is usually straightforward for most who donate, the coronavirus continues to discourage potential donors, resulting in a critically low blood supply.
"Less people are donating this year due to COVID," said Frey. "There are less blood drives because of all of the restrictions, and as a result, blood supplies are critically low."
Due to the coronavirus, many organizations have made some changes to ensure the safety of everyone involved and to prevent the spread of the virus further.
"I was able to donate early during the pandemic," Frey said. "It was very similar to the regular process, but masks and social distancing were enforced. They are now doing COVID-19 antibody tests to see if you've already had COVID-19."
Despite the fears and changes, some people are still finding ways to donate and encourage others to do so, including in-school blood drives.
"Look for the blood drive at the high school when they are able to continue having those. Otherwise, you can go to the Vitalant website to create an account and schedule an appointment," said Heaton. "It is a very easy and seamless process. If you have any questions too, you can call and ask. The workers there are very kind and able to help with any questions you may have."
Though organizations may continue to struggle with fewer donations, many people can still agree upon the importance of donation. Some are even using the virus as motivation to donate.
"It is extremely important to donate blood because we never know when you or someone you love will need it," said Frey. "It just reminds me that it is more critical than ever to donate right now."
Leave a Comment
Your donation will support the student journalists of Bismarck High School. Your contribution will allow us to purchase equipment and cover our annual website hosting costs.
About the Contributor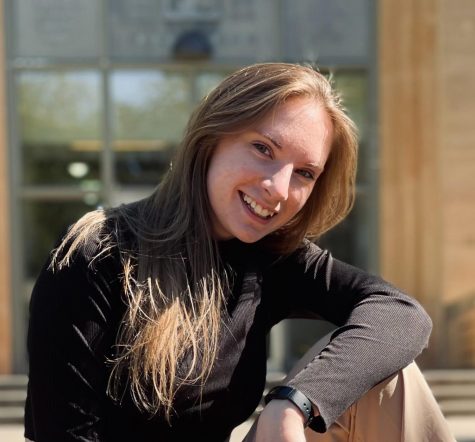 Becky Riepl, Editor-in-Chief
With a passion for the humanities, Rebecca is an art and literature-loving food aficionado. She loves to travel and try new things and is a certified knowledge...