Looking ahead
COVID-19 has changed how many people think about applying for college and obtaining a job, but seniors in AVID are grateful for everything that they have learned from the college and life preparation class.
After four years of preparing for life after high school, seniors in the AVID (Advancement Via Individual Determination) program are preparing to begin the next chapter of their lives – in the midst of a pandemic that has altered the college application process, testing availability and sometimes even the job prospects of students across the nation.
Regardless of the current disturbances, experiences gained in AVID are useful for students both in a pandemic and post-pandemic world.
"To me, AVID is way more than just a college class," BHS senior Alijah Kieffer said. "It's kind of an adulting class, with budgeting and even perseverance and things that will help me not only push through college but to push through life as well."
In addition to teaching skills that can be valuable long into the future, AVID classes engage in useful college preparation activities. Therefore, when the pandemic hit and most in-person campus tours were canceled, AVID students had already participated in various types of college events. 
"I did plan on visiting a college or two.  I wasn't quite sure which ones, but after the pandemic happened, it nullified those opportunities. But I had managed to get some college tours in my past high school experience [through AVID]," BHS senior John Johnson-Ripplinger said.
Even now, AVID classes are still engaging in college and life preparation, with a few modifications. For example, the variety of speakers who typically visit AVID classrooms must present virtually this year, and all other college activities must take the same route. Since the beginning of the pandemic, Johnson-Ripplinger has engaged in three virtual college information events, two of which took place through AVID.
"One of [the virtual sessions] that I visited was BSC because I wanted to see how it compared to the actual visit of BSC that I've done before," Johnson-Rippinger said. "I thought it definitely gave good information about the college, but it still didn't feel as personal as when you go there in person and view it."
In addition to changing the ways they market to students, many colleges have restructured their applications to eliminate the standardized test score requirement. When the seriousness of the pandemic became apparent last March, testing centers across the country shut down, preventing many students from taking or retaking tests such as the ACT and SAT. High school students across ND took the state-wide test in March, but some students in other states did not have this opportunity, while others took extreme measures in order to access tests.
"I heard of people who were driving like 12 hours to take the ACT. I'm going to look it up and make sure that I don't have to drive a really long way," Kieffer said. "I'm okay with my ACT score, but it could definitely be better. At this point, [improving my ACT score] would definitely benefit me in scholarships."
In order to compensate for making test scores optional, some colleges require students to submit another essay or even engage in an interview with admissions officers. Most schools claim that choosing to forgo submitting test scores will not impact the chances of admission, but students are concerned nonetheless.
"I had planned on retaking [the ACT], but because of the whole COVID pandemic, I don't think I will be taking it anymore just because of my other things in school that have been affected," Johnson-Ripplinger said. "I think it will affect me personally on being able to get into the schools that I want. Because even though a lot of schools aren't requiring you to take the test in order to submit [an application], you have to look better in a lot of other ways, which is very difficult if you aren't as good in writing essays or other things."
In addition to academic hardships, the pandemic also presents non-school-related challenges for AVID seniors. According to the official AVID website, students in the program are primarily from low-income or underrepresented backgrounds, which can put them at higher risk of financial disruption due to economic fallouts and similar circumstances.
"I basically live in a single-income household with my mom," Kieffer said. "It is a little tough because she works in healthcare, so I have to be super careful because I don't want to bring corona. She has to be super careful because if she gets corona, that's her whole job for at least two weeks."
Both Kieffer and Johnson-Ripplinger live with parents whose careers primarily involve interacting with people, who are sometimes medically fragile. Johnson-Ripplinger's mother is employed by Pride, a social services organization that assists individuals in the Bismarck area who have special needs or require help with their daily activities. Due to this, Johnson-Ripplinger is especially cautious about COVID-19.
"If I got COVID and then gave it to my mother, she would have to be out of work for two weeks or longer until it got out of her system," Johnson-Ripplinger said. "If it wasn't caught right away, it could spread to the people that she works with."
Losing the ability to work due to a COVID infection or suspected close contact is financially daunting for some parents, especially those who are preparing to send their children to college this year. However, Kieffer does not plan to let her parents pay for her college education, instead opting to fund her own through a combination of scholarships and jobs.
"I feel that [the pandemic] won't affect my college cost just because I always knew that I kind of wanted to be independent and do it by myself, and my parents kind of raised me with that notion that I was going to pay for college myself," Kieffer said.
This is just one example of AVID encouraging students to be organized and plan ahead. Since sophomore year, Kieffer has aspired to attend Bismarck State College, then North Dakota State University, for two years each, followed by a career as a nurse anesthetist. Despite the turmoil incited by the pandemic, Kieffer is sticking with her plan.
"I've actually applied to my college already – and I am currently applying for the FAFSA right now – but I already got accepted to BSC," Kieffer said. "It was mainly because I was notified in AVID that we were going to be applying in English. We stay on top of that."
Another impact of the pandemic includes changes to the job marketplace. Kiefer's desired career field may actually expand as a result of the pandemic, but regardless of whether this occurs, demand for nurse anesthetists still currently outweighs supply.  
"I hope that in six years this is all cleaned up, but if it isn't, I definitely don't think [that the pandemic will impact my ability to get a job after college]," Kieffer said. "Even without the pandemic, the medical field needs so many more workers, especially nurse anesthetists."
Another thing that the pandemic has not decreased for either senior is their desire to earn a post-secondary degree. AVID encourages students to overcome obstacles, whether they are financial challenges, family circumstances or global pandemics.
"I plan on going to college and becoming a chemical engineer," Johnson-Ripplinger said. "My plans haven't necessarily changed at all due to the pandemic.  It hasn't changed in such a big way that it would prevent my wanting to go to college."
Whether the world is adapting to a plethora of changes induced by a pandemic or proceeding as typical, the skills that result from participation in AVID will serve these seniors well in college – and beyond.
"Without the pandemic, it's still super helpful," Kieffer said. "I'm such a different person today than I was when I started school, and I'd like to put a lot of that towards AVID. I'm very thankful for it."
Leave a Comment
Your donation will support the student journalists of Bismarck High School. Your contribution will allow us to purchase equipment and cover our annual website hosting costs.
About the Contributor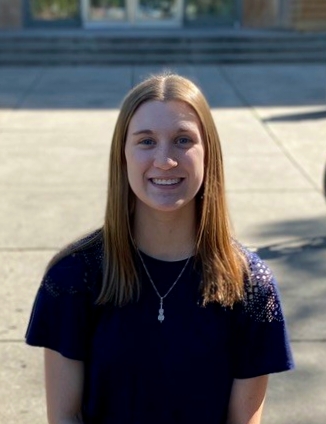 Mackenzie Swenson, Co-Editor
When she is not living and breathing schoolwork, Mackenzie enjoys playing the cello and working at North Dakota's only science museum. Her seemingly unrelated...