Back out of the classroom?
As one might imagine, this school year has looked a little different than those of the past – but what impact is the virus really having within school walls?
With the continued threats of the COVID-19 virus, many North Dakota schools are facing the challenges of teacher absences. Between the shortage of subs and the ever-increasing case numbers in the state, they are having to find creative ways to manage the effects of COVID within schools.
Many teachers, whether it is because they are close-contacts or have tested positive themselves, are having to quarantine. Consequently, this is having a big impact on both students and staff alike.
"I think it's been tough just to stay motivated when your teacher isn't there," BHS science teacher Lindsey Rau said. "So many things are changing."
Though they are still finding ways to virtually hold classes, many teachers in quarantine are finding that communication is the most challenging part.
"I had to post, email an
d text all my information to the students." BHS math teacher Tara Brenden said. "Communication is the most valuable thing when you are unable to see the students, so I had to make sure the students knew what was going on and where they needed to be."
Another challenge that teachers are facing is the indirect impact that the virus is having on student learning. Without the in-person instructions they have grown accustomed to, both students and staff are finding it hard to revert fully back to technology.
"I think this is hard for everyone." BHS AP environmental science student Kayley Wachter said. "I'm a big hands-on learner, so with no interaction and fewer students, it's definitely harder."
In years past, finding substitutes for classrooms when teachers were gone was not always an impossible task, but now, with the recent pandemic spreading, there are some obstacles.
"This year, we have a few building substitutes that have been assigned to the school," Rau said. "This prevents subs from going from one school to the next and potentially increasing exposure."
Without the stress of having to find their own subs, many teachers are enjoying the assigned subs to classrooms. However, it is a different story for the secretaries.
"This has been really nice because teachers don't have to worry about trying to find a sub but also gets really difficult for our secretaries when they are trying to prioritize which classes are going to get a sub that day," Rau said.
With the seemingly ever-rising cases of teacher absences and the strained substitute situation, schools are having to find new solutions for what to do with student
s in unsupervised classrooms.
"Only if we do not have enough people to sub is when students are sent to the commons to work," said Rau."But this is all up to the secretaries who assign the subs."
But, just because students are being sent to the commons does not mean they are not participating in classwork. Many students are still expected to log onto meetings or complete their tasks for that day.
"We have google meets every day, but it's not the same as in-person," Wachter said.
However, as with anything, there are some problems arising for students sent to the commons. With so many teachers out and a lack of substitutes to fill classrooms, many students are being sent to the lunchroom for classes, causing it to become noisy and crowded quite often.
"I don't mind going to the commons, but it can get super nosy at times and it bothers me," Wachter said. "I like how comfy the booths are and how homey it is, but it's just too crowded and too noisy."
Despite the many hurdles be
ing faced by both staff and students alike, one thing is for certain – their sense of optimism and high-spirits cannot be crushed by this impossible year.
"We will come out stronger," Brenden said. "We will have learned to adapt, be more patient and accept change more than ever before because of this difficult time."
Leave a Comment
Your donation will support the student journalists of Bismarck High School. Your contribution will allow us to purchase equipment and cover our annual website hosting costs.
About the Contributor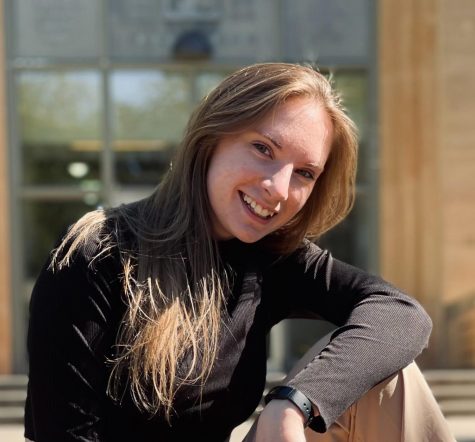 Becky Riepl, Editor-in-Chief
With a passion for the humanities, Rebecca is an art and literature-loving food aficionado. She loves to travel and try new things and is a certified knowledge...