Staying motivated
Recently, high school school winter sports and extracurricular activities K-12 were suspended due to COVID-19. Although some of the restrictions have been lifted, Governor Doug Bergum enforced no sport competitions until Dec. 14. For high school athletes affected by these changes, it is important to stay motivated into the unknown seasons.
Keeping athletes motivated could be a challenging thing for coaches during these uncertain times. Sports practices and games have been impacted by COVID-19 restrictions, but athletes are trying to keep their spirits up.
Mark Lardy has been coaching for Bismarck High School's wrestling team since 2002. He started as a volunteer coach and has now been the Co-Head Coach for three years.
"When I first heard the news [about the restrictions], I was shocked, and knew I was going to have to keep my athletes focused," Lardy said. "I have told and will continue to tell my athletes to be grateful for every day they come to practice and give it their all."
This suspension on winter sports happened one week into practices. For sports teams, it can be helpful to have good team dynamics. A two-week time period can hinder the development of individual athletes and teams. 
"Our team finds its motivation within each other. The girls are close and have good positivity" Bill Shetler, the Head Coach of the BHS girls basketball team, said. "Every time we get a chance to step on the court, we know that there is something to improve, and that has kept our spirits up and motivation up."
  Athletes can find comfort and stay motivated through each other as well. To have strong leadership on teams can be very beneficial. Teammates can make goals for each other to help them push forward in the season.
"We want to stay positive and get back to where we were last season before the state tournament got shut down," BHS senior Boys Basketball Guard Gunner Swanson said. "This means everybody has to work hard and push each other."
Even though the full suspension on sports has been lifted, there are now more restrictions. This includes having few – if any- game vouchers. The goal for this is to help prevent the spread of COVID.
"Any time people come together and gather, there is a risk of COVID," Lardy said. "There are many limits being put on our sports, [so] it is important to not take the days we can practice and compete for granted."
The athletes' safety has been a great concern for couches and parents. The use of masks during practice has been improved as well. Athletes and coaches are recommended to wear them throughout practice. 
"We wear our masks pretty much the whole practice unless we are guaranteed 6 feet apart or at water breaks," Swanson said.
To stay positive can be a difficult task right now for many athletes  – and people in general. Keeping a team's or individual's motivation high can be challenging, but it might be necessary.
"We know that the season is precious and can be taken away at a moment's notice," Shetler said. "We're also making sure we get the most out of every opportunity that we get to be a part of this amazing team."  
Leave a Comment
Your donation will support the student journalists of Bismarck High School. Your contribution will allow us to purchase equipment and cover our annual website hosting costs.
About the Writer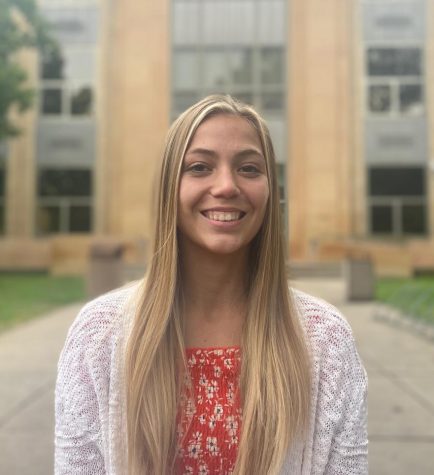 Gabrielle Gannon, Business Manager
Gabrielle enjoys running cross country and dancing when she is not in school. In her free time you can catch her hanging out with friends and family, or...