Finish the job
Last March, the BHS boys basketball team were in the state tournament semifinals before the completion of the tournament was canceled due to COVID-19. This year's team is looking to finish this job this time around with the opportunities they are given.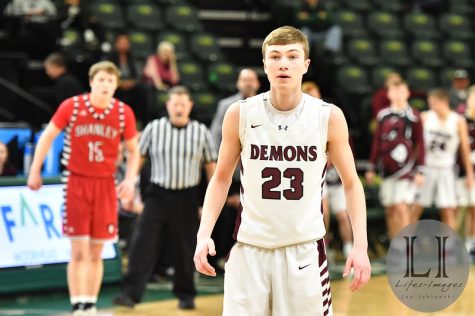 Last season, the BHS boys basketball team were projected to finish in sixth place in the WDA (Western Dakota Association), but they ended up exceeding all expectations. The Demons finished with a 20-5 record and won the WDA tournament championship. 
BHS had full confidence going into the state tournament, with dreams of cutting down the nets later that week. That moment never came as two hours before their semifinal game versus Fargo Davies, the Demons were told that the completion of the state tournament would be suspended due to COVID-19. 
"It was very heartbreaking and a terrible way to go out," senior Gunner Swanson said. "We thought we had a really good chance to win."
With the ending of last season leaving the Demons with a bitter taste in their mouth, they worked this summer to make sure if they were given the opportunity to compete, they would make the most of it. 
"We had open gyms this summer where we could all get shots up and some drills in," junior Treysen Eaglestaff said.
After fall sports were allowed to have a full season, many believed it would be a smooth transition into the winter sports season. This was not the case as North Dakota Governor Doug Bergum announced a two week delay to high school athletics in order to help the rising COVID-19 cases. This was a decision many in the Demon basketball program did not agree with. 
"I was emotional," BHS Boys Basketball Head Coach Jordan Wilhelm said. "I called my administration and coaches to try and discuss what had happened. I then went to social media to try and start a conversation about why this happened. I then reached out to coaches across the state to do our part to let those in charge know where we stand on the issue."
High school athletes were allowed to start practices on November 30th and were allowed to start competitions on December 14th. With the realization that there was going to be a season, Wilhelm could not have been more joyful for the opportunity.
"To be honest, I still can't believe that we lost the tournament in the middle of it," Wilhelm said. "But as the 20-21 season started to draw closer I realized I needed to try and move on and re-energize for the upcoming season. Having such a great group of seniors makes it easy to have energy. I prepared for this season the same way I do every year, but it wasn't until the Wednesday before our season where it really hit me that it was going to happen. As positive as I tried to remain, it still seemed like a distant thought that we were going to get to lace them up."
The Demons return seven players who played in the state tournament last March, and they also return their top four leading scorers. This makes coaching a lot easier for Wilhelm this season.
"It helps that I do not need to teach everything again," Wilhelm said. "We will be refining and adding to the knowledge that we accrued last season. The thing I know is we will be able to score, the thing we need to find is defensive intensity and help at the top of our press."
The Demons have many strengths that they are looking forward to showcasing, but they will need to step it up on the defensive side of the basketball this season after losing five seniors, who were all defensive prominent players. 
"Our depth and ability to score the basketball should be a huge strength of ours," Wilhelm said. The leadership that our senior class displays on a daily basis is something that makes me excited to get in the gym. Defensive rebounding and half-court defense are areas we can improve on."
Last season, the Demons were the underdogs coming into the year. This season is a very different story. BHS is ranked #3 in the state, and are the presumed favorites in the WDA. They will need to have the same mentality as last season in order to be successful. 
"The goal needs to stay the same and that's to do your job and improve every day," Wilhelm said. "If our guys think that it is a given that they will be back in the final four they are badly mistaken. It has to be a daily commitment at practice."
BHS understands that they will be one of the teams to beat in the state this season because of their success last year. This can cause a lot of pressure because they know they will get the best effort from every team.
"We can't take any game lightly and now we have a target on our backs so we are going to have to play harder than last year to get back to where we want to be," Swanson said.
With the COVID-19 global pandemic still relevant, Wilhelm has taken extra steps in order to keep his team safe, in the hope to have a full season and not a repeat of what happened last March. 
"Each player has an Under Armour mask that we wear when socially distancing cannot be maintained," Wilhelm said. "We also have each player set a dot six feet from one another, where they can take water breaks apart from their teammates. I have also moved our practices to 6 a.m. and 3:30 p.m. so we can always use the big gym where socially distancing is much easier."
The Demons realizes the talent and potential they have on the team this season. They want to be able to finish the job this time around if they are lucky enough to be given the opportunity.
"No matter what team I'm on, I am always going to be confident and say our team can go all the way," Eaglestaff said. "If we keep spending time in the gym and keep working, anything is possible."
BHS shocked the state last season when they came out in a new system with a high powered offense and an in-your-face defense. Many teams believe they will have figured out the Demons system this year, but Wilhelm has different ideas.
"I hope other teams think they have it figured out because we are going to continue to catch them off guard," Wilhelm said "Ultimately my goal is for us to play faster, with more pressure, and take the level higher than we did last year. We struggled in the half-court and on the defensive glass last year. We also didn't shoot a high percentage from three. I think if we can continue to improve on where we struggled last year and find some toughness then we should be even better this season."
The senior class for BHS this year have been very successful during their three years at the school. They have won three WDA tournament championships as a group in their freshman sophomore and junior seasons. This is a close-knit group off the court as well, which translates to good team chemistry on the court.
"I think this senior class has picked right up where last year's left off and that's being excited to be around each other at practice," Wilhelm said. "We have known that the 2021 group is a special one since they were freshmen. It's rare to find a group who loves sports as much as this one, and who loves to be around each other as much as this one does."
With the hopes of a state title last March being crushed due to COVID-19, the Demons believe they can finish the job this season, and achieve something very special.
"I expect our team to be in the mix at the top of the league come March," Wilhelm said. "Ultimately our goal is to improve each day and when March comes we will be playing our best basketball. I am happy that we are back in the conversation of the best teams in the state.  We have been extremely competitive over the last ten years since our last title, but it has been a few years since we are considered as one of the best. We love having those types of expectations and I feel that this program belongs in that conversation."