The journey to recovery
Senior Noelle Martin tore her ACL (anterior cruciate ligament ) last February before the state hockey tournament. She has worked all summer to get her body back in top shape to get ready for her last season with the Bismarck Blizzard.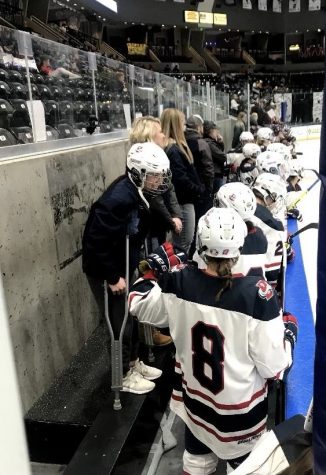 This past winter, the Bismarck Blizzard were on a mission to complete their quest for a sixth straight state hockey championship. Everything seemed like it was going according to plan until BHS senior Noelle Martin tore her ACL one game before the state tournament. 
Martin, who has been playing hockey for 12 years, was having a great junior season until everything took a turn for the worst last February.
"It was against Grand Forks on February 15th, and happened due to a collision on the boards with a Grand Forks player," Martin said. "When I fell, l I felt a little pop in my leg but didn't really think much of it until I tried standing up and my knee completely gave out, popping again." 
When an athlete goes through a type of injury like Martin had, it can be devastating. This was a very difficult time for Martin because she realized her season was over.
"Not being able to skate off the ice was really devastating and that's when I realized it was pretty bad," Martin said. "When the doctor told me that the MRI (Magnetic resonance imaging) showed a torn ACL I was really upset and started crying, and it was a really emotional couple of months."
Even though Martin's season was over, the Blizzard still had their hopes for another state title. Martin was still around the team for this journey, and she did what she could to help out.
"Her injury really couldn't have come at a worse time for her and the team," Bismarck Blizzard Head Coach Tim Meyer said. "She was injured the week before our state tournament. That was really devastating for her personally, but she was such an amazing teammate at the tournament. It really made it a lot easier for the rest of us to adjust to not having her in the lineup."
Martin is the type of person that is a born leader. She has always been a great teammate with being approachable and having such a great attitude in practice. 
"She is a great leader," junior Cameron Schmidt said. " She is always willing to help and put input in to help anyone. She's always a great person to talk to and ask for advice, and always willing to be a friend to everyone."
It was very hard for Martin's teammates to see her go down with such a brutal injury. They knew though from the start that she would recover from her injury, and bounce back the following season. 
"I felt very bad for her," Schmidt said. "She put so much work into the sport and always gave 110% at practice and during games. I felt even worse when I found out that she was not going to be able to play at state, which was very sad since it was her junior year."
The Blizzard ended up completing their mission of winning their sixth straight state championship, but this meant it was only the beginning of Martin's recovery process.
"I had surgery on March 6th but due to COVID, I couldn't start my physical therapy as soon as people normally would," Martin said. "When I did start physical therapy though, at first it was really discouraging because it felt like I had to completely learn how to walk and bend my leg again. I had to use the crutches to completely hold myself up because putting weight on my left leg just made it feel like it was going to give out."
Despite the world being locked down due to COVID-19, Martin still worked every day in order to come back stronger than ever. She became a little bit stronger day by day, and this gave her the confidence to keep working.
"Once I continued PT for a few more months and got some strength back, I started gaining confidence in that leg again," Martin said. "It was still really frustrating though, and the thought of running or skating again honestly scared me a lot. I did have concern over whether or not my recovery would be sufficient in time for the beginning of the season but as the summer progressed, my concerns turned more into confidence. My teammates were very supportive throughout the entire process and continue to help me along the way."
Coach Meyer has appreciated all the work Martin has put into getting back to full health. He knows that when she is ready to come back, she will be a difference-maker on the ice. 
"It appears that she is doing really well in her recovery process," Meyer said. "She had to be patient which was probably the most difficult thing for her. I knew full well that she would work her butt off to get back on the ice."
Governor Doug Bergum announced that there would be a halt to the start of the winter sports season, due to a rise of COVID-19 cases in North Dakota. This was a blessing in disguise for Martin, as it gave her an extra two weeks to get her body ready for the season. 
"My surgeon thought it would be best to wait a full nine months to start competitive play again, so recently on December 2nd I started 100% contact at practice," Martin said. "Although it's heartbreaking to think that some of our games will be canceled due to the two-week delay, it has also been somewhat of a blessing for me. I would have had to miss a couple of games at the beginning of the season because of my clear date. During the time off I was able to focus on regaining more strength and working on slowly starting competition again."
When it comes to coaching Martin, Meyer wants to be absolutely sure that she is fully healthy before he lets her let loose. The last thing he wants would be another devastating injury because he played her before her body was ready. 
"We will be listening to her doctor and the trainers about making sure she is ready to return to play," Meyer said. "At that time, it will be all about how she is feeling on a day to day basis. We never want to rush anything but everything seems to be progressing really nicely. She has been skating with a brace and honestly, it's hard to notice she even sustained an injury last year. Credit to how much hard work she has put in already."
With Martin almost at full health, it makes her teammates very happy that their senior leader is back on the ice and ready to compete for another state championship. 
"It means a lot to see her back on the ice and be healthy," Schmidt said. "She's a great player on the ice and in the locker room, and she is always cheering people on. She brings a lot of speed to the team and makes plays. She's a great help to everyone and plays her part the best she can."
Recovering from an ACL injury is an accomplishment in itself, but Martin still has other goals and aspirations for herself this season. She wants her last season as a Bismarck Blizzard hockey player to be a memorable one. 
"My goals for this season include being a strong player that can produce plays for the team," Martin said. "I also want to be a good role model for the younger girls."
Martin knows what it is like now to go through the recovery process of a major injury. She hopes she can be an outlet to other athletes that go through the same things she went through. 
"My advice to someone who might be going through a similar injury would be to surround yourself with people that will support you," Martin said. "It's also important to stay determined and not to get caught up in the negative side of things. Focusing on the goals I set for myself during the recovery process has helped push me to where I am now. I've taught myself to stop looking so much at the negative sides of things and look more on what I want to accomplish."
The way Martin has carried herself on and off the ice will be why people will remember her for years to come. Athletes like her do not come around often, and the Blizzard are going to miss her greatly when she graduates. 
"Noelle has been a joy to coach," Meyer said. "[She is a] great kid, [and has a] great family. She is one of those kids that you wish you could keep around for a few more years. She will definitely leave the Blizzard in a better place than when she joined the team.