Return to normal
For the next quarter, students will have the option of either online or in person learning.
Starting second semester, BHS students will be attending school five days per week but with some precautions.
Assistant Principal Lynette Johnson has been overseeing the details for the upcoming change in routine surrounding the school schedule.
"The biggest precaution students and staff can take is to continue to wear their masks.  More students will be in classrooms, and 6 feet distancing will be very hard to implement, so keeping the masks on will be important when it comes to close contacts and contact tracing," Johnson said. "It will also be important for students and staff to continue to wash their hands, use hand sanitizer and to stay at home if they are sick."
As for students who do not feel comfortable being in a full classroom, for the time being, they will be allowed to attend complete online classes for the remainder of the year. Some teachers and staff have used different modes of learning for these students, and some will take classes on Edgenuity. This will allow for teachers to teach all day every day.
"Students who choose online school will continue in the same mode as the first semester," Johnson said. "They will take some classes on Edgenuity, and some teachers will have them log in with the class every day. We have fewer students this semester who are choosing distance education."
Principal David Wisthoff has also been a part of these discussions, including deciding when to return full time by closely monitoring COVID-19 data in the school.
"Just trending the right way, for our community but also for our school," Wisthoff said. "The numbers weren't having so many positive cases or close contacts like when in November. It was pretty rough with the number of students and staff we had out on given days, we still have some cases here and there but the numbers aren't nearly where they were back in November."
With a full building, contact tracing may be more difficult with students sitting closer together. The same precautions will still be in place for all students.
"The key to staying in school will be the wearing of masks. If a student is in close contact with a positive case, and both students were wearing masks, then the close contact can stay in school," Johnson said. "We realize that wearing a mask for a majority of the day is not ideal, but it is our best defense against having to send students home for close contact, and ultimately, we want kids to be in school."
With students on both sides of the A-B schedule being able to go to class together, this could possibly loosen up restrictions on sporting events and the amount of people allowed in the stands.
"So there will still be a voucher system right now," Wisthoff said. "I think for our gym it's 750 [capacity] so each player will still get 2 or 4 vouchers and to get in there will still be vouchers at the door so once they're out they are out. So kids will still have the opportunity to go to games."
Some areas of the building will be more densely populated than others, so distancing will be observed and some changes may have to be made.
"We are gonna look at lunch, that's the concern and how can we help the flow down there so we will make some adjustments after the first couple days and see where we are at," Wisthoff said. "There is the possibility of having some kids eat in the Knaak if we need to spread out. We will continue to ask kids to wear masks, to social distance, and wash their hands. We are hoping to get back as close to normal as we can."
With the majority of students choosing to go to school in-person, balancing online and in class teaching will be closely aligned with the way the first semester was run, but this time it will be five days per week.
"I think there will be a lot of synchronous learning, where kids that are doing distance learning will log in with the class and just follow along for the day," Wisthoff said. "It will definitely be a shift as we look at that for the second semester. Right now the governor is still allowing for distance learning so we will continue to operate under that. We did have quite a few more kids decide to come back that did distance learning in the fall so we are excited to have the kids back with us."
All things considered, school officials and staff are constantly making changes and monitoring shifts in data to keep our students and school a safe place to learn.
"We appreciate the dedication our BHS students have had to keep their masks on, and I can't wait for the day that the masks can come off and we're able to see the faces of our students again," Johnson said.
Leave a Comment
Your donation will support the student journalists of Bismarck High School. Your contribution will allow us to purchase equipment and cover our annual website hosting costs.
About the Contributor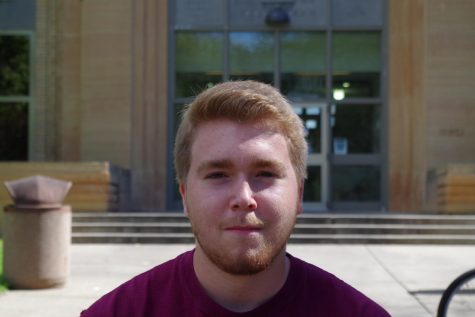 Scott Gotta, Sports Editor
Scott enjoys playing in the band as well as participating in Track and Field. Scott has also self-boosted his career with his own lawn mowing business.