Spoken word
The annual Poetry Out Loud competition gives BHS students an opportunity to connect with poetry and advance to higher competition levels.
Many words become lines, and many lines become poems and many poems – along with a bit of public speaking – constitute the Poetry Out Loud competition at BHS.
Competition begins within classrooms, and the winner of each classroom advances to the school competition. At each level, teachers  – primarily from the English department –  judge students' recitations based on a variety of criteria, including physical presence, articulation, dramatization, and even evidence that the student understands the poems.
"Typically at Bismarck High, we have three or four teachers that offer it to students, and from those classrooms, a winner is selected by the teacher, who is the judge," BHS English teacher Andrew Fischer said.
For these first two levels of the competition, students are required to memorize two poems, of which one must be 25 lines or fewer and one must have been written before the 20th century. A single poem, selected from an archive containing thousands, can fulfill both requirements. Within this massive archive, poems can be browsed by theme or author, and Fischer encourages students to seek out a poem that they truly connect with.
"There are so many poems out there on that website, and it's hard to find a poem that speaks to you. So don't choose a poem that's like the first poem you read," Fischer said. "My advice is to read a lot of poetry until you find one that you get. It's almost like it speaks to your soul."
When students find poems they truly relate to, the process of memorization does not have to be laborious. BHS senior Jenna Smith, who took second in the BHS Poetry Out Loud competition last year, selected "The Ocean" by Nathaniel Hawthorne as one of her poems. She described that she connected with the poem's theme and imagery because she desires to see the ocean one day.
"I found poems that I connected to a lot, so it was easy for me to memorize them," Smith said. "I just found it fun, I guess, to try to express and know how I felt and the way I talked and all that."
Although the archive contains a wide variety of poems, some students may feel hesitant about their ability to connect with poetry in any capacity. Poetry's occasionally cryptic messages and strange layouts may be intimidating for some.
"Usually, I put announcements out, I put it in the Demon Daily [and] I have teachers talk to their classes about it, but it's just not something that kids are really interested in doing," Fischer said. "It really speaks to a certain kind of kid. You know that not everyone likes literature. Not everybody likes poetry."
Another potential deterrent is the fact that Poetry Out Loud involves a speaking component.
"I was always interested in poetry. It just felt like a good way to express my feelings and stuff," Smith said. "I think that's what initially made me more inclined to do Poetry Out Loud, but public speaking wasn't really my thing. After I did Poetry Out Loud, I think it kind of helped me with public speaking and being more confident in it."
For those who are willing to dive into poetry's depths, however, learning to interpret the meaning can be rewarding. Fischer hopes that students will be more inclined to explore these rewards due to the low-stress atmosphere at BHS's Poetry Out Loud competition.
"It's a little bit like a speech contest. I'm not sure if you know how a speech contest works, but you get up in front of your peers and you say your speech and then you sit down," Fischer said. "It's pretty low stakes."
Typically, Fischer purchases a collection of poems known as an anthology to give to the school winner, but this year's competition will also involve a monetary incentive. Fischer hopes that this will increase student involvement, which has varied from as few as under 5 students to over 15, and it is uncertain if COVID will impact those numbers.
"I'm not sure if the national endowment for the arts was trying to increase their involvement, but they gifted each school 100 dollars to use however they want," Fischer said. "One of those ways that Bismarck High is using it is to give the school champion a gift card to Barnes and Noble for 50 dollars."
COVID has also caused uncertainty regarding the layout of the school competition, such as whether students will have to wear masks during recitation. Regardless, the winner of the school competition will advance to the state competition, which is planned to take place in a virtual format. Retired English teachers, professors and poets will then choose a state winner to advance to the national Poetry Out Loud competition. 
"I hope that we at some point get a state champion," Fischer said. "We've been close. We've had students come in second place, fourth place, fifth place in the state."
In order to assist the school champion in honing their performance for state and potentially nationals, they are paired with a coach. This coach could be Mr. Fischer, the student's English teacher or a different figure whom the student trusts.
"Tatelyn Houle was our school champion last year. I think Mrs. Bedard was her coach because she was a big theatre girl," Fischer said.
Regardless of experience, all BHS students have the opportunity to take part in Poetry Out Loud.
"Many people think poetry is boring and that it's just weird sentences together, but I really think [Poetry Out Loud] is about finding what poetry truly is and relating it to yourself," Smith said.
Leave a Comment
Your donation will support the student journalists of Bismarck High School. Your contribution will allow us to purchase equipment and cover our annual website hosting costs.
About the Contributor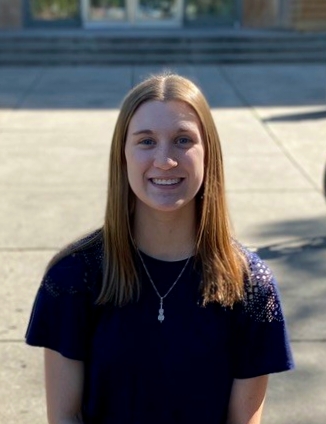 Mackenzie Swenson, Co-Editor
When she is not living and breathing schoolwork, Mackenzie enjoys playing the cello and working at North Dakota's only science museum. Her seemingly unrelated...