Greatest Ever
The BHS Wrestling program has been dominant year in and year out for as long as people can remember. This year was no different as they put together a historic season to add yet another state championship.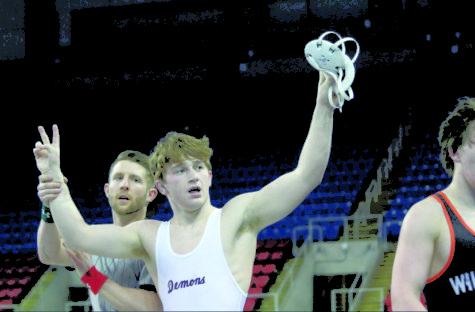 When winter rolls around every year, three things are certain to happen, cold weather, snow, and BHS Wrestling winning another state championship.
The BHS Wrestling team knew they had something special when they all came together for their first practice back in November, but to accomplish their goals for the season, they could have no days off.
"My mindset going into this season was to finish out my career as a Bismarck Demon as dominant as possible," senior Brandt Kringlie said. "And to do so our team put in a great number of hours in that wrestling room this season for only getting one tournament all year."
The Demons returned to the mat as the defending team and dual champions of class "A" wrestling, but they were not satisfied and wanted so much more this season. They knew it was not going to be easy though. 
"The seniors pushed us in practice to work our hardest everyday," junior Brock Fettig said. "Outside of practice our seniors would push us to keep our grades up in order for everyone to be able to compete on dual days."
BHS cruised their way through the regular season being ranked number one in the state with an undefeated dual record, and having seven wrestlers ranked number one heading into the state tournament. This led to the Demons having a tremendous amount of confidence going into the final weekend of the season.
"My mental thought was I am going to win because I work harder than everybody, I want it more, and I have more experience than everybody else," freshman LJ Araujo said.
With a state championship almost guaranteed heading into the weekend, the Demons had bigger goals. They wanted to break the North Dakota all-time state tournament scoring record.
"My goals were to get every bonus point I could, and wrestle one match at time without worrying about who I have next," senior Christian Tanefeu said. 
The Demons put together about as good of a weekend as anyone could have imagined. BHS finished on Saturday with an unheard of 12 state place finishers, including seven state champions. 
"I would say there are two pieces to our senior class," BHS Wrestling Co-Head Coach Mark Lardy said. "We have Christian, Wilfried, and Brandt who are multiple-time state champs. We also have Juan and Parker who have had to wait patiently for their time to be varsity wrestlers and state place winners. Both sides are what we pride ourselves on at BHS. Kids who can excel early and kids who stick with the program. I am extremely proud of all of them. The best things are still waiting for this group," Lardy said.
Brandt Kringlie, Brock Fettig, Kaden Renner, Isaiah Huus, LJ Araujo, and Christian and Wilfred Tanefeu were all state champions in their respective weight classes. BHS has not had that many individual state champions on the same team since 1975.
"This group of athletes were one of the most dedicated groups that I have ever been associated with," Lardy said. "We would have over 20 kids in the room multiple times a week for optional practices. This was a testimony to the type of people they were. For us to have seven champions, and win both dual and team titles was a great reward to the hard work kids put in."
Fettig won the 170 LBS individual state championship on Saturday night, but this was not an easy road for him. The year prior, Fettig had lost in the state championship and had to go the whole year trying to get redemption over his loss. 
"Last year's loss in the finals hit me really hard. I was so upset that I started practicing again the day after the state tournament.  I practiced all summer, 6 days a week, which became super draining but every time I didn't want to come to a practice I thought about my loss, and just thinking of the loss pushed me to work even harder," Fettig said. The win didn't hit me right away, but about five minutes after I won I was super excited. Winning state was something I've dreamt about since I was young so it was an amazing feeling. It made me realize that all the work I put in wasn't for nothing."
Kringlie had a similar story as Fettig, but faced much more adversity over his four years. Kringlie won the 152 LBS state championship his sophomore season, but missed and battled through a tricep injury his whole junior season, where he ended up taking third at state. Kringlie wanted to finish what he started and ended his senior season with an undefeated record, and a state title. 
"We talk a lot about rising above adversity," Lardy said. "Brandt is definitely a walking example of moving forward in a very positive way after setbacks. I am extremely proud of Brandt's accomplishments on the mat but even more proud of the type of person that Brandt has become."
The Demons completed their dream of winning the state team championship on Saturday and dominated their way to a 70-6 win over Valley City in the dual championship on Sunday. BHS also completed their goal of breaking the state record for points in a state tournament with 308. This milestone puts this years' Demons team up there for the greatest wrestling teams of all time in North Dakota. 
"Being labeled as one of the best teams to ever come through the state of North Dakota is extremely honoring to be a part of it," Kringlie said. "The fact that it happened during one of the most unfortunate years of sports due to COVID-19 makes it that much better. It just shows all of the hard work put in paid off in the long run. Making this statement at the state tournament this year maintains us as the best wrestling program in the state year in and year out."
The success that BHS had this year would not have happened without the leadership the senior class showed to the underclassmen. The younger athletes will forever be grateful for this senior class and the way they guided them this season.
"The seniors that led this team this year were amazing wrestlers and people," freshman LJ Araujo said. "They are going to go on to do great things. I was able to learn and gain some things about wrestling and life skills from the seniors. The Tanefeu's helped me gain a lot of speed and they also helped me to gain a strong mentality because they are so fast and they always are positive and so confident. Juan [Flores] helped me with my conditioning because he has insane endurance. Parker [Benz] helped me with finishing my shots because he might be the strongest person that I have ever wrestled with. Brandt helped me be respectful and how to be a good leader because Brandt is not only a great person but he is an amazing leader. I will miss wrestling them and their positivity."
With the domination that the Demons showcased this year, the athletes have tons of memories that they will share together for the rest of their lives.
"What I'll remember most about this team is the amount of work that we put in over the season," Kringlie said. "I'd say this is the hardest working team that I've been a part of so far. Everyone on the team was there to get work done and make each other better."
Both Wilfred and Christian Tanefeu finished their high school careers as three-time state individual champions. They will be attending the University of Michigan on a full scholarship to wrestle next season. They know wrestling at the next level will be difficult, but they believe BHS has prepared them to succeed. 
"BHS has taught me how to overcome adversity, and just how to always stay positive because it's not easy wrestling in the BIG 10, but whatever obstacle comes my way, I'll do what I've always done and keep going forward," Christian Tanefeu said. 
BHS will be losing five seniors next year, which will be tough to replace, but what the Demons know from the lessons they have learned from this years' senior class, they will be just fine and hope to repeat the success next season.
"I have always felt that our program does a good job of developing athletes and having kids ready to step in when it is their turn," Lardy said. "I am confident that next year we will have some new kids on varsity, and they will be ready to compete and represent our program."
With many years of Demon wrestling under Kringlie's belt, he has some great advice to the underclassmen, who will now be stepping into his role as a senior leader.
"If you put in the work needed to be a good wrestler then respect from the underclassmen will come," Kringlie said. "Never become complacent with your abilities, because you can always improve no matter how good you believe you are."
As the time comes to a close for these seniors as Bismarck Demon wrestlers, they leave the program with many individual state championships, four-team state championships, and three dual championships. The success that this senior class represents goes way beyond the mat, and will forever be remembered at Bismarck High School.
"One lesson that I will take away from my time at BHS will be when you approach failure in life, don't shy away from the failure, own up to it and it will always make you a better and stronger person," Kringlie said. "What I think it means to be a Demon is knowing nothing is guaranteed, so you have to put in the work to get what you want. You may not always be the most talented, but you can always be the hardest worker."