Future revisions?
With the 2021 school year drawing to a close, many's attention has now shifted to discussions of what next year will look like.
The 2020-21 school year was full of ups and downs, there is no question about it. From the common cold to a full-blown pandemic, students and staff have had to adapt to something much larger than the questionable school lunches. Between wearing masks, the hybrid schedule and the occasional quarantine, the need for alterations to the education system was inevitable. But what about next year? With this year's tribulations came new and changed aspects of education, many of which are not likely to disappear anytime soon. And while it is true that some factors are unavoidable, there are some new aspects of this year that should carry over into next year.
While it certainly had its negative impacts, the pandemic-induced changes made to the test exemption policy have not been all bad. For starters, students are allowed more sick days than they previously had. Where students would previously come to school sick for fear of finals, they now have the ability to stay home and rest for as long as they need, granted they make up their missed work. Similarly, the new policy reprimands those that fail to complete their work or skip class, rather than those who just need a little extra time to recuperate. This is one of the many changes that should be kept going into the next year.
On the other hand, there have been some other changes made that many feel is overkill in terms of health safety. The masks are important, but depending on where the nation and state sit in terms of the pandemic, they may be unnecessary. Social distancing is another aspect of the pandemic that may or may not need to be considered moving forward. There really is not enough space to social distance without masks right now, but if the vaccines prove effective and the curve flattens out, students should be able to attend school without having to guess at their peers' identities.
Though there were some changes that can be kept or tossed out with a firmer hand, there are some others that might pose bigger challenges. The distance-learners, for instance, will be able to continue their current arrangements into next year, but depending, once again, on where the public stands in defense against the pandemic, the option to learn virtually might look a little different. It makes sense that it should remain a viable way for students to stay safe while learning if they so choose.
Given that activities were granted permission to commence this year, they should also be continued into next year. That would include sports, clubs and any other activities that students can participate in. Whether or not they uphold their current restrictions depends on the pandemic situation, but for the most part, they should be granted the same if not more access than they have now. No crowd limitations should be enacted, just as it is now.
Of course, all of this is being said with the idea that every student can attend school next year that currently does now without the added requirements of new vaccines. That is, they are up to date on all currently-required vaccinations, not newly developed or introduced ones. The new COVID-19 vaccines do not qualify as reliable nor have they been tested enough to be demanded for entry into schools. Given this, it is only fair to ask the same things of students that has always been asked and nothing more – be ready to learn.
While no one can exactly predict what the rest of the year 2021 has in store, keeping some of these policies, pandemic or no, will ultimately be the better option for students and staff.
Leave a Comment
Your donation will support the student journalists of Bismarck High School. Your contribution will allow us to purchase equipment and cover our annual website hosting costs.
About the Contributor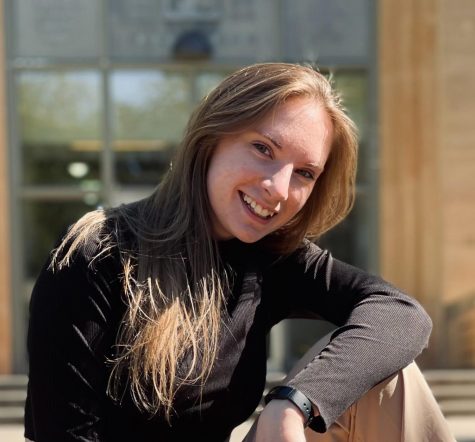 Becky Riepl, Editor-in-Chief
With a passion for the humanities, Rebecca is an art and literature-loving food aficionado. She loves to travel and try new things and is a certified knowledge...