LeBron James is better than Michael Jordan
When talking about the greatest basketball player of all time, two players come to mind, LeBron James and Michael Jordan. Now, the debate is not about who won more championships. It is about who is better at the game of basketball. When taking consideration of all aspects of basketball, LeBron is by far the most talented and gifted basketball player of all time. LeBron has proved time and time again that he is more efficient and more reliable than MJ. 
On the offensive side of the ball, which is what MJ is known for, LeBron trumps him in all categories. LeBron is a better scorer from all parts of the floor. He shoots the three-ball at a higher percentage than Michael, and MJ played some of his career with a shorter three-point line as well. LeBron also shoots it better from inside the paint as well. Some MJ fans argue that Michael averages more points per game than LeBron, but this is a flawed argument because if LeBron shot as many times as Michael he would average more points than him. LeBron is also a much better passer and rebounder. LeBron averages nearly two more assists per game and a rebound more than Michael. LeBron has shown he is capable of excelling in all parts of basketball. The all-around offensive end definitely goes to LeBron, as he is better in all aspects on this side of the basketball. 
LeBron's presence is definitely felt on the defensive side as well. LeBron is a more versatile defender than MJ, as he can guard all five players on the court. He can guard anyone and everyone and has proven that, especially in the playoffs. He is also a part of the greatest block in NBA history when he chased down Andre Iguadala in game seven of the 2016 NBA finals. 
Also, there is a false narrative that LeBron does not show up in the clutch, and those who agree with that need to rethink what they know about basketball. LeBron is one of the most clutch players of all time, and it is no debate. When facing elimination in the playoffs, LeBron reaches a level never seen before. When the season is on the line, LeBron averages 9.2 more points per game, 5.6 more rebounds, 1.8 more assists, 1.0 more block, and 0.8 more steals than normal. LeBron just becomes a whole different animal. He improves his efficiency in every way imaginable and becomes virtually unstoppable. MJ, on the other hand, stays about the same player as normal, barely getting better or worse in these stats. LeBron also wins these elimination games about 20% of the time more than MJ. In the last five seconds in the postseason with the game on the line, LeBron has proven he is better than MJ. He has more career playoff buzzer beaters with five compared to MJ's three. He also shoots these shots at a better percentage than MJ, proving he is far more clutch than the Bulls' superstar.
LeBron has also never lost in the first round, while MJ has lost three times. LeBron has shown he can lead bad teams and raise his team's floor tremendously. In Lebron's last season in Cleveland, he led his team to 61 wins, the best record in the NBA. The next year after LeBron left the Cavaliers won only 19 games and got the 1st overall pick in the draft. This is the biggest win dropoff in NBA history all because LeBron left. When MJ left the Bulls for baseball, the Bulls made the Eastern Conference that year. LeBron means much more to a team and is far more valuable. His accomplishments are unmatched – four-time MVP, four-time finals MVP, seventeen-time all-star, sixteen-time all-NBA, scoring champion, rookie of the year, assist champion, six-time all defense, went to the finals eight straight times, came back from 3-1 in the finals, beat a 73-9 warriors team in the finals, third in all-time scoring, top ten all-time in assists and he is the only player ever in the 30k 8k 8k club (30,000 points 8,000 assists 8,000 rebounds). 
 It is easily understood by those who know anything about basketball that LeBron is better, but people like Logan Schaubert just cannot accept it. Lebron is more efficient and just seems to outdo MJ in everything. Just because MJ was on a better team does not make him a better basketball player. If that was the case, Bill Russel would be the GOAT. LeBron is just undoubtedly the better basketball player. The basketball world has never seen anyone like him, and they will never see anyone like him ever again.
Leave a Comment
Your donation will support the student journalists of Bismarck High School. Your contribution will allow us to purchase equipment and cover our annual website hosting costs.
About the Contributor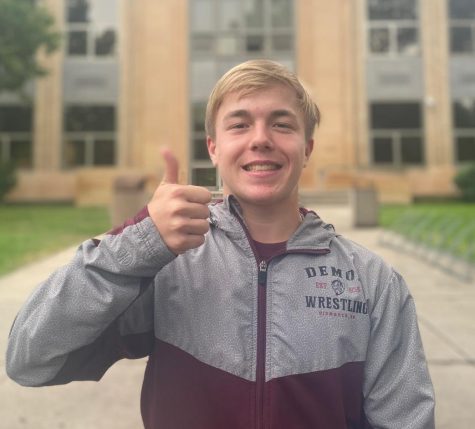 Cade Kivisto, Sports Writer
Cade enjoys playing sports and hanging out with his friends and family! He is around the height of 6 feet 5 inches tall and can be found ducking under...