Farewell, Gunner.
After four very successful years in a demon uniform, senior Gunner Swanson shares his last remarks during his last few days as a student at Bismarck High School.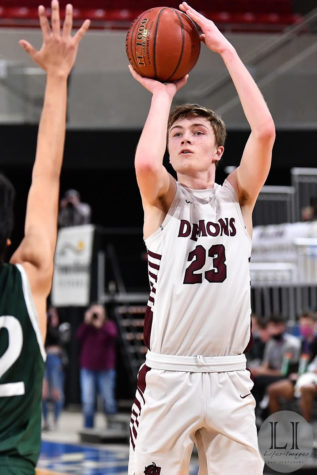 Over the past few seasons when people have thought of BHS basketball and Demon sports in general, senior Gunner Swanson was one of the first names to come to mind. 
Swanson, a three sport athlete at BHS in basketball, baseball, and football, loved watching Demon sporting events as a youngster and could not wait for the day when it was his turn to wear the Demon jersey.
"I went to any and all BHS sporting events I could, Swanson said. "I always thought and had scenarios in my head where I was playing in those games making shots or scoring touchdowns."
After a successful freshman season of going undefeated in football and winning the tournament championship in basketball, Swanson got his opportunity to become a varsity basketball player his sophomore year. It was not any easy job though, as Swanson was the youngest player on the team. 
"Those guys destroyed me day in and day out of practice," Swanson said. "They taught me how to be resilient and a hard worker. And because of that they pretty much forced me to get myself better so I could compete with them."
Swanson started his sophomore year mostly playing minutes on the junior varsity team, but by the end of the season, he was playing big time minutes in the WDA (Western Dakota Association) tournament's state qualifying game. 
"He competed each day at practice," BHS Head Basketball Coach Jordan Wilhelm said. "His length gave him an ability to compete at a younger age. By the end of his sophomore season, he went from someone with potential to someone who was consistent and trustworthy on the biggest stage."
The 2018 basketball team finished second in the regular season in the WDA, but failed to make the state tournament for the second straight season. Swanson took the loss very hard, and made a promise to himself that he would never allow this to happen again. 
"It was heartbreaking," Swanson said. "I hated being in the locker room after the final game of the season because of how sad everyone was. I used that as my motivation so I didn't have to feel that again."
BHS would go on to lose 12 seniors the next season due to graduation, so there would be many new faces on the 2019-20 basketball team. Swanson knew he would have to step up as he was one the few players returning with varsity experience.
"I knew we were losing a lot of talent and I was pretty much the only returner with any experience, so guys looked at me to be a leader," Swanson said. "I put in a ton of offseason work just trying to better myself and it paid off."
It sure did pay off as the 2020 Demons were very successful. After being picked to finish sixth in the WDA, BHS ended up finishing second in the regular season, and winning the WDA tournament championship. They were also in the state tournament semifinals before the conclusion of the tournament was cancelled due to COVID-19. Swanson also had a very successful year as he was named to the All-WDA team.
"That team was amazing, the senior leaders we had on it were incredible," Swanson said. "We competed at practice everyday and grew closer because of it. My favorite part of the season was making it to state and winning our first game. That team knew how to have fun and get things done at the same time."
After a very successful junior season, Swanson started to receive interest from colleges to play basketball at the next level. Swanson continued in the summer to play AAU basketball, where he would go on to receive three scholarship offers. 
"I was grateful to receive offers from Minot State University, University of Jamestown, and the University of Mary," Swanson said. "I visited all three schools, it was a very cool experience."
Swanson took some time to talk to family and friends before he made the decision, but he ultimately decided that he was going to stay home and play college basketball at the University of Mary.
"First of all I'm grateful that they offered me and gave me the opportunity to play there," Swanson said. "But I like that it's close to home, this will make it so my support system of family and friends are still able to make it to my games and support me. I also chose it because I will be able to make it to my brothers games and still be able to be a part of their lives."
University of Mary has deep roots at BHS. After a very successful career as a Demon, Jordan Wilhelm also decided to stay home and play for the Marauders. Wilhelm is very excited that Gunner is playing at his alma mater, and he will get to watch him play for another four years. 
"I ultimately want whatever is best for each of my players," Wilhelm said. "Being a Mary grad it is extra cool to be able to continue to follow his career closely. But the best part was the fit with him and staying close to friends and family, which I know is important to Gunner."
Swanson also played varsity football for three seasons for the Demons. He was fortunate enough to be a part of the 2018 BHS football team that won the "AAA" state championship over cross town rival Century. Swanson will always remember his time as a Demon football player, and is forever grateful for the lessons he has learned from Head Coach Mark Gibson.
"Coach Gibson taught me how to communicate better and how to ask questions," Swanson said. "I am forever grateful to have Coach Gibson and the rest of the coaching staff there to teach me about football and how to be a better person. "Coach Gibson has also been an incredible mentor. The amount of football knowledge he has and what he has taught me, I will remember forever."
Whether it was basketball, baseball or football, Swanson always knew how to treat his teammates with respect. He is a born leader, and his friends appreciated him as a teammate. 
"My favorite thing about Gunner was not only were we teammates, but we were great friends as well," senior Cade Kivisto said. "I loved every day we got to spend together on the basketball court. He is a great teammate and is someone everyone likes to have on their team. He brings much more than just skill to the team, he brings energy, leadership, and a great attitude."
Even as a freshman, Coach Wilhelm knew he saw something special in Swanson. Wilhelm was confident that if Gunner put in the work, he was going to be a very important player in the program. 
"He was someone with length and a great ability to be a difference maker, especially on the defensive end," Wilhelm said. He always had a knack for getting stops and keeping people in front. We also knew, with his shooting stroke, that he had tremendous potential to be a bigtime two-way player. Gunner's confidence is what we needed to come around.  As soon as he started thinking of himself as a leading playmaker, the rest was history.  We knew he had the ability, he just needed that boost from those around him to get to his full potential."
The Demons had a lot of expectations coming into the 2021 season. They were coming off a WDA championship and a Final Four finish in the state tournament. BHS knew they were going to have to put in a lot of hard work this year, and that started with the senior leadership from Swanson. 
"I am usually not a very vocal person but this year I needed to step up as a captain and try to fill that role," Swanson said. "So I did my best to be a vocal leader on and off the court to help lead the team."
BHS did not meet the goals that everyone on the team had envisioned this season. The Demons lost in the WDA tournament championship to Minot by one point, and ended up losing to West Fargo in the quarterfinals of the state tournament. Swanson had arguably his best game of his career in the final game of his career. He finished with 31 points and eight three pointers. 
"I know Gunner did not meet all of his individual goals coming into the season.  But staying grounded and working each day and the belief of his teammates I think all led to him having that great game vs West Fargo," Wilhelm said. "Basketball is as much a mental sport as it is physical, and being able to stay focused and not get too down on yourself during struggles is extremely important."
Even though Swanson did not finish out his career with a state championship, he had a heck of a career and he knows he gave it everything he had for this program. 
"I don't have any regrets," Swanson said. "I gave it everything I could day in and out, whether it was a shoot around or a game. Coach Wilhelm has been an incredible mentor and teacher. I am forever grateful that he took that chance on the kid with a baggy jersey."
Swanson has enjoyed his time as a Demon athlete and is going to miss all the time he spent with his teammates. He will carry these memories with him for the rest of his life.
"The thing I will remember most is the sense of pride everyone has for the school," Swanson said. "I will also remember all the wonderful friendships I have made. We spent a lot of time with each other whether it was extra shots before or after practice, practice, lifting or just hanging out on the weekends. One of my favorite moments was going out to eat after a big win."
Wilhelm is going to remember what Swanson did for this program for a very long time. He will talk about him for many years with future Demon teams, and his legacy will be around for many years to come. 
"He exemplified everything it means to be a Demon," Wilhelm said. "His leadership, hard work, and commitment on both ends of the basketball is what will lead to him being a difference maker at the next level as well. I will remember Gunner as a winner.  He was someone you could always count on in the big moments.  His shot against Century in 2020 and his game vs West Fargo in 2021 are the two games that he will be remembered by."
Swanson learned many things from the upperclassmen growing up, and he has some great advice for the younger generations, as he now exits the Demon basketball program. 
"It goes by fast, take it all in and get involved in some sort of extracurricular because you can create some incredible friendships," Swanson said.
Gunner Swanson put his heart and soul into this program, and his #23 will be remembered by many for a long time. The Demon family appreciates everything he did, and they are thankful for the memories he provided for everyone.
"The Demon Basketball program means everything to me," Swanson said. "I have had so many great experiences playing basketball for the Demons and I have learned so much from the awesome coaching staff."