A school year abroad
Despite some setbacks, BHS senior Courtney Schumacher has won the Congress Bundestag Exchange program – for the second time – and has flown overseas to spend the next 10 months studying in Germany.
After two flights and a train ride, BHS senior Courtney Schumacher arrived in Germany late on August 25 for the first time. Awaiting her arrival was her host family and a new home in a small village in Niedersachsen (Lower Saxony).
"I was mostly excited and nervous," Schumacher said. "I think one of the biggest things was finally personally meeting my host family. We had talked, but it was still kind of stressful. They were still more or less strangers, yet I had almost complete trust in them."
In addition to a new home, she now finds herself surrounded by a completely foreign culture and language, and despite taking previous classes in high school and through the program to prepare herself, she expects that she still has much to learn.
"The language will probably be the hardest part, picking up on culture is a little easier since you can watch and learn, but the language will be tougher," Schumacher said. "I have no translator except for people around and my host family who help. I have five years of experience but it really almost doesn't prepare you for actually being here and listening to the language and seeing it everywhere."
The scholarship she is currently a part of is called the Congress Bundestag Youth Exchange program (CBYX) and includes a 10 month period in which German and American students alike will essentially swap countries to go abroad.
"The CBYX Scholarship is through ASSE (International Student Exchange Programs).  This scholarship provides $10,000 for a high school student from the U.S. to study at a German high school.  The money is granted by the Congress of the United States and the Bundestag (Parliament) of Germany," German teacher Mary Crow said. "This scholarship is meant to provide a way for both American and German teenagers to gain a deeper understanding of one another's cultures and languages."
Receiving this scholarship is a prestigious award that few are able to win once, let alone twice, yet Schumacher was honored for not only winning last year's award but once more this year as well. Though students who have already experienced the scholarship cannot apply to go again, the pandemic created a unique situation and placed some students in a position to reapply.
"I first applied to go after sophomore year so I would have spent my junior year in Germany, but it got canceled due to COVID-19, first for a semester, then all around," Schumacher said. "I had to completely reapply and go through every document and interview again – I am impressed I made it twice, to be honest."
"I was thrilled for her because she won last year and could not attend because of COVID-19 travel restrictions, so I was especially glad that she won again a second year in a row," Crow said. "That is unprecedented. I have never seen that before."
But before she could make her trip abroad, there was a lengthy procedure comprised of many different legal steps to be completed by Schumacher. Many precautions are taken when sending students abroad, especially in this program.
"[There were] lots of steps," Schumacher said. "We had to get our passports – I had gotten it a year or so earlier – we had to have a document signed by the police stating no arrests or criminal activity and this year we had to either get the COVID vaccine or a negative test to come over."
Little did Schumacher know, she would not be in the clear just yet. A little while after arriving and settling into her new home away from home, she was admitted to a local hospital for severe abdominal pain.
"I had acute appendicitis and I actually went to two hospitals," Schumacher said. "The first one didn't have room for me so I was transported via ambulance to a hospital in Gronau for the surgery."
Though she admits that it was a very awkward experience, she assures her friends and family that she is fine and that now that the stitches are out she will be returning to school once more.
"It was kind of funny, kind of frustrating since there was a language barrier," Schumacher said. "I'm doing fine now. I have a two-week mandatory stay at home and mostly relax order, then I can go back to school (hopefully)."
"I was happy that she was with her established German family and was able to count on them to help her," Crow said. "Since all is well again, I am thrilled that she successfully managed that experience in a foreign country and received excellent care."
Despite some setbacks, Schumacher is now back on track to continue her school year abroad where she hopes to learn and immerse herself in the culture and language.
"A deep understanding of the modern language, politics, history, culture, cuisine and becoming a part of another family which can offer future opportunities for business, travel and relationships are what students stand to gain," Crow said. "The family they stay with becomes a lifelong family for many of them."
View Comments (1)
Your donation will support the student journalists of Bismarck High School. Your contribution will allow us to purchase equipment and cover our annual website hosting costs.
About the Contributor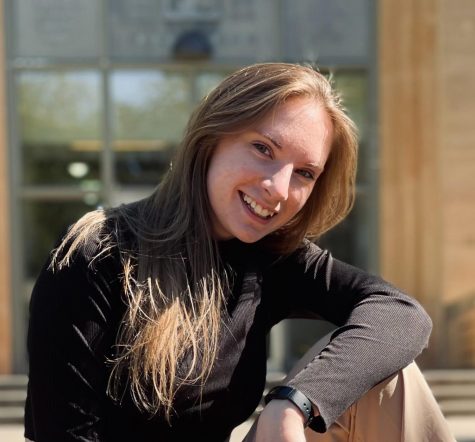 Becky Riepl, Editor-in-Chief
With a passion for the humanities, Rebecca is an art and literature-loving food aficionado. She loves to travel and try new things and is a certified knowledge...