Wrestling with adversity
Isaiah Huus, a senior at BHS, opens up about his recent injury and the steps to his recovery.
Isaiah Huus, a senior at Bismarck High School, moved to Bismarck as a freshman in April of 2018. He has come out on top in not only one but two different athletics throughout his high school career, including all-state football as well as wrestling. At the beginning of his senior year, he started to notice something was wrong after a football game back in August, and he was about to face some serious challenges.
Some of Huus' greatest sporting achievements in football include all-state twice, being a finalist for North Dakota's "Player of the Year", and ranked second for running back in both North Dakota and South Dakota. In the winter sports seasons, he is a two-time state champion at 182lbs and 195lbs in wrestling.
"I thought it was just a sprained ankle," said Huus. 
He had visited the school's athletic trainer but continued to feel pain. A little over a week later, he was hit in the calf again and felt certain something was wrong. Despite this, he taped his ankle and continued to play the rest of the game. He eventually went to the emergency room where he was told it was compartment syndrome, a dangerous condition caused by pressure buildup from internal bleeding or tissue swelling. He received surgery that night, and some of his calf muscle was removed.
"It was the worst feeling," said Huus, "I had to let my team know that I had to leave them for the rest of the season."
He started rehabilitation for his injury soon after, and he refers to this as a "slow and frustrating" process. Huus said he did not deal with too much pain during the recovery process, rather regaining range of motion and learning to walk well again. He progressed from a wheelchair to crutches and is now able to walk again without them, which is a major step towards recovery.
Since getting off of crutches, he has begun working on strengthening the muscles in his calf and ankle and getting the movement back in his leg.
Although he was unable to finish out his football season, Huus has some big plans for this wrestling season. He plans on returning towards the end of the season and will wrestle for his third state title. Fortunately, this injury has not affected his college goals, and he has received scholarships for football and wrestling, and even the opportunity to do both.
"I've learned patience and to keep positive no matter what," said Huus.
Leave a Comment
Your donation will support the student journalists of Bismarck High School. Your contribution will allow us to purchase equipment and cover our annual website hosting costs.
About the Contributor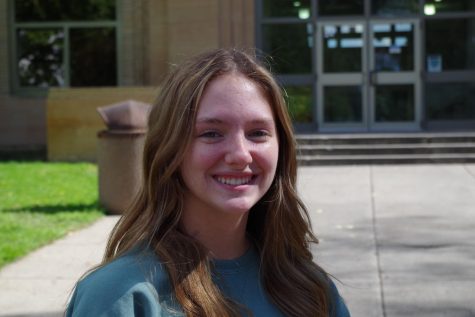 Kacie Hoffman, Writer
When Kacie is not on TikTok, she is working a part-time job and maintaining a 4.0 GPA. She is also a student manager for the BHS wrestling team. In between...