Building up boys volleyball
In recent months, BHS boys have taken it upon themselves to form a new volleyball team for high school boys.
Wednesdays at 8:30 p.m. the BHS parking lot can be seen filling up as high school boys file into the school to begin volleyball practice.
Led by BHS teacher Landon DeKrey, the team is beginning to take shape after hopeful planning to incorporate and start a volleyball program for boys at BHS, modeled after the team at Legacy High School.
"What made me want to coach was growing the sport in Bismarck," DeKrey said. "Obviously, right now, it's not really a sport you can compete in in high school. To give kids the opportunity in high school to play it was my main inspiration of why we wanted it to be at Bismarck High."
From tall to short, strong to quick, all high school boys are welcome to participate in this new addition to BHS sports. Though practice is typically held in the BHS building, they are open to all high school boys in the hopes that it will help spread the word and incite a passion for the sport within the other schools.
"When we had our very first meeting, we had three guys show up to the first informal meeting. So getting guys here was definitely the hardest thing. But word of mouth is the best way to promote it and so I went out and was like, 'We're gonna get people to come.' So I started telling all my classes, I went down to the lunchroom and I was like, 'You're coming tonight. I don't care what you have, you're gonna be there.' And then from there, it's just about making the environment fun. Allowing kids to feel welcomed into a club that really any guy that's interested in learning how to play volleyball can come to. They don't need to be athletic, you don't need to know exactly how to play volleyball, but it's open to anyone that's willing to learn," DeKrey said.
Because of its lesser-known popularity and the novelty of the sport in schools in the area, the team is able to uphold a positive and welcoming environment for all who join, regardless of their skill levels.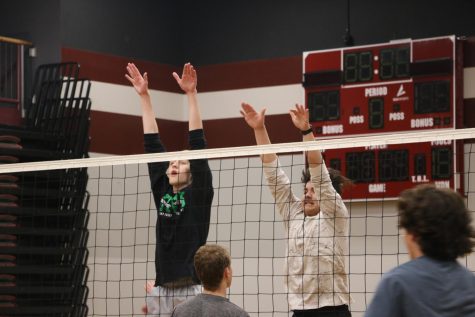 "I was convinced by my friend Quinn to try it out," BHS senior Spencer Meeker said. "At first, I was hesitant because I'm not really that good at volleyball myself and I thought the only people that would be interested in the club are those who were already pretty good and competitive. But I was pleasantly surprised to see that there were people of all skill levels there and everyone just wanted to have fun and learn rather than stress about being the best or winning all the time."
Despite having to build the team from the ground-up, the coaches and the players are optimistic for the season to come.
"As of now, we've only been practicing and playing against each other. However, if we get more guys in from BHS and other schools, the coaches would love to have us play against them and run tournaments," Meeker said. "The season should hopefully go until the end of the year if all goes well. Best case scenario, this becomes a regular spring activity at BHS in the coming years if passionate players continue attending."
Though not yet an officially recognized sport sanctioned within the schools, there are hopes amongst the team and coaches that it may become a sanctioned sport in the future.
"If schools can find enough players to join up, I see no reason why we couldn't become official – I think it would be awesome to have a boys league in a sport that is predominantly women," Meeker said.
"That's the dream. I would love to see guys compete in another sport. I think that that'd be awesome. It's something that kids can experience in college, so my hope is that we can start to provide it even here in high school," DeKrey said.
With hopeful mindsets and welcoming arms, the boys are certainly demonstrating their dedication to building-up the team and their growing passion for the sport.
"One more!"
"Three more!"
"Five more," the team said one night as practice was coming to a close.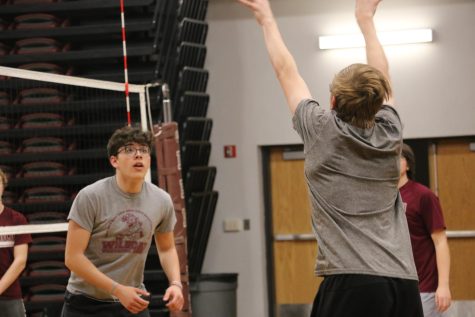 Without an official schedule, they will be able to continue their meetings into the summer, with hopes that by keeping the team together, the sport will have a stronger foundation for the coming school year.
"Like any club, it's important to stay close with your leader – it's important that you look up to them and you just enjoy being with a community of people," DeKrey said. "That's why I encourage all students to get involved in clubs, it's your family."
When asked what piece of advice they would give to boys thinking of joining or attending practice, the common response of the team was highly supportive and encouraged anyone thinking about it to try it at least once.
"If you have any interest in volleyball whatsoever, give it a shot," Meeker said. "Even though I wasn't too passionate about volleyball before I joined, I ended up really enjoying it. Don't be afraid to try it out if you feel like you're below the average skill level, because trust me, nobody minds and we're just happy to see more boys show up to play."
Leave a Comment
Your donation will support the student journalists of Bismarck High School. Your contribution will allow us to purchase equipment and cover our annual website hosting costs.
About the Contributor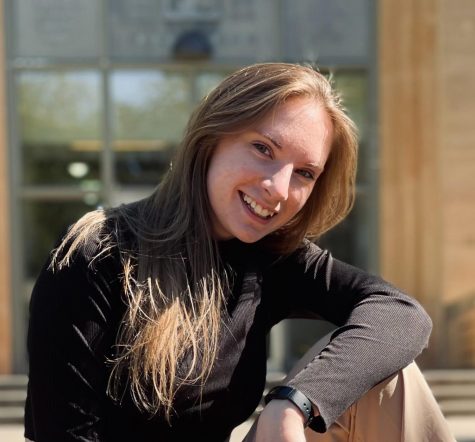 Becky Riepl, Editor-in-Chief
With a passion for the humanities, Rebecca is an art and literature-loving food aficionado. She loves to travel and try new things and is a certified knowledge...