Captain cancelled
With the recent Heard v. Depp court trial, many people are able to witness the effects of cancel culture in action.
Divorces in the courtroom are already dramatic enough, but mixing in serious allegations, all things relating to the #MeToo movement and cancel culture will call for one messy trial. Take Johnny Depp, for example, and his ongoing trial with his ex-wife Amber Heard. He is suing her for $50 million for defamation, and she is counter suing him for $100 million.
Heard published an op-ed in 2018 in The Washington Post where she wrote that she is a public figure representing domestic abuse. Although she did not name Depp in the piece, he claims he has suffered from irreparable damage to his career. He says that his removal from the Pirates of the Caribbean franchise is due to her op-ed, and that he has been dropped from other roles as well.
Not only does the entire world have the ability to watch as this trial goes down, but also the ability to really see into Depp and Heard's relationship and the kind of people they truly are. Video clips showing aggression between the two, violent text exchanges and even an admission of guilt have been shown to the jury and everyone else closely watching.
Depp said in September 2021 that he is a victim of cancel culture, and that "no one is safe" from the movement. Cancel culture is a "movement" in which the social public removes a celebrity or public figure of their status or esteem based on offensive behavior and/or actions. When Heard indirectly claimed that Depp abused her, social media was quick to believe and started bashing him. However, during their defamation trial, the media has turned around and praised Depp while simultaneously canceling Heard instead. 
Depp's composure and calmness has rewarded him great likeability on the stand, which the jurors are predicted to take into account when they make their decision at the end of the trial. Heard, on the other hand, has been seen getting frustrated and irritated while keeping constant eye contact with the jury. This is not out of the ordinary for her either, where she was seen smirking and rolling her eyes in the UK trial, where Depp sued the UK newspaper The Sun for $50 million for defamation as well. Depp lost that trial, and this was where most of his canceling began. 
Depp will continue to fight for his innocence throughout this trial between him and his ex-wife, and likely continue to face the consequences of cancel culture throughout his career, but only time will tell what the outcome will be.
Leave a Comment
Your donation will support the student journalists of Bismarck High School. Your contribution will allow us to purchase equipment and cover our annual website hosting costs.
About the Writer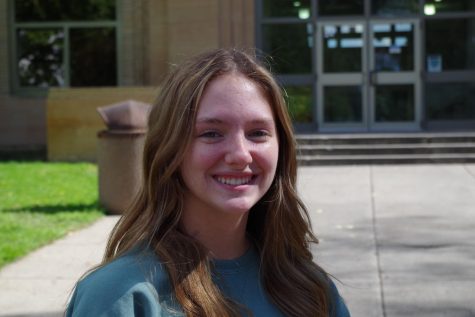 Kacie Hoffman, Writer
When Kacie is not on TikTok, she is working a part-time job and maintaining a 4.0 GPA. She is also a student manager for the BHS wrestling team. In between...