New colors for girls hockey
A new era begins with the creation of two fresh teams in Bismarck.
On Monday, November 14th, the Legacy-Bismarck girls hockey team practiced together for the first time. Historically, girls high school hockey competitions have been dominated by one team called the Bismarck Blizzard. 
Since 2003, the Blizzard has won nine state championship titles, six being consecutive. This brings complaints to teams like Fargo, who are tired of being swept by the Blizzard. 
"We felt, administration wise, we wanted to push to have another team," Bismarck High School's Athletic Director, Scott Nustad, said. "It just made sense." 
Now, Bismarck High School and Legacy High School girls will practice as a co-op team, with Century and St. Marys doing the same. The growth in girls sports has sent a realization to larger cities, like Bismarck, to split up. The more teams a large town has, the more opportunities open up for someone to make a spot on a team. 
When the idea was first brought up, the estimated numbers were low. Nustad and his team were guessing 14 to 18 girls would still play after the co-op change. To decide which schools would end up paired together, administrators went back to the original district lines before Legacy was built. 
"We did lots of looking at all the numbers and where the kids are located boundary wise," Nustad said. 
The numbers equaled out, giving each of the teams a fair amount of players.
"Both teams are over 20 plus girls this first year, which is amazing," Nustad said. "We're talking about 20 girls that wouldn't have skated this year compared to last year."
Giving those 20 more girls the opportunity to wear their school uniform and be a part of the school culture is what admin hoped to bring out of this change. 
"Change is always hard right away," Nustad said. 
But now, because of the adjustment, more rivalry arises against teams. Legacy-Bismarck will now play against former teammates, Century and St. Marys. These players have been competing together their whole life and have grown together as friends. The summer programs still play together right up until the season when separate schools go their parted ways. 
"For the most part, you're playing for your own school, wearing your own jersey," Nustad said. 
Growing girls sports, and growing girls hockey specifically, gives every BHS hockey player a chance to play in maroon. 
"This absolutely gives a lot more opportunity," Nustad said. "We're excited about that." 
The chance to play in an academic based activity means you get to wear your own school's uniform. Participating in a sport means being a teammate, which adds convenience when playing with classmates. Demon pride will carry out now onto the ice as Legacy-Bismarck. 
"We're sharing a uniform," Nustad said. "but it still says Bismarck High School."
Leave a Comment
Your donation will support the student journalists of Bismarck High School. Your contribution will allow us to purchase equipment and cover our annual website hosting costs.
About the Contributor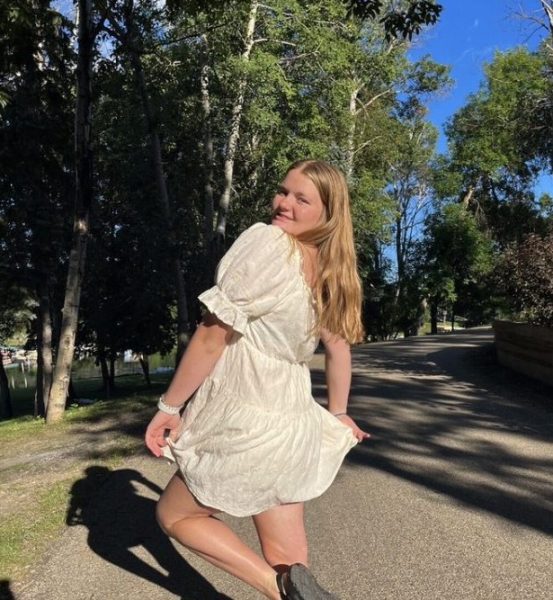 Lizzy Kerzman, Managing editor
Lizzy is involved in swimming, track and is the tech/PR rep in student council. If she could list her top three favorite things in the world, it would...