Take your mark
A senior swimmer dives into a successful final season despite health challenges.
Sports are a big part of Isabelle Forde's life. The BHS senior has been swimming competitively since third grade and is a five-time state qualifier.
"I'm good at the butterfly, but it isn't my favorite," Forde said. "I like freestyle and sprints. I like to figure out how fast I can go." 
Forde also plays softball. As a junior, she was a part of the state-champion Demon softball team. All that success makes for a lengthy athletic resume. But what that list of accomplishments does not include are the health challenges Forde faced without losing her competitive edge. Forde recalls her sophomore year when her parents noticed a change in her mood and behavior.
"During softball, I always had to go to the bathroom," Forde said.  "I got agitated, and my parents thought my behavior was a little weird."
It was weird enough that her parents took her to the doctor, where she was diagnosed with type 1 diabetes. According to the Mayo Clinic, common symptoms of type 1 diabetes include frequent urination, feeling tired and weak and feeling irritable or other mood changes. Symptoms can appear suddenly. Genetics often play a role in a diabetes diagnosis, but Forde is the first in her family to have the disease.
Forde was determined to tackle the disease just as she does every race. 
"I was just scared and was ready to learn," Forde said. "Doctors wanted to keep me in the hospital for three or four days. I wanted to get out of there as soon as possible. To leave and just get back to my normal life." 
Her normal life included being active in two sports, something she was not willing to give up.
"When I was in the hospital I was like, 'So what does this mean for swimming? What does this mean for softball?' I still wanted to play and be a part of the teams," Forde said.
Being a part of those teams meant she had to make some adjustments. Forde had missed several practices and games while doctors worked to get her diabetes under control. 
"I had little bumps in the road where I worked through it and just learned how to deal with it," Forde said. "I'm stubborn and I like to try to figure things out myself. I figured out everything I could so I can get back into my sports as soon as possible."
"I really think she was very independent with it," BHS girls' swim and dive co-head coach Matt Poppe said. "She never really seemed to have too many issues." 
Forde's diagnosis was something Poppe could relate to himself. He was diagnosed as a type 1 diabetic at age 11. He also was a competitive swimmer.
"It was pretty difficult with swimming," Poppe said. "Being type 1, you always need to be attached to your insulin."
At the time Poppe was diagnosed, waterproof insulin pumps were not readily available. Type 1 diabetics often wear insulin pumps to keep a constant stream of insulin going into their bodies. This helps maintain blood sugar levels. Insulin brings blood sugar up while exercising brings it down. Learning and adjusting to this balancing act did not stop Forde from getting back into the pool.
"You have to make sure you eat before practice and make sure your blood sugar is high enough to actually go through practice," Forde said. "I've gotten better at making sure I eat enough."
Her insulin pump helps her keep tabs on her blood sugar. Forde wears a waterproof insulin pump when she swims. At first, the pump drew some attention.
"People asked me about it right away," Forde said. "But soon they knew that I was the one with diabetes and didn't really pay attention to it. I was just a swimmer. I was with them."
As a senior, Forde was a team captain and a top Demon swimmer. She qualified and competed for state in the maximum number of events possible. Forde swam the 50 freestyle, 100 freestyle, 200 free relay and the 400 free relay. With Forde as the anchor in both, the relay teams placed 9th and 11th.
While her coaches are proud of her accomplishments in the water, they said they are even more pleased with Forde's growth as a leader and role model. 
"Isabelle has taken such a leadership role and such an older sister, and sometimes even motherly, role to the younger athletes on the team," Poppe said. 
That was a role Forde said she was glad to have. She will always treasure the friendships and memories from her swimming career in maroon. She says swimming with diabetes wasn't always easy, but she has learned to take care of her health and be there for her teammates. And while her career as a competitive swimmer is over, Forde will keep swimming.
 "I will swim to keep my blood sugar under control, but I will not be swimming as a sport on top of college," Forde said. "I feel like I appreciate my accomplishments more now. With diabetes, I'm a little different than this person, but I still accomplished this. We are still the same. It's just a little setback that's a part of my life now."
Leave a Comment
Your donation will support the student journalists of Bismarck High School. Your contribution will allow us to purchase equipment and cover our annual website hosting costs.
About the Contributor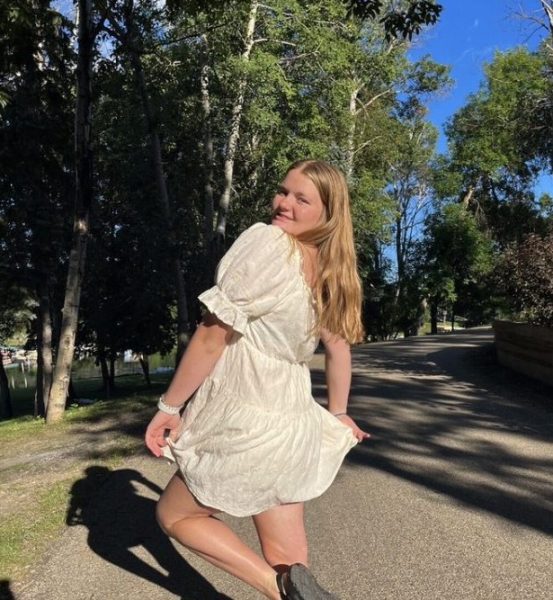 Lizzy Kerzman, Managing editor
Lizzy is involved in swimming, track and is the tech/PR rep in student council. If she could list her top three favorite things in the world, it would...