Commit or quit
The wonders of why there is not a freshman girls basketball team.
The 2022 girls' basketball season is a little different from previous seasons. Unlike other years, Bismarck High School does not have enough girls trying out in order to make a freshmen team. This years sophomore girls basketball team contains both sophomores and freshmen. 
It has been seven years since BHS did not have a true freshman team included in the girls basketball program.
"In 2020 our program will have 27 girls total. From 2008 to 2015, we were in the 50 to 60 range," basketball coach Bill Shetler said.
Playing basketball can be considered a demanding sport for some students. It is a four-month long season. Conditioning is required, additional money is involved, and all student athletes are expected to maintain their school work regardless of absences due to the season.
"Basketball is very hard on my mental health," freshman basketball player and student Maddie Vanderlinden said. "It's very overwhelming when you can't get something and because it's very long for the season." 
One might think that the expectations for this sport are similar, if not the same, for any other sport at BHS. The difference is the dedication students are willing to give. 
"It's very physical and you have to be in shape and willing to do whatever," Vanderlinden said.
When enrolled in a BHS sport, it is required to maintain grades steady enough to avoid two F's. Two F's makes an athlete ineligible to play. Many students participate in various clubs and or sports which can make it difficult to maintain the required GPA.
"Playing the sport does take lots of time out of my life," multi-sport athlete and freshmen student Brynn Anderson said. "Considering the last few years I had been juggling travel, volleyball, basketball, orchestra concerts, getting all the homework done and keeping all my grades at A's." 
Anderson is one of many freshmen who have decided to stop pursuing the sport of basketball. Although having commitment to many sports and clubs can become difficult to maintain, multiple participants of the current female basketball team at BHS are multi-sport athletes. Multi-sport athletes have been proven to be more resilient towards failure, leading them to be more resistant to emotional and physical burnout. 
"We have a variety of multi-sport athletes," Shetler says. "Being well-rounded is crucial. Each sport teaches different things which promotes a better, more well-rounded student-athlete." 
Vanderlendin is also a multi-sport athlete and averages 3.5 to 3.7 GPA. It is possible but at some points difficult to succeed educationally and athletically at BHS. 
"My grades are pretty good during the season, but sometimes it gets overwhelming and hard with long practices and lots of school," Vanderlinden says.
Every sport that is included, and even not included from public schooling, requires skill and physical demand.
"All sports are demanding," Shetler said. "Basketball has challenges that other sports don't and vice versa. We play really hard every day, so conditioning and commitment is crucial." 
Succeeding in any sport requires commitment and the want to be involved. Many students are already involved in multiple sports and look forward to joining clubs when entering high school. Schedules change and seasons can shift dramatically when switching schools, which results in having a variety of students enabled to join or quit sports. 
"I see basketball as one of my favorite sports to watch and it used to be one of my favorites to play but not as much once everyone got more and more competitive," Anderson said.
Although the numbers are low, it is the specific players and coaches themselves that BHS has been given who are truly invested in, not only this sport, but others as well. 
"We love and support each other each and every day," Shetler says.
It is important to BHS that their students and student-athletes are taken care of because that is their responsibility as a public school. The coaches provide an effective and healthy environment for its players, and they do not tolerate players who cannot bring that same energy, drive and commitment.
"The environment that basketball provides me is the people and coaches," Vanderlinden says. "They are the ones that make this sport fun."
Leave a Comment
Your donation will support the student journalists of Bismarck High School. Your contribution will allow us to purchase equipment and cover our annual website hosting costs.
About the Contributor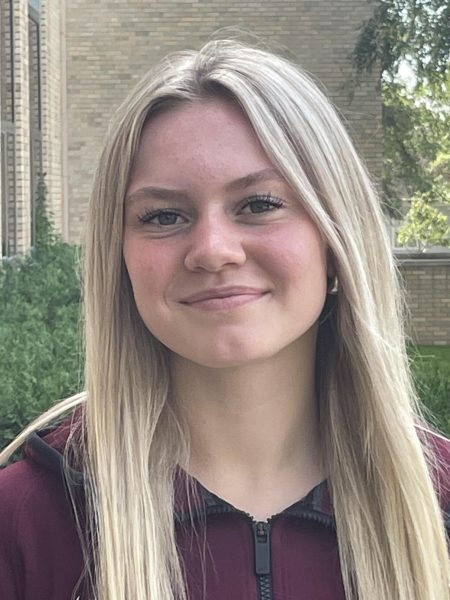 Alannah Kemmis, Staff photographer & writer
Alannah is an all-year-round volleyball player and takes stats for the girls basketball team. She's a busy student who likes to spend time with friends...