Athletic and healthy, not always the same thing
Health conditions can often be hidden, especially in athletes, that's why getting annual checkups and knowing how to using AEDS is crucial.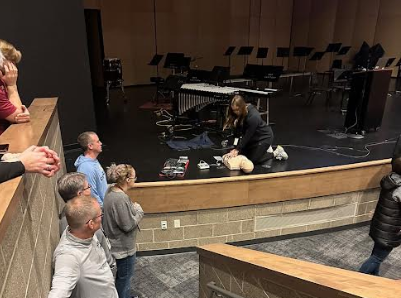 Athletes are known to be fit, healthy and strong. So when Buffalo Bills' safety, Damar Hamlin, collapsed on the field earlier this month, fans were shocked. Hamlin took a blow to the chest, and shortly after suffered cardiac arrest, during a regular season game against the Cincinnati Bengals. 
Cardiac arrest is when a person's heart beats at an abnormal pattern or stops beating completely. First responders performed CPR and resuscitation to bring Hamlin back into consciousness before transporting him to the intensive care unit. He is currently still on oxygen and his heart is monitored routinely.
Typically, the average age for sudden cardiac arrest is around 60 years old. Hamlin, only 24, brings awareness back to the reality that it can happen to anyone, no matter how fit and healthy. According to the CDC, roughly 2,000 young people in their early or late 20s die each year from sudden cardiac arrest, some without any signs of heart disease. 
Wilhelm credits AEDs for saving his dads life
Physically fit his whole life, Craig Wilhelm is a lifetime basketball player. 
"He loves basketball," BHS head boys basketball coach, and Craig's son, Jordan Wilhelm said. "It's a part of his life."
Cardiac arrest episodes have also slowly become a part of his life. In December 2015, Jordan received a call that his dad collapsed while playing basketball at the YMCA.
Craig flatlined four times, but chest compressions and an AED kept him alive all the way to the hospital.
"I freaked out and hustled to the emergency room where he was being taken and found out that he went down with cardiac arrest," Jordan said. 
After his first episode, the doctors placed an implantable cardioverter-defibrillator (ICD) onto the side of Craig's chest. In April of 2016 he was back at the same court, playing the same game, and went down for a second time. The ICD detected the irregular heart beat and kicked in. He returned back to a relatively normal life despite his cardiac arrest setbacks. For five years, he experienced nothing more than a little brain fog. Then, in February of 2021 Craig was refereeing at one of Jordan's tournaments early in the morning when his third episode occurred.
"They're still not really sure what causes it," Jordan said. "I think a big part of it is being on the basketball court, getting that adrenaline going."
Because cardiac arrests and heart attacks are common in the US, CPR is a part of the curriculum at BHS. Juniors learn the lifesaving skill during P.E. class. Teachers and staff are also taught how to correctly use AEDs in case of emergency on staff development days.
"If you don't have the confidence or lack the knowledge and access to AEDs in public sites, the worse off it's going to be," Jordan said. "You find out more experiences that people have had with cardiac arrest and the very low percentage of survival rates, simply because of people's lack of knowledge." 
Routine sports-physical leads to lifechanging diagnosis
Physicals are required for every sport at BHS. Athletes must get checked and cleared by a doctor before being able to practice. Without the pre-season appointment, senior volleyball player Teagan Williams' health would have declined. 
Leading up to her sports physical, Williams knew something was wrong. 
"I knew going into that appointment that I needed to tell the doctor how I was feeling," Williams said. "However, I debated hiding it for a while because I wanted to play my senior year of volleyball."
Williams confided in her doctor that she had been feeling tired. That prompted tests and bloodwork. Her doctors would not clear her to play until her blood tests and heart monitors came back healthy. 
"My symptoms were not normal and I knew I needed help," Williams said. 
The blood tests showed her levels were off. Doctors diagnosed Williams' as anemic and discovered a leaky heart valve. She was diagnosed with autonomic dysfunction, an autoimmune disease that causes the nervous system to not work properly. For Williams, that meant her heart was overworked. It also meant the end of her volleyball career.
Volleyball has been a huge part of Williams' life since second grade. She played up as an underclassman. 
Hanging up the maroon and white jersey was not easy. 
"It was one of the hardest things to do. I would oftentimes cry while watching them play because of how badly I wanted to be with them on the court," Williams said. "It was for the best, but I can't say I'm glad. It happened for a reason and I can't change that now."
Without her life on the court, Williams is able to focus more on her health. After several months of rest, she is able to do mild forms of exercise like walks and weight lifting. 
"Now that they found out what was wrong and how to treat it, I take supplements and pills to help, and get my blood drawn a lot so they can monitor my blood levels," Willams said. 
"Now that I'm feeling better, I enjoy life so much more."
Leave a Comment
Your donation will support the student journalists of Bismarck High School. Your contribution will allow us to purchase equipment and cover our annual website hosting costs.
About the Contributor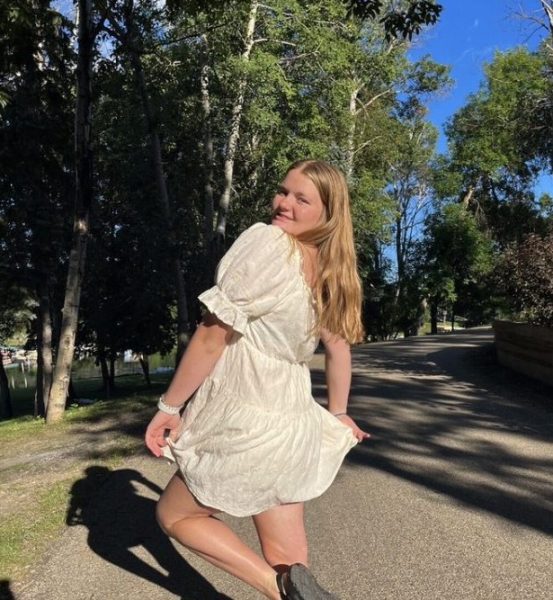 Lizzy Kerzman, Managing editor
Lizzy is involved in swimming, track and is the tech/PR rep in student council. If she could list her top three favorite things in the world, it would...