Angela Siewert, (lit)erature lover
Angela Siewert is the head BHS librarian, advisor for Sources of Strength and is always willing to help students.
Librarian Angie Siewert has been here at BHS for 11 years, and she was an English teacher prior to that. Before making Bismarck High School her home, she also taught at Inver Grove Heights Middle School in MN, Grand Forks Central High School, and now, BHS.
"I was terrified to leave the classroom but I have found a passion for working with teachers as much as I do students,"Siewert said, "I have also grown more passionate about my profession with time and take great pride in promoting a student's freedom to read."
There is no average day for Siewert, she's always on the move. Some days she's in classrooms, other days she's working on our library collection, such as reading book reviews and placing book orders, adding items to the catalog and finding new ways to get more students involved in the library. 
"Other days I'm meeting with other librarians, instructional coaches and district leaders to discuss teacher and student growth and achievement." Siewert said.
Siewert is also the advisor of Sources of Strength (SOS) here at school. They meet every week on Tuesdays, switching between periods each week. The group is student led and spreads messages of hope, help and strength. The group makes campaigns for different key points in people's lives. 
"We recognize that we all struggle with feelings of anger, anxiety, and depression at some point in time," Siewert said. "We focus on building people up by reminding them to utilize their eight strengths from the wheel."
SOS has changed Siewerts view on the world. She feels better equipped to help others through tough times whether it be students, teachers, or even with her own family. She also has more hold over her own well-being now that she understands how to use the different sections of the wheel in more ways than one. 
"I know so much more about myself and others because of my work with Sources of Strength. I refer to the wheel daily, whether it's with a student, a teacher, a friend, my own children, or myself," Siewert said. "Simply put, I am happier because of Sources of Strength and I want nothing more than for everyone else to feel that same joy."
Siewerts plan for this year and future years is having some sort of student library leader group, it would also be known as the Student Book Ambassadors. It doesn't necessarily need to be just with kids who love to read, she wants students to help find books, but she also wants students to help find new games and activities to do up in the library. 
"I want honest students who know their peers and can help me choose the topics and styles of books to purchase for our school. I would obviously love a book club to come out of it, too." Siewert said. 
Siewert is not the only librarian at Bismarck High School, Mollie Mehelich and Sara Riepl are two other library helpers that come to school every day with a smile on their faces. Siewert feels very lucky to get to walk in every morning to see Mollie and Sara in the beautiful library with the sunrise just starting.
"Mollie and Sara's smiles bring me joy every day," Siewert said.
Just like other teachers, the librarians have their regulars, and the number seems to grow every year. This year, there are four who stop in daily, just to talk and update Siewert on their daily lives. There are many different types of people that stop in the library, some people who want a quiet space to study, or people who go to play games and hang out with friends. The librarians feel that the library should be a safe, calm and welcoming place, so they never turn anyone away unless they are being rude, or skipping class. Their positive attitudes add to the foot traffic of the beautiful space.
"If you haven't explored our library lately, stop in," Siewert said. "We have something for everyone up here. A book or magazine, board games, makerspace activities, and we are always seeking input, so come tell us what you want to see in your library."
Leave a Comment
Your donation will support the student journalists of Bismarck High School. Your contribution will allow us to purchase equipment and cover our annual website hosting costs.
About the Contributor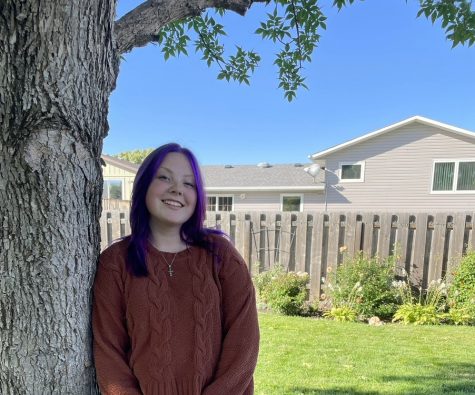 Jordyn Pierce, Design editor
Jordyn is pretty reserved and not that outgoing. She likes to cuddle up with a good book and read. She also likes to play with her dogs, especially Sayde.