Mr. & Mrs. Peterson, love at first sight
Alyssa and Nick Peterson, both staff at BHS, have been together since 2012 and their love has only bloomed more and more.
The great love story of Alyssa and Nick Peterson all started in 2012, and a bible camp called Camp of the Cross (CCM). She was working as a kitchen staff member and he was going there for a trial period, to see if it was something he wanted to do with his summers. 
"He started working there in 2014 which is the first year we worked together." Alyssa said.
The two of them both started working here at Bismarck High School in 2018, Alyssa started at the start of the year, and Nick joined her in late October. 
"Alyssa's job is intense because she has so many students at once. My job is intense for the exact opposite reason." Nick said. 
Although they work together, there are many differences with their jobs. Alyssa's largest class has 55 students, and Nick has only worked with one student for the past three years. 
"In my job, I've learned a lot about motivations for why people do what they do and how important consistency is in the daily lives of so many kids." Nick said. 
They also don't see each other throughout the halls due to where they are located. They occasionally see each other in the mail room, and sometimes Nick will pop into the choir room to say hi. 
"Actually a funny story is that one day I went to get mail from the mailroom and Nick was walking down the main stairs. When I saw him I said hi, and he said "Oh, I didn't know who you were at first," Alyssa said. "I told him I was offended that he didn't even recognize his wife."
Due to the fact that they both work in different departments, they both have to associate themselves with different people. They both enjoy the students and staff that they work with daily. For Alyssa, she has always loved music and to share that with her students is a gift. 
"I may be biased but I think the students I work with are some of the coolest cats in the building," Nick said.
They both have a very outgoing personality, even though it might be hard to tell sometimes. 
"I've been the spontaneous one since the beginning, but Alyssa likes to try new things." Nick said.
They also still can joke around with and about each other. 
"Nick's favorite cookie is oatmeal raisin…I've been told that this is a red flag, however that just means that I get all the good cookie options. It's all about compromise," Alyssa said.
They both have their guilty pleasures, and Nick was willing to share Alyssa's.
"Alyssa's middle name is actually Nacho," Nick said. "If eating nachos for every meal didn't cause long term problems from lack of proper nutrition, she would."
Leave a Comment
Your donation will support the student journalists of Bismarck High School. Your contribution will allow us to purchase equipment and cover our annual website hosting costs.
About the Contributor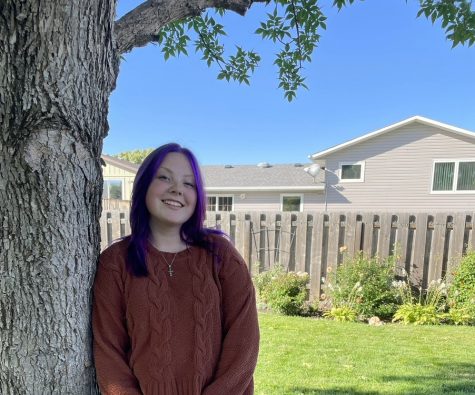 Jordyn Pierce, Design editor
Jordyn is pretty reserved and not that outgoing. She likes to cuddle up with a good book and read. She also likes to play with her dogs, especially Sayde.