Valentine's day or Valentine's nay?
For many, Valentine's day is a day of love and happiness, although for others, it is a day of loneliness and depression.
Valentine's day has always been one of the only days a year fully dedicated to love and finding your one, true someone. For those who have a significant other or someone they truly love, it can be a great day to go out and to celebrate with one another, although people celebrate Valentine's day in many different ways. Whether that be jumping on the bed and dancing around to "Single Ladies (Put A Ring On It)" with best friends, eating ice cream alone on the couch curled up with man's best friend watching "rom coms" or going out with the so-called "love of your life," people celebrate in all different ways. 
Having a certain someone on Valentine's day seems to simply mean it is a day to spend way too much time and money on a gift. According to the national retail foundation, the average American spends $192.80, which is up from $175.41 in 2022. Having a holiday designated to significant others and the people everyone loves is not a terrible idea, but when people are spending near $200, it begins to seem a bit extreme. Many people would not consider this very extreme, but comparing it to other countries might put it into perspective. People living in Mexico spent on average the equivalent to 62 American dollars and Canada spent the equivalent of 92 American dollars. 
There is no problem with having a specific day to love one's significant other, but spending that much on seemingly temporary or unimportant things does seem a little excessive and unnecessary. Valentine's day is just another day designated to spending more money than everyone has on items that will get forgotten or that have no real purpose. There are already so many days dedicated to loving one another where people spend just as much, if not more. 
If everyone saved that money, they could get something way better for their significant other for a different holiday or reason. With an extra $200 on their anniversary, they could get them better flowers than they had planned, or a nice necklace, earrings, even a vacation. It seems as though everyone is getting less and less money only to spend more and more. Most people are overworking themselves just to spend their hard earned money on someone that they do not even know will be permanent in their lives. They could be buying their mom a nice, "out-of-the-blue" gift, or buy themselves something nice instead, something that will last longer.
Leave a Comment
Your donation will support the student journalists of Bismarck High School. Your contribution will allow us to purchase equipment and cover our annual website hosting costs.
About the Writer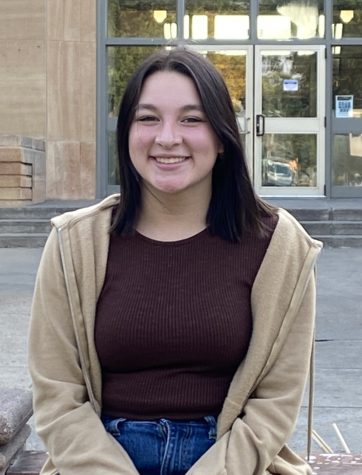 Hannah Sarkilahti, Assistant Editor
Hannah is a very outgoing person. She likes to write poetry, drink coffee, and go on walks with her dog.