Olivia Kost, everyone's unofficial favorite sub
Olivia Kost is a sub at BHS, and she is quite well-known.
Kost is 22 and subs daily at BHS. At first, she planned on being a sub for the school system in general, but Cassie reached out to her and offered her a full time sub position, which she happily agreed to. She decided to sub because she had just graduated with her undergrad and is planning on going back to school in the fall, and she did not want to become a first year teacher and leave her students. 
"The scene here is dynamic and ever changing," Kost said. "There is a lot of diversity in the classes which brings a lot of positivity, and it is a fun work environment."
Kost went to college and double majored in secondary education and English with a focus on British literature. She plans to become a teacher, hopefully at the college level. She feels as if literature and the impacts it has on people is a positive one. Every student can relate to at least one piece of literature, and being a teacher, she can bring that solace to her students. 
"My goal as a teacher is to create a safe and creative environment for my students so they can express their intellectual ability to the best of their ability," Kost said. "To provide that opportunity to students while providing that safe space."
After her long days at BHS, Kost heads over to Barnes and Noble for her part time job. She highly enjoys reading and wishes she had more time to do so. Her favorite genre to read is fantasy, yet her favorite author is not one of that genre. Her two favorite books are Picture of Dorian Gray and The Name of the Wind. She got into reading due to the fact that she was such a quiet kid.
"Growing up in North Dakota, you don't get as many adventures as fantasy books. It's almost as though you're experiencing a different life that you'll never be able to live." Kost said. 
Kost has goals as well. For her career goals, she plans on teaching at the collegiate level. She wants to teach early British literature and gender within mythologies. Her non-career goal is to make a positive impact on as many people as possible. 
"Those little things can really turn your day for better or worse," Kost said.
Leave a Comment
Your donation will support the student journalists of Bismarck High School. Your contribution will allow us to purchase equipment and cover our annual website hosting costs.
About the Writer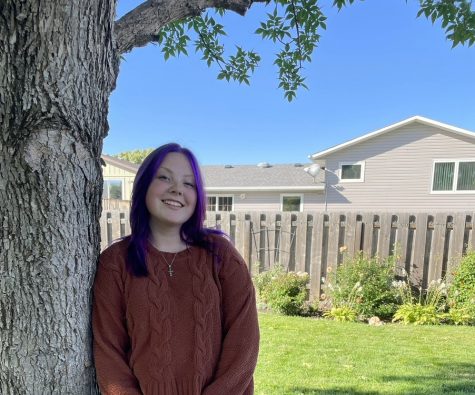 Jordyn Pierce, Design editor
Jordyn is pretty reserved and not that outgoing. She likes to cuddle up with a good book and read. She also likes to play with her dogs, especially Sayde.