Resilience
As students of North Dakota transition into their spring sports, they are presented with one, bold problem.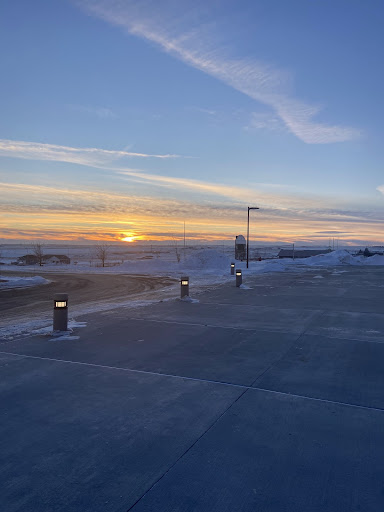 Bismarck High School experiences over 5 different sports during the spring. Significant weather changes and snow build up is a not-so uncommon occurrence in North Dakota. As seasons change, student athletes are faced with a problem greater than their control. 
In North Dakota, April is to be the snowiest month of the year. The snowiest month out of the year taking place in the beginning of spring sports makes it challenging to transition. The 2023 snowfall season has been more significant than past seasons due to a remarkable 101.2 inches of snow. 
"Unfortunately, our weather often hinders athletes' success as we don't consistently have great weather until June." Track coach and health teacher Scott Reichenberger says.
Various different weather conflicts are predicted early on in each sports season. Student athletes will quickly learn what kind of environment they excel in. The cold air taking place in an outdoor sport can make it harder to accelerate and improve in the ways an athlete desires. 
"Whenever I get cold it makes me slow because I get so tight," student-athlete Jillian Quale says. "When it is hot out, I always perform better since my muscles are warm and move more freely."
All of Bismarck High School spring sports traditionally take place outside, so moving and or shoveling snow in preparation  is not an uncommon occurrence for participants. Students and Coaches consistently have to adapt to new weather and environments through the whole season. Having snow, ice and mud on the ground makes the process of meets and games much more difficult. 
"The biggest challenge this winter was finding locations to workout." Says Reichenberger. "If outside isn't an option, the fitness room at BHS, hallways, and gymnasiums are the only other options."
Each year coaches, teachers and students have to keep notice of unpredictable weather patterns. Cancellations, practice and schedule changes are all consistent throughout each and every sport. Every student-athlete is expected to be flexible and motivated regardless of weather setbacks. 
"Great athletes are resilient and are willing to adjust regardless of the event. The
weather will never be an excuse for them." Reichenberger says.
Improvements in not only athletic capabilities, but also relationships and moral strength is often found in athletes who face more diverse difficulties. Coaches also experience a new season every year and are presented with difficulties as well. The coaches and teachers at BHS have again and again proved their dedication to the students, as they have also benefited from these challenges and have grown stronger skill sets. 
"Coaching indoors does not limit coaching ability, in fact I think it makes one a better coach," says Reichenberger. "Training also requires planning for unexpected weather and lack of facilities. Indoors requires more creativity."
This spring sport season has been memorable; but, the athletic performances shown indoor and outdoors have potential to be just as memorable. As the weather warms up, athletes will be able to show their best improvements. Student-athletes have a whole season to finish off outdoors, withholding many new opportunities.
"Knowing that good weather will come, I soak up all the practice to perform my best when the time comes." Quale says. 
Although each athlete is faced with different challenges, there is still large amounts of room for growth and success. An optimistic mindset can go a long way for an athlete and success can be reached with the right amount of motivation. 
"I always think about the next positive thing to help me and motivate me to finish." Quale says.