Out with the old scores, in with the new
Bismarck High School students have reached a new achievement this year as ACT scores increase.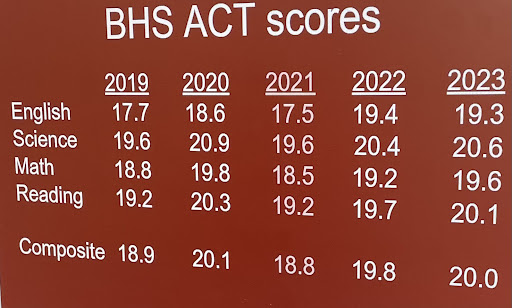 Compared to 2019, BHS ACT scores have improved by nearly three points. In each section of this test, students have scored better than in previous years. 
Even with bumps along the way, students' scores have increased year by year. Though it may be hard to replicate scores reached by previous students, BHS juniors were able to reach a new average that shows hard work and determination with the growth that is shown. 
Teachers have been utilizing instructional framework that focus on reading, writing, collaboration, and essential questions, which has helped students gain strengths that can be applied to the ACT test. 
"I'm really proud of how our kids and teachers have taken this seriously and worked really hard," Bismarck High School assistant principal Lynette Johnson said. 
The ACT is not required for students at Bismarck High School but has many benefits. Not all schools look at or require a certain ACT score, but use them when determining what classes students should be taking. If a student is proficient in English and math with above an 18 in those sections, they may not have to take a remedial class in college. This can help students save money if they are eligible for freshman classes. Having certain scores can help students as they open up scholarship opportunities such as presidential scholarships and the North Dakota state scholarship.
"We want to have as many kids prepared and ready as possible so they can have these benefits," Johnson said. 
In 2023, six percent of BHS students earned a 30 or higher on the ACT. This most recent percentage has gone up three compared to 2019. In 2023, 46 percent of students earned a score of 21 to 35. The composite score for Bismarck High School in 2019 was 18.9 and grew to 20 by 2023."Good instructional practices, getting kids to collaborate with each other, and writing and reading every day is like weights for your brain, the scores will naturally rise," Johnson said. 
The pandemic put students' scores in a lower category due to losing months of school and having online learning but focus and dedication to increase scores helped the composite scores go up by a point in 2022.  Students' scores increased from 18.9 in 2020, going up to 20.1, but decreased as a result of the pandemic in 2021. The composite ACT scores for Bismarck High School are higher than the state of North Dakota's scores as the composite is 19.4. 
"I think when kids set their minds to it, anything is possible," Johnson said. "There is room for improvement, but you can see that we are continuing to grow, from 2019 to now our scores are up by 1.1 points."
Along with studying in day-to-day classes to gain the knowledge needed for the ACT, students are also able to take the preACT. Students have a chance to see what the test is like and get an idea of what the formatting is like. learn how to take the test. They are able to learn how to take the test and how to read the questions properly to find what is being asked. 
"It's not all about an ACT score, but it does show what our kids are capable of," Johnson said. "It just makes it another great day to be a demon."