The continued acceptance and support has allowed the Disney brand to become one of the most successful companies in the world. With attractions all over the globe and merchandise in almost every store across the nation along with constantly releasing new movies and tv shows, it seems as though nothing could stop the house of the mouse. 
Despite continually rising in success with the acquisition of pre-existing intellectual property (IP) such as Marvel and Star Wars the Disney name has recently and more frequently been taking some hits. 
Since releasing their own streaming service in 2018, known as Disney+, the company has been investing in the upkeep and maintenance of this platform in an effort to keep users engaged with the service. There have been more and more mediocre shows and movies released, the most recent of which is Marvel's Secret Invasion. While streaming services could be to blame for Disney's lowest stock share prices in nine years, the facts state that Haunted Mansion and Indiana Jones five seem to be the most recent flops and have lost millions of dollars while in theaters. Marketing and low theater numbers are not the only things to blame for Disney's downfall as audiences have collectively felt a shift in the overall quality of Disney's output. 
The general thought over why audiences are not clicking with the companies recent investments as much as previous years falls into the category of over saturation of the genre, especially from Disney's biggest franchise Marvel. 
The Mid of Marvel
Starting as a prospect few thought would increase in value, Disney bought Marvel for $4 Billion in 2009. Marvel had begun hitting financial lows and had previously crawled out of Bankruptcy in the late 90's by selling some of the rights of prized characters such as Spider-Man, X-Men, and the Fantastic Four.
Iron Man, released in 2008, would be the beginning of a 15 year long cinematic universe spanning nearly 30 movies and 10 Disney+ series. Disney would continue a steady stream of Marvel movies, including Avengers Endgame, the highest grossing movie of all time, but would soon take a break in releasing due to COVID-19.
The controversies associated with the movie Black Widow would result in the immediate strain of Scarlet Johanson's decade plus long relationship with Marvel and Disney that started with Iron Man 2 in 2010, the first Marvel film after Disney's takeover. Johannson suing the company in 2021 shocked Hollywood with the actress citing a breach of contract by releasing Black Widow to home video. While not directly contributing to the lower viewership and ticket sales it was also the first major shock to Disney's outward image that did not involve the Chinese market. 
2021 also marked the shift in people's perception of Marvel as a brand, with the movie Eternals receiving the most hate a Marvel movie had ever received. Shifting the narrative, Disney also released Spiderman: No Way Home that same year which would make over $1.9 billion.
Following the somewhat mixed bag that was 2021, 2022 brought some of the biggest disappointments in recent years, Dr. Strange 2 and Thor 4. The former was hit after its initial release with many viewers claiming the titular character was sidelined in his own story. 
Thor: Love and Thunder on the other hand was hit hard from critics and general audiences right out of the gate. The failure of this movie is a concern that has been raised for nearly a decade where Marvel is unable to create a serious story. 
Arguably the most well received trilogy, Guardians of The Galaxy three released earlier this year to overwhelmingly positive reviews, making it a rare success in Disney's new era. 
The Sluggish Slop of Star Wars
Ever since Disney bought Star Wars from George Lucas in late 2012 there have been many concerns over the direction of new Star Wars media under the banner of the mouse. 
For a short while, it seems that those fears would not become fully realized as new media would not release until 2015's The Force Awakens which upon release was received fairly well, with the trailer alone breaking records and amassing hype that had not been seen since the prequels a decade earlier. Following suit, The Last Jedi, released in 2017 had overwhelmingly negative reviews from fans and largely mixed from critics, making it seen as the pivotal moment for Disney and Star Wars. 
After the failure of The Last Jedi and the uproar it caused, there was little hope for Disney's next Star Wars film. The Rise of Skywalker, which unceremoniously, this time to overwhelming negativity from both audiences and critics alike. 
The difference between Star Wars' degradation and Marvel's is that Marvel slowly fizzled out. It went from being the highest grossing franchise of all time to only recently falling short. Star Wars on the other hand has become notorious for being a franchise with a bipolar community, causing fans to love and hate Star Wars.
Star Wars' saving grace was Jon Favreau's The Mandalorian. Even though The Mandalorian was a huge hit after making its first debut, it soon followed the path Marvel has slowly paved away making fans lose their trust in the series. Disney's biggest flaw with Star Wars was not knowing where they wanted to take it. There were hundreds of stories written before the acquisition, but they were tossed aside for a new narrative.
Disney's lack of care for their previously largest established IP left a sour taste in not only audiences' mouths but also producers and investors.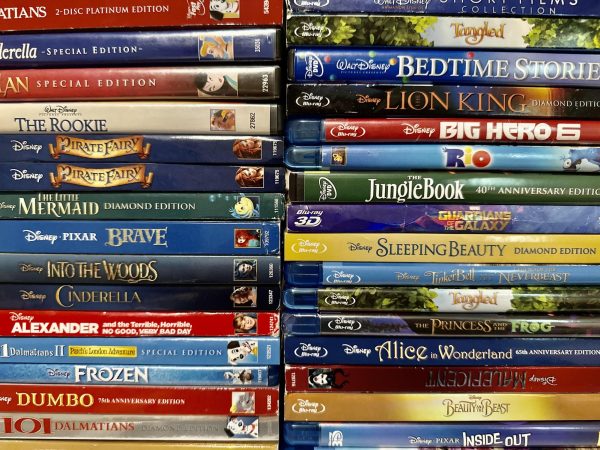 Disney's Controversial Carousel
Besides Disney's failing IP, they have also been hitting new lows with ever more increasingly controversial decisions with not only the general public but also with investors. 
It is no secret that there are many different political implications being seen in many forms of media in the past decade, Disney being among the most criticized for it.
This series of highly glorified issues take center stage in the company's two-front war. With some on one side speaking out against Disney's ever increasing inclusivity, claiming the company is going too woke and attributing that to its recent failures. While the other side actively pushes Disney farther into the rabbit hole that is politics and representation, whether intentionally or not both harm the product and the company itself. The shift of products and film becoming a part of a proxy war that Disney did not start and certainly cannot finish, based upon political beliefs and ideologies may truly be what will cause the downfall of Disney.
In the ever changing scope of the world and society's beliefs perhaps the magic of Disney found before 2020 was something of its time. That no matter what the multi-billion dollar company may do to adapt and change they finally hit their peak and are slowly pulling back to allow future generations to find the magic for themselves.