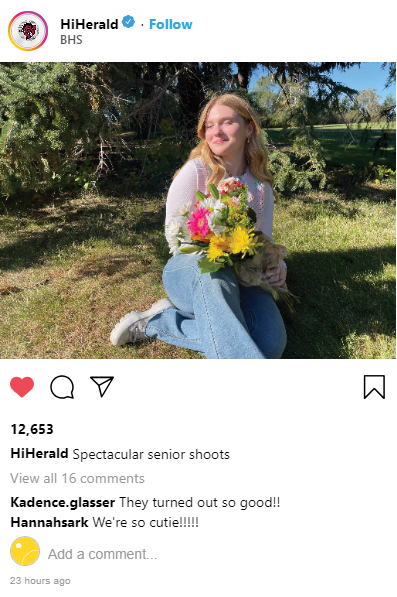 There are many aspects to photos that can make the photos personalized and unique to an individual. The best locations for photos will vary from person to person depending on their preferences and interests. There are ways to help the decision-making process if someone is stuck on what to do. 
Bringing friends to make the day more fun, and making sure you are comfortable with your photographer will give genuine smiles in pictures. Having someone you are comfortable with take your photos will help with the nerves of making sure you are getting good pictures, and make it feel more natural. 
Timing is something to be considered when planning out dates for senior pictures. The lighting can drastically change the pictures that are taken. The best times to take pictures are earlier in the morning, or later in the afternoon, during the "golden hours" of the day. Another thing to consider is the weather or current season. Taking photos in different seasons opens more, or decreases the amount of locations available for photos. 
The location of the photos can add more personality to them and determine the vibe of them. When choosing a location, it is important to ensure that you are able to take pictures on that property and get permission if needed. Some locations may look best in different seasons, such as summer for sunflower fields, and fall for the colorful leaves. Scenic views can provide natural simple backdrops for pictures if simple is the preferred style. Pictures taken in a city setting such as a downtown area can bring a more unique, fun look to pictures. Down alleyways, streets, or in front of street art can change up pictures with backdrops that are less common. 
Choosing the style and location is based on personal preferences that are fitted to the individual. Finding places that have a personal connection to the individual, or bringing props or personal items that fit their interests and show personality are great ways to make the pictures unique to the student.