A Cinderella story left unfinished
The BHS boys basketball team were on a run for a state championship, but their dream of a title was cut short prematurely. They will now have to play the "what if" game for the rest of their lives and wonder what could have happened.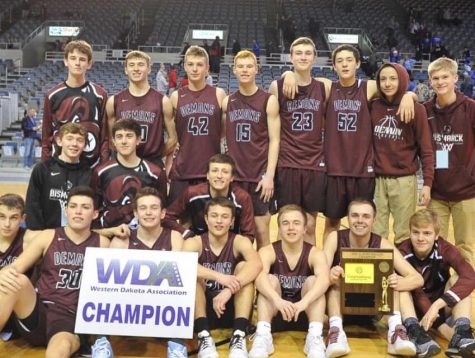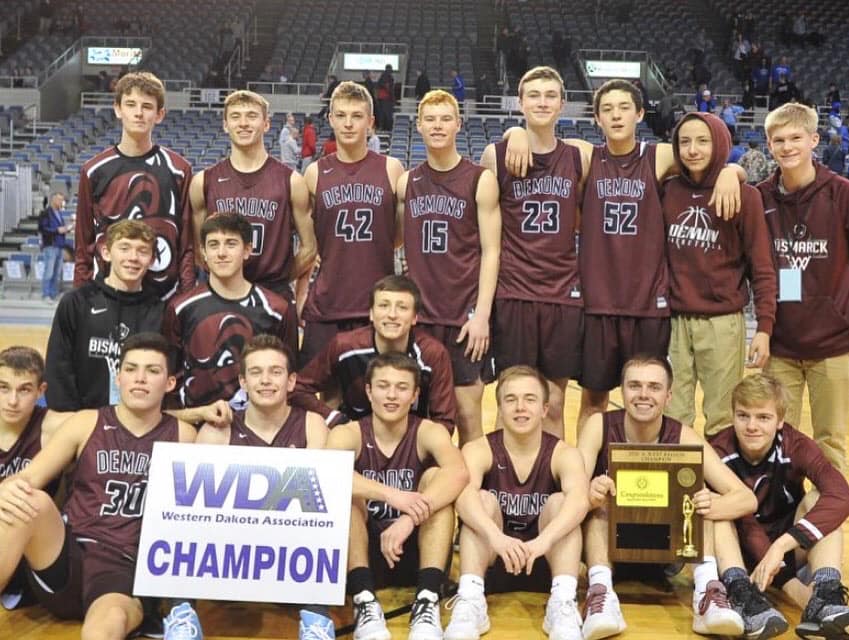 It has been a given for the past 25 years that the BHS boys basketball team was going to run a slow-paced, defensive minded style of basketball. This way of play was started by legendary BHS head coach Steve Miller.
Current head coach Jordan Wilhelm has been at the helm of the Demons for five years. Wilhelm used Steve Miller's system for the first four years of his tenure. The past two seasons, his team earned the two seed going into the WDA (Western Dakota Association) Tournament, but fell short of reaching the state tournament. This prompted Wilhelm to make a change.
"I've been talking with my staff for years about putting in this system," Wilhelm said. "Our previous system had worked for 25+ years and we had no reason to make a change.  After the past two seasons, where we ran out of gas in March, we thought we had a very deep roster coming up for the 2019-2020 season and had a great group to make the change."
Revamping the whole Demon program can come to a shock to many. Some players and families might not like the new ideas and could complain. Luckily, people trusted Wilhelm's plan and put their faith in the athletes.
"Our guys responded very positively to it," Wilhelm said. Just like we thought they would.  We had a great group of players who we knew would commit to something new. We are very fortunate to have such a fantastic group of athletes."
The Demons worked all summer to get used to the new system. They went to team camps where they competed against other teams in a scrimmage. They had team camps in the Wisconsin Dells, Fargo, and Bismarck. Wilhelm also put on weekly workouts where they would work on the new system.
"During the summer the new system was really effective," Senior guard Kenyon Eagle said. "We just knew we needed to be more conditioned. So when practice started we all knew it was gonna be a lot of running, but everyone was committed because we knew how effective it was."
Not everyone was convinced that the new system would work across the state. Many opponents scoffed at the idea that the Demons could play an up-in-your-face style defense for 36 minutes. This brought motivation for this year's group.
"We did not know what was gonna happen," Senior guard Kade Rohlfs said. "We were projected to finish #6 in the WDA and many people counted us out, but we used that as fuel to the fire. They hated it, many coaches around the league said it's not basketball and it's pretty much cheating. A lot of the players hated playing against it from talking to them on the court."
They say to make a dream a reality, you have to believe in yourself first. Many great teams in sports are very successful because they believe in themselves, and trust those around them. Wilhelm wanted to implement that into his new team.
"I wanted our group to believe and be confident," Wilhelm said. 'I, personally, thought we were going to really surprise some people and wanted to make sure all of my players believed too!"
While many athletes have pre-game jitters to start a season, coaches also have the same feelings. Wilhelm was very uneasy before the Demons played their first game with the new system.
"I was more nervous before our first non-conference game against Fargo North then maybe any other game in my career," Wilhelm said. I had no idea what to expect.  I was confident, but until you actually see it against other teams, it is tough to really trust that a new style is going to be successful."
The Demons came out and defeated Fargo North in their first game 107-72. They broke the school record for most points in a single game, and most three pointers in a game (19). They then lost their first two conference games, but that did not faze BHS.
"There will be naysayers throughout your whole life, especially in the social media age," Wilhelm said. "The key is to block it out and believe in yourself. My goal was to have our group believe in themselves and buy into each other every day… It was the most positive we could have possibly been after starting 0-2. There were a lot of good things we saw in those first two games, and they were both against top teams in ND. We knew that if we could be that close early in the year that we would be just fine. This team was predicted to finish in 6th place to start the year and finished in 2nd place to end." 
The Demons secured the two seed in the conference tournament with a 16-5 record. Many teams try to flip the switch on their team's mentality going into a big tournament. Wilhelm had been preparing his players for the conference tournament all season long.
"I think our staff had to have more patience this year than any other year," Wilhelm said. "We had to understand that we might have some rough stretches throughout the year, but if we allowed some freedom that it would lead to confidence later in the season."
In the WDA tournament, BHS had to come from behind to win in all three games. They rallied late to defeat Century on Thursday night. They came back from down 13 points in the second half to take down Minot on Friday night. And they beat Jamestown, a team they had lost to twice earlier in the season, in overtime on Saturday. 
"It felt relieving, not only because we beat them and won the championship, but because it showed how our countless hours of hard work and determination paid off," Eagle said.
With BHS coming off an exhilaration weekend of winning the conference championship, they knew they still had work to be done. They enjoyed the victory over the weekend but when practice started again on Monday, they knew they had to forget about it and build toward the state tournament.
"The goal is always to qualify for the tournament and then you never know what can happen," Wilhelm said. "We certainly were not the most talented team, but I think we were the hottest team and most confident.  Our group knew that no matter who we saw we had a chance, because of the specific things we could do on the court."
The Demons rolled into the state tournament with all kinds of confidence, and it showed early on. They defeated Fargo Shanley 85-62 in their first game. 
"We did not shoot the ball well in the WDA tourney and still beat three very good teams," Wilhelm said. "We knew that if we shot the ball well we could be very scary."
BHS was two hours away from playing in the state semifinal game versus Fargo Davies when they heard terrible news. They learned that the state tournament would be suspended immediately due to concerns over COVID-19. This left Wilhelm with a tough conversation he had to have with his players.
"As soon as I found out South Dakota canceled their tournament I was just waiting for the call," Wilhelm said. I was actually taking a nap with my son, Landry, when I got the call from our AD, Scott Nustad.  As soon as I saw it was from him I knew what he was going to say. When he told me it was over, I got a text from Gunner [Swanson] asking what's going on. I called a meeting in Coach Upton's room and digested the news live with our team.  It was a very difficult moment, and one I will never forget. I felt so many emotions and it was very difficult to be able to process anything in the moment."
While almost everyone was filled with many emotions like anger and sadness, they now realize why the state cancelled the tournament. The Demons can only think about what could have been.
"I would have loved to finish the tournament in some way, but I totally understand the decision, when you look at what was going on across the country," Wilhelm said. This virus is a huge deal, and when you look at the large scale, you can understand why the decision was made…The best four teams were left at the end and I have no idea how we would have finished, but it sure would have been a lot of fun to give it a go."
While it was very tough for the seniors to grasp the thought that they had just played their final game as a Demon, they can now look back and be thankful for the good times they had with each other.
"This team was by far the best team I've played on," Eagle said. "Everyone knew what it took to win and so everyone put in the work so that we would be able to win. This team should be remembered as the pathway for other teams. The next coming teams should look up to this group and see what it takes to win and what it takes to make a great team."
While the seniors battle the game of what could have been, they know that they did start a new culture of Demon hoops, and they can be grateful and proud that they were the first class to use this new system.
"There will be a time where they will find peace from it," Wilhelm said. "It will take time, but I feel like this group will be proud of what we did. It was a 20-win season, where we won the WDA and put ourselves in a perfect place to win-it-all."
The Demons have put themselves in a good position next season. They return their top four scorers, and will have even more confidence in this system with a year already under their belt. There will still be a lot of work to be done if they want to put themselves in a position to win a state championship.
"My advice for next season would be to just keep playing with confidence, and they will be just fine," Senior guard Nick Hintz said. "And in the end I have 100% confidence that the junior class will get their fourth straight WDA title next season, and after that I have 100% confidence that the team next year will bring a state title back to where it belongs."