New format in high school football
There will be a new look in North Dakota high school football starting in 2021. The NDHSAA (North Dakota High School Athletic Association) made this change to help unsuccessful teams, and many are not happy with it.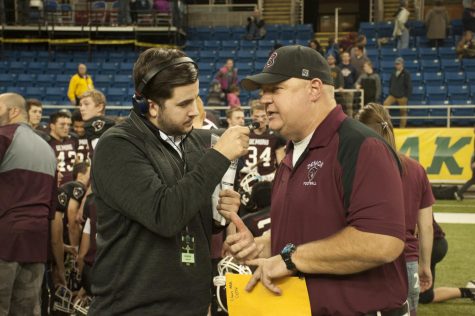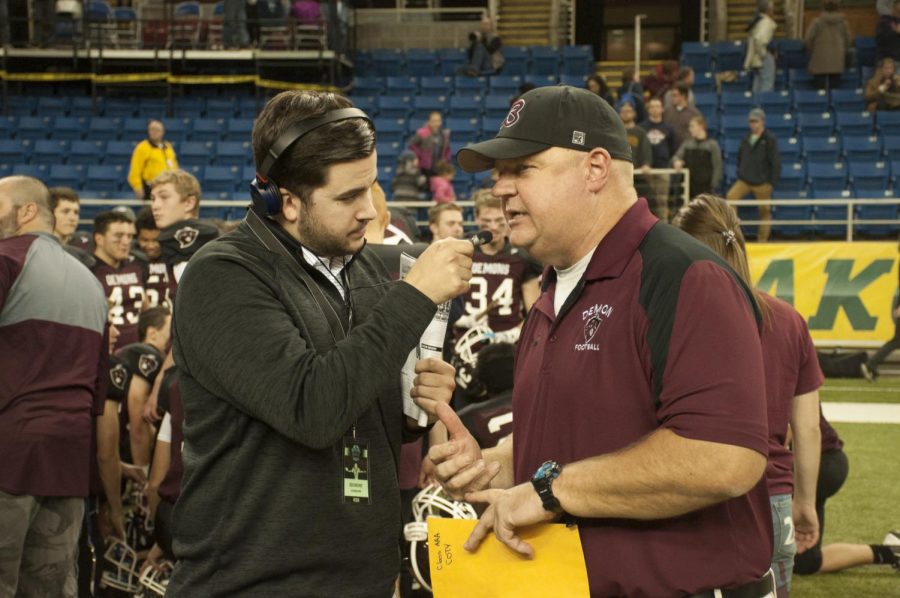 Starting in the fall of 2021, high school football in North Dakota will look very different. For many years, the 16 biggest schools in the state have been a part of the class "AAA" division. Starting next year, there will be two 11 man divisions named class "AA" and "A".
With five class "AAA" teams (Fargo North, Fargo South, Red River, Devils Lake, Fargo Shanley) moving down, there will be only 11 teams in the new "AA" division. Those teams consist of BHS, Century, Mandan, Minot, Dickinson, Legacy, Fargo Davies, West Fargo, West Fargo Sheyenne, and Williston. This change has not been supported by many.
"I think it's kinda sad that so many teams are leaving the division," former BHS Football player Chase Dockter said. "I think it will help some of the schools moving down get more competitive and maybe will help them grow their programs. For the teams that are staying in the top division it will really show what teams are ready to play, and who aren't throughout the year with so many tough games."
The NDHSAA has been discussing this change for the past year, but they did not ask for the opinions of other coaches around the state, which has upset some people.
"There are several rumors out there but I think it is a shame if they allow teams to move down a level if they aren't competitive year to year," BHS Head Football Coach Mark Gibson said. "I also can't believe that we are locking this in for four years. I feel I had no voice in this decision and it was made by people with personal agendas, not what is best for the state."
Most notably, Fargo South will move down to "A" next season. This came as a shock to many because South has been historically a dominant football program. The Bruins have the second most Dakota Bowl appearances with 11 and last won the state title in 2013.
"I was really shocked to hear Fargo South was dropping down a division," Dockter said. "When I first heard it I thought it was a joke. South has been a historically good football program in the state, and I don't really know all the reasons why they are moving down but I was surprised to hear it."
One of the main reasons the NDHSAA made this change was because they wanted to make high school football more competitive. Teams like BHS, Century, West Fargo, and Fargo South have dominated the state for almost two decades. Other teams like Devils Lake and Jamestown who have struggled for years, will have a chance to be competitive in the lower division. 
"I think there have been some teams who dominated the state and the division, but for the most part I felt it was a pretty competitive division," Gibson said. "I am just confused why we are doing this in the sport of football when in hockey a Grand Forks school is going to win state, in wrestling BHS is going to dominate and in boys track the state champion is going to be a Bismarck school. Those three sports have been completely dominated, but yet nobody says a word. It is always football that gets tweaked."
St. Marys moved down to "AA" in 2009, and will move down again to "A" next season. The Saints struggled mightily in the early 2000's which made them move down a division. Since then, they have dominated the "AA" division in winning three state titles. Many see it crazy how the Saints will not move up once again to the big boys.
"St. Marys was our biggest rival when I played a long time ago," Gibson said. "They had success at the "AAA" level, back then it was class "A", but had some lean years in the late 90's early 2000's. I believe they are happy with the success at the "AA" level and number increase.  I am assuming they have a good thing now and don't see the need to try to compete at the "AAA" level."
Dockter, who was a captain on the 2018 BHS football team that went undefeated and won the state championship, enjoyed playing everyone in the state and competing against the best.
"I always thought playing more teams was better," Dockter said. "Even if some of the games weren't as big, I wanted to be able to say that we were better than everyone. I don't think they should've kept everyone, but there were definitely some schools they could've kept in the top division."
While it is still uncertain about how the state will decide who plays who, Gibson has expressed his concerns that his team will only play teams in the same division.
"I don't know what the schedule looks like yet," Gibson said. "But I know that the state wants "AA" and "AAA" to play each other.  I told Mr. Nustad that we refuse to play any "AA" team Varsity or sub varsity."
This new layout of the divisions will be in place for four years. Once this thing finally plays out, some feel like this will turn out to have been a good decision, while others hope things will return to normal after four years.
"I believe we had a good system and the natural rivalries keep changing," Gibson said. "It is sad and frustrating to know even though I have been coaching here several years and played in this state, nobody wants to hear what you have to say. This was completely spearheaded by one man from the eastern part of the states who has very little experience with "AAA" football.  All the schools he was involved with benefited from this new system. Paul Jundt who is the Legacy AD (Athletic Director) tried to fight this but was unable to get any help from other schools. I just feel we try to water things down instead of teams saying okay if we want to compete this is what we have to do. I would almost guarantee this will be changed again in four years after people actually see what a mistake this was."