Importance of facemasks during the COVID-19 pandemic
Preventing the spread of COVID-19 is a top priority around the world. Staying safe by social distancing and wearing masks can help contain the coronavirus.
A common question regarding safe practices during COVID-19 is whether wearing a mask is worth it. While masks provide a sense and feeling of security when out in public, a lot of people question their overall benefits as a way to prevent the spread of the coronavirus. 
Before the US and the Centers for Disease Control and Prevention (CDC), knew more about the coronavirus and how it spread, people were hesitant to wear masks. Experts were split on a mask's benefits and if it was helping the user or not. But as time went on and the whole world began to know more about COVID-19, more proof was given that masks can aid in the prevention of spreading the coronavirus. 
Masks are beneficial because COVID-19 spreads through contact with germs, such as when someone sneezes or makes direct contact with objects. Masks can help lower the risk of spreading the coronavirus when out in a public area.  
It is important to remember that wearing a facemask does not make someone immune from contracting COVID-19. Even though someone is wearing a mask, they should still participate in social distancing and washing their hands regularly. Masks are just another step of protection in a list of practices that can help fight off the continual spread of the coronavirus. 
When someone is looking for a mask to wear or a cloth covering to use, they should make sure it is safe and effective. The CDC has guidelines set that a mask should follow. It is also important to not touch a facemask when it is on someone.
Someone does not need to have a medical-grade A facemask to have protection. The CDC recommends wearing "cloth face coverings" while in public or around people. The US is in a tight situation with its supply and demand for masks. A buyer who is not working out in public or is not a medical official should not stash masks. Top-tier masks like an N95 mask are the safest to wear, but should only be worn by people working in the medical field since they are in high demand. There are ways for people to create their own masks with or without sewing. By creating a mask that is safe, a person is helping the shortage of masks problem. 
There are some people who have grown restless over being in self-quarantine, where they want to go to public gatherings and hang out with friends and such, which is understandable since it is easy to become bored in self-isolation. But out of respect to others and the community a person lives in, they should put CDC procedures and guidelines as a top priority when going out in public. 
By following safe procedures during the pandemic, one is not only protecting themselves but the public area they visit as well. Ignoring them puts a lot of people at risk. Even as little as wearing a mask and staying six feet apart from other people makes a big difference toward preventing the spread of COVID-19.
Leave a Comment
Your donation will support the student journalists of Bismarck High School. Your contribution will allow us to purchase equipment and cover our annual website hosting costs.
About the Contributor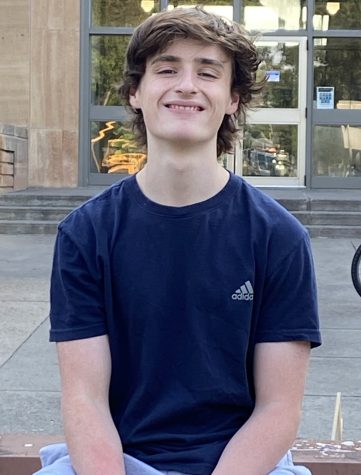 Kaden Boyer, Editor-In-Chief
Kaden likes to hang out with friends and family, and enjoys watching football in the fall.