Demon for life
Senior Nick Hinsz has had a remarkable journey at Bismarck High School, and he will not be forgotten.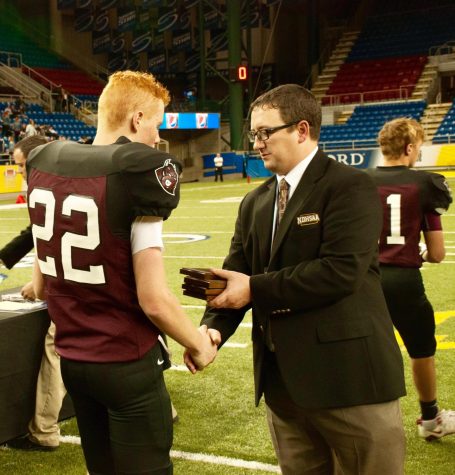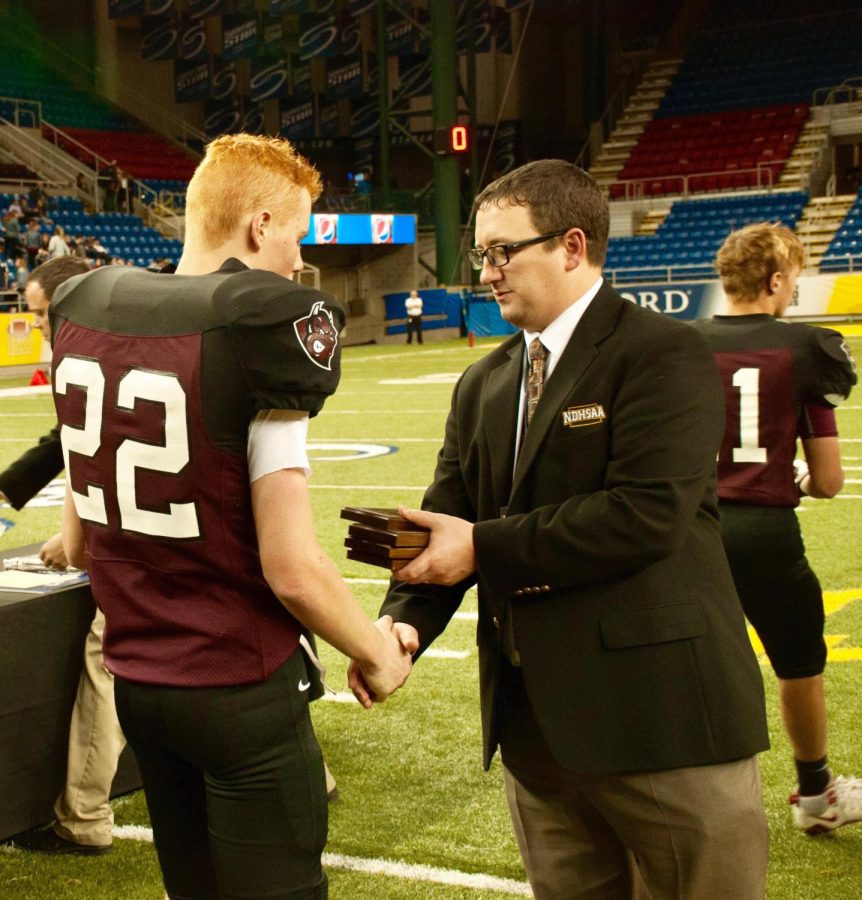 Kids begin playing sports at a very young age, and many of them have dreams and aspirations of playing and excelling at the highest level possible. BHS senior Nick Hinsz has been through pure joy and heartbreak during his high school career, but what he did at BHS will not be forgotten.
Hinsz has been involved in athletics for 13 years. At a young age, he found love in sports, and enjoyed playing football, basketball and baseball with his friends.
"When I was little I wanted to be a professional athlete, but that is what every kid dreams of," Hintz said.
Hinsz began playing varsity sports as a sophomore. He became a major factor for the football team his junior year where he was a wide receiver and safety. His teammates looked up to him, and they always knew they were going to get everything out of him.
"He was a hard worker but not very vocal," Head Football Coach Mark Gibson said. "I know he was like a security blanket for us and extremely dependable. I will miss the fact that he was a huge factor in our team the last couple of seasons, and I always knew what type of effort I was going to get from him. He never cared about his own personal stats and his only concern was the way he represented his school and team."
Hinsz will forever be remembered for his actions in the 2018 state football championship game. He made the game winning play, when he broke up a pass in the endzone as time expired. This play completed the Demons perfect 12-0 season as they captured the state title.
"That play was crazy, one of the more nervous things in life," Hinsz said. "I remember hoping that I would not fail the team on that play. I kind of just saw [Century's Quarterback Cade] Feeney running towards the corner of the endzone and knew I had to try my best to make a play. When I knew we were state champs it was one of the greatest moments of my life because there is nothing better than Friday night lights. I enjoyed going out every Friday night under the lights and competing in front of a ton of people."
Hinsz has had to battle adversity through his high school career. Even in the biggest moment playing in the state championship, Hintz fumbled a punt but he did not let that one mistake control his mindset for the rest of the game.
"Nick fumbled a punt earlier in that game and instead of pouting or worrying about himself he went out and proved with his actions how much he cared about his team, school, tradition and teammates," Gibson said.
The Demons struggled Hinsz's senior year in football, and lost in the quarterfinals of the state playoffs. Hintz took this very hard, but people took notice and appreciated all he did for the program.
"Our last game we did not play well at all, but I think it was one of Nick's best games," Gibson said. He tried to get fellow seniors and juniors to jump on his back during the West Fargo game, but we had way too many players who just threw in the towel and basically took the beating without much of a fight. I know he was extremely frustrated during and after that game… I loved his competitiveness and determination. Nick always gave you everything he had in his body."
Hinsz took the leadership he learned from the 2018 class and helped the underclassmen when he became a senior. This was evident during Hintz's senior basketball season. Head coach Jordan Wilhelm had rebranded the Demon basketball program, and the seniors this year had to adapt to a new system in order to succeed. 
"Nick is such a strong leader and hard worker, that we knew that he would be accepting of any sort of system that we ran," Wilhelm said. "But for Nick and the other seniors to jump in and accept it without questioning definitely made it an easier adjustment for the entire team."
Hinsz and his teammates excelled in this new system and took home the WDA (Western Dakota Association) tournament championship. They qualified for the semifinals in the state tournament before the rest of the tournament was cancelled due to COVID-19. These are memories that Hinsz will carry for the rest of his life.
"Every part of basketball I loved this year because my teammates and coaches were awesome," Hinsz said. "The times I enjoyed most with my teammates is that we made eachother laugh everyday and I mean everybody laughed everyday. A time that sticks out to me would probably be the endless times Tarin [Walker] made fun of other people on the team. The thing I will miss most about basketball is literally spending my whole winter with my teammates."
Hinsz was also a major part of the baseball team. Baseball has been a focal point in Hinsz's life since he was very little. He was a part of the 2014 Bismarck Americans team, who won the Cal Ripken World Series in Florida.
"I remember being 12 years old, and all of us were thinking that there's no way we could compete with teams around the country," Hinsz said. "And somehow we ended up going 7-0 and being the best team in the country that year."
Hinsz will be attending the University of North Dakota in the fall where he will major in Biology, but he decided he would not be playing any sports in college.
"The main reason I chose not to play sports in college was because as an athlete like me who really has no shot at going professional, I thought it was best for me to focus on my degree," Hintz said.
While Hinsz's playing days are over, he is forever grateful for everything he was able to experience and the people he was able to meet. However, he will not be gone forever as he will be keeping a close eye on next year's teams to support his former teammates. He will be a Demon for life.
"My advice for kids younger than me would be to take no days off during the summer and work hard everyday," Hinsz said. "Being a Demon to me feels like I represented a lot of people other than just BHS. I feel being a Demon is the greatest thing in the world and there is no other school like it in the state."