A difficult time for high school football
With COVID-19 still being a major factor in North Dakota. Coaches and trainers are not allowed to be in contact with any of their athletes. This will cause problems as BHS athletes and coaches try to prepare for the upcoming football season.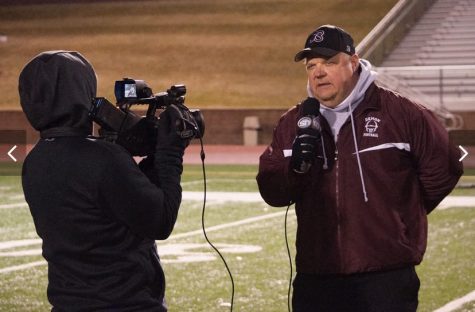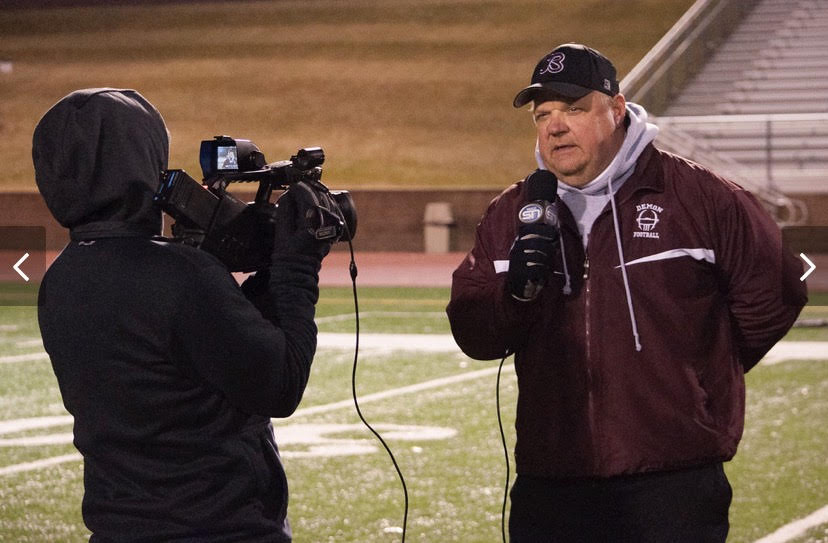 When people think of Bismarck High School Athletics, most would think of the football team. BHS has been a powerhouse in football over the last two decades. This past season, the Demons had one of the worst records in recent memory. 
Once spring sports end every year, it is time for preparation and training for football season in the fast approaching fall. This year has been different and very difficult for BHS Head Football Coach Mark Gibson, as he is trying to make the best of the situation.
"It is a sort of a day to day process right now," Gibson said. "It seems like everything keeps changing, but my hope is that we are in the process of moving forward. I am depending on some of our seniors to get the word out to our other players regarding upcoming schedules."
The Demons varsity team usually attends two summer camps every year. Gibson has had his team attend Dickinson State University's team camp for 20 years, where the team goes through drills and scrimmages against other schools. Gibson also holds his own camp every year where he brings his team to Riverdale, North Dakota, where the Demons start to learn their playbook and truly prepare for the season.
"DSU and Riverdale do a lot to prepare us for the season," BHS junior Wide Receiver Cade Kivisto said. "They are very important to get the team organized and get everyone familiar with the offense and defense. Riverdale is also a great team bonding week, and one of my favorite weeks of the summer."
Demon football players train every summer under Robert Fuller and Sanford Power. Fuller is one of the freshman football coaches, and has taken the role of the strength and conditioning coach at BHS. This year has been different with COVID-19 because no coaches are allowed to see athletes, and players are not allowed to be in the weight rooms. This has not stopped Fuller from helping athletes reach their uttermost potential. 
"I felt it was important to provide our students with a structured outlet that they could do at home with no equipment," Fuller said. "They are dealing with their worlds being turned upside down so having a physical outlet can be an important coping mechanism to help deal with this stress as well as keeping their immune systems strong. From an athletic standpoint, many of our students/athletes would normally be hard at work preparing for their fall sports seasons, so to be able to provide them with workouts at their request was something that needed to be done. These ended up probably being more important for their mental health than physical."
The Demons are coming off a 5-5 season where they lost in the quarterfinals of the state "AAA" playoffs. This was only the third time in the last 17 seasons where BHS failed to qualify for the state semifinals. This makes this offseason extremely viable in order to turn things around this fall.
"One of our weaknesses last season was the fact that teams were more physical than us," Gibson said. "We desperately need to be in the weight room getting stronger across the board. I would say if last year's team was successful then we could be in good shape regardless heading into the fall, but we are coming off one the worst records we have had in 20 years so we have a ton of work to get done. Camps do nothing but help you as a team because you know what you have to improve on before the season begins."
At the moment, the summer camps BHS attends have been rescheduled to July. If Gibson ends up having to cancel the camps, it will make the first two weeks of practice that much more important in August before the Demons have their first game.
"We are very far behind and if our players think we are good enough to just show up and be successful then it will be a very long season again," Gibson said. "Our teams in the past firmly believed that we have to work harder than any other team, but for some reason I feel we have lost that mentality. It is easy to be average or below average. True winners and champions will push each other and themselves when nobody is watching."
Just because the coaches have not been able to be in contact with the players. Some of the upperclassmen have made sure the team stays together during these times, and still get work done. 
"We have things we put on ourselves," Kivisto said. "We do throwing a few times a week where we all work together as a team and just run routes and do skill work."
The NDHSAA (North Dakota High School Activities Association) is very strict on what coaches can and cannot do with their athletes. They do allow coaches to send optional individual workouts to athletes though, which Fuller has jumped the gun on. 
"Early on the program consisted of bodyweight movements that could be done in the form of sets and reps, or rounds, or for time," Fuller said. "Eventually we added outdoor field work like agility, plyometrics, and hills. Now that some students have access to gyms, I've added our normal strength program that we would be doing at BHS. It's tough not being able to work directly with our student athletes in the safety of our own facilities. Our kids aren't getting that immediate feedback, the coaching cues, or safe practice reminders that these times require. Summer training for many kids is a lot more than just training for a sports season. It's about the relationships, having access to positive adult role models, and being able to pour their energy into something positive in a time where there are negative influences everywhere."
With all of this commotion going on, Gibson expects more from his seniors than ever this season. The Demons are looking for a bounce back season, but they will all have to step up their game.
"I know we have to change the culture in our program because the younger players will follow what they observe," Gibson said. "We are coming off a poor year, and we have players who think that is acceptable. Leadership is not easy for some teams, and it is something we need to find again. Hard work isn't a on/off switch, each player is going to be responsible to not cut corners and get work done before August rolls around."
Every team is going through the same struggle right now, but that will not matter when the lights are on this fall. Everyone knows they have to work hard this summer in order for this team to succeed, and they believe they can have a very successful season. 
"This team is capable of anything as long as we work hard," Kivisto said. "The doubters of this team do not realize how special we can be."