Next Level Basketball
When an athlete has talent to play at the next level, they want and need more exposure in order to succeed. ECI Basketball is the way to go to become the best basketball player possible.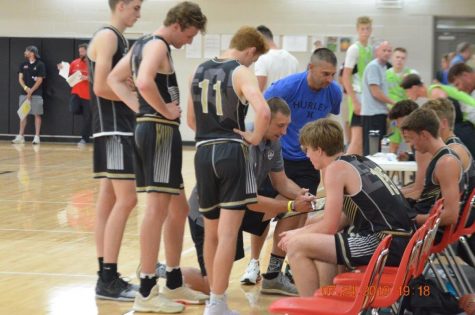 Coaching. Lucas Moorman has been coaching ECI since 2009. ECI Basketball is a great way for athletes to get noticed by college coaches. "Every year is a little bit different but I would say on average 75% of our kids go play college basketball somewhere," Moorman said. 
    Getting exposure in basketball from big universities can be difficult living in North Dakota. ECI Basketball is the perfect program to help young athletes achieve their dreams of playing college basketball.                                                                                     Lucas Moorman is the director of the AAU (Amature Athletic Union) program ECI Basketball. ECI is a spring/summer traveling team where they travel all across the midwest to play in front of college basketball coaches, with hopes of giving their athletes a chance to play at the next level.
    "ECI basketball is an AAU Boys and Girls Basketball program in North Dakota," Moorman said. "ECI was founded in 2004 by Dan Hodgson and stands for Every Child's Important. Our goal has always been to provide athletes with the opportunity to play AAU basketball during the spring/summer months.  We have players that come from ND, MN, and Montana from our bigger communities to our farming communities. We take pride in hard work and dedication to the gym while also teaching players fundamentals and basic skills."
    Moorman has been involved with ECI since 2009. He was named director of the program when he took over for Joe Kitell, who is now the head men's basketball coach at the University of Mary. Moorman grew up in Dickinson, and had a very successful high school career as an athlete.
"I played a little bit of Varsity as a Sophomore and then started as a Junior and Senior," Moorman said. "My Junior year (2003), we won Dickinson High's first ever boys basketball championship. The next year we fell short of making state, but I was named 2004 Gatorade Player of the Year and 2004 ND Mr. Basketball."
After high school, Moorman was awarded a scholarship to play basketball at North Dakota State University. He was also a part of the 2009 Bison team that qualified for the NCAA (National Collegiate Athletic Association) tournament. This was a major moment for NDSU that set the trend of future dominance in basketball.
    "It was an unbelievable experience," Moorman said. "In our conference tournament, in Sioux Falls, we won on a game winner by Ben Woodside and everyone stormed the floor.  After that we waited until the Selection Show Sunday when they announced what seed each team was and where they would be playing. We drew a #14 seed and played Kansas in the first round.  Our region was Minneapolis, MN so it was almost like a home game for us. I want to say there were around 11,000 Bison fans there. We lost the game by 10 but we were in it most of the game."
    Athletes can have a very successful high school season, but not receive much recognition from college coaches. This is where AAU comes in big. Kids from North Dakota have a chance to compete with the best players around the country.
    "I would say the biggest difference [between high school basketball] is just playing against completely different kids/teams and never really having a scouting report because it may be the first time you've ever seen that team," Moorman said. "I also think it gives kids an opportunity to play a little bit different style of ball or different than the system their high school team plays. AAU Basketball is essentially a club or travel team basketball where kids get the opportunity to travel to tournaments to see better competition, get exposure from colleges, and to compete with different players from their region."
    Moorman did not pursue a professional career after his career at NDSU. He became an assistant coach at Century High School, but he found his true love and passion coaching ECI.
    "The reason I started to coach ECI in the first place was to still be able to stay around the game since I was just graduating college," Moorman said. "Another reason was to learn from other really good coaches that were a part of ECI at the time. I really grew to love coaching the best players in the state and helping them to get recruited."
    ECI has teams ranging from 5th grade (11U) to 11th grade (17U). They host tryouts every spring to find the best players in the region to play on their teams. 
    "We host tryouts every year so that we can evaluate kids year to year," Moorman said. We feel so much can change yearly that kids can change teams.  We also want players who want to show up and work for something as these are the kind of kids college coaches want. Each year we reach out to a few kids but honestly our program sort of speaks for itself.  Kids want to play for us as we usually have the best players in the state and we go to the highest quality tournaments in the Midwest."
    With the athletes living all across the region. It can be difficult to hold organized practices with the teams. Instead, ECI finds unique ways to still get in work, even though all the players are not present. 
    "We try to have team practices for our younger teams but it's hard with our older teams as they can have kids from all over the state," Moorman said. "So instead we host weekly workouts for all kids in our program to focus on fundamentals and skill development and things we stress in our program."
    The main goal when athletes join ECI is to play college basketball. Moorman and his team do the best they can to give their athletes the best chance to be noticed. 
    "In today's basketball world many kids get recruited through AAU as that's the way college coaches see many of them," Moorman said. "Our ECI coaching staff have developed an extensive network with college coaches over the years and that is how many of our kids get recruited. We also send out a 17u recruiting packet every year to help kids gain exposure."
    Moorman does not just teach the X's and O's of the game of basketball. He teaches the kids how to be better people in the world, and how to treat others. These actions can be huge when college coaches are looking for future athletes in their own programs.
    "The biggest thing I want kids to walk away from our program with is a hard working mentality along with outworking their opponent," Moorman said. "We also really try to teach them how to be a respectable young man on and off the floor. College coaches are always looking for kids who play the right way and do the little things. They want kids who work hard and play hard on both ends of the floor. They also want kids who can do more than one thing.  For example, score at all three levels not just from one, like the three point line. But most importantly they want kids who are also good kids off the floor and in the classroom."
    Parents can be hesitant to spend the money to put their child into ECI. But if they would like their kid to play the best kids around the region, and have the best chance to play college basketball. ECI is the way to go. 
    "I would tell their parents to talk to some other parents that have played in our program, I would tell them names of previous players in our program, and I would tell them what we are all about as a program," Moorman said.