Making the most out of the uncertain
Coming off one of the worst seasons over the past 20 seasons, the 2020 BHS football team is mentally ready to turn things around this year. Despite the concerns of COVID-19, they are making the most out of every opportunity they get.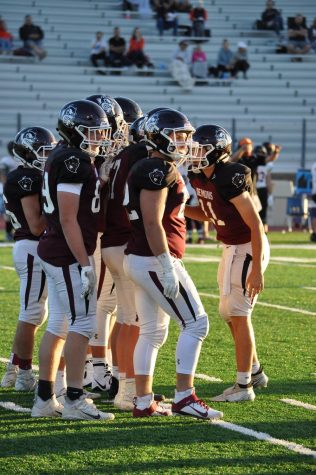 2020 has been difficult for almost everyone in America. With still no vaccine for COVID-19, most high schools across the country have been moved to online for the time being. This has not helped high school sports, as most fall sports have been moved to the spring.
North Dakota was different when it came to these decisions. In July, the NDHSAA (North Dakota High School Activities Association) announced that they would proceed with fall sports. Many things looked different this summer, but the Demon football team made the most of what opportunities they were given.
"The COVID-19 pandemic was a big issue during the summer," junior Quarterback Caden Fisher said. "However I think the team, coaches, and trainers did an extremely great job of getting ready for the season, even under such odd circumstances."
The Demons finished their 2019 campaign with a 5-5 record, Head Coach Mark Gibson's worst record since his first season coaching BHS in 1999. 
"I think we got complacent of a lot of things," Gibson said. "I think we as a coaching staff got complacent. I think it carried over to our kids. We had a mixture of seniors last year, where we had some seniors that really wanted to do well, and I think we had some that really did not care. It kind of trickled down to everybody. I think that was a big concern that we sensed early, and we could really never shake it and I think that was evident to how the season ended up."
Every year for the past 20 seasons, Gibson has taken his football team to summer football camps in order to get them ready for the season. There is a team camp at Dickinson State University where BHS gets to scrimmage other schools. He also has his own camp in Riverdale, North Dakota where he introduces some things to get the team ready before the season starts. With COVID-19 concerns, things were very different this summer.
"To be honest at that time, I did not know if we were going to have a season," Gibson said. "We had our Dickinson State team camp cancelled. We had a big portion of our summer cut in half. There were a lot of things we normally do that those kids did not get to do. I was worried that [Riverdale] would have been the only football they got. We wanted to make sure those kids had a football season, and if that was going to be that one week at Riverdale then so be it."
With last season putting a bad taste in everyone's mouth, many new seniors knew they had to step up and take action to make sure they could turn things around. 
"Last year obviously didn't go the way we would have liked," senior Center Cade Casey said. "There were a lot of clear issues that had to be changed if we wanted to be successful moving on. I learned that it's on us seniors to lead the team. It's important that we set a good example to show the younger guys how things are done."
Despite only playing two games so far this season, Gibson can already see a difference in how his seniors have stepped up and made a difference.
"The biggest thing is they have welcomed in the younger kids," Gibson said. "It is not an easy thing to do. You will see a lot of the seniors helping the juniors and sophomores and giving them pointers on what to do. It shows me maturity. It shows me that they care, and it shows me that they care about their team. I think that is the one thing I am hoping our underclassmen can understand. They are not doing it to pick on them; they do it because they want to have a better team."
Fisher is in his first full season leading the Demons as quarterback. He started two games last season when then quarterback Kade Rolphs went down with an injury. That minimal experience last year helped him realize what it took to lead a program of this magnitude.
"When Rohlfs went down last season, I knew I had to step up," Fisher said. "Throughout those two games, I learned how the team was more like a family. They believed in me, and I believed in every one of them. Being the backup last year taught me many things. It was a very developmental stage, so learning the offense and different coverages was a large factor throughout the season."
Despite the 5-5 season last year, the Demons were able to play a lot of juniors. This gave the now seniors a lot of experience of varsity football, which is now one of the many strengths of this year's Demon football team.
"I think one of our strengths is that we have some returning players," Gibson said. "I think our offensive line are kids that all get along, and certainly going into the first two games, those kids, granted our opponents have not been the best teams, saw fronts we have never practiced against and their maturity really showed through that. I think the same could be said about our defensive secondary. Last year, they were one of our weaknesses, and this year I think it is one of our strengths."
Sports are always fun when the team is winning in the games, but what makes a great team is when they can have fun during the long workouts and practices to make each other better. 
"They are a fun bunch to be around," Gibson said. "It makes coming to practice fun and makes it enjoyable. It makes it something where our kids are ready to go to work, and yet make it enjoyable if that's possible, but these kids have done that. As an old coach, it's rewarding to know at the end of the day you're gonna go and enjoy the 2 to 2 ½ hours with the kids."
The Demons have really bonded together since last November. They realized that in order to be successful, they would have to have great team chemistry. 
"The team chemistry this year is great," Fisher said. "After a distasteful finish to last season, the team was as eager as ever to get back to work. Thanks to [Coach Robert] Fuller, we began lifting back in November and haven't looked back. The work ethic of this team is off the charts and I believe the will to win is what has tied this team together so well."
The #2 ranked Demons have started the season 2-0, with a 49-7 victory over Williston and a 42-7 win over Dickinson. Gibson has been very impressed by what he has seen of his team so far.
"I liked the way we executed," Gibson said. "I have been doing this a long time and for the first game I don't think this has happened. We scored 49 points, and did not get to a single third down all game. So the execution was unbelievable, and I think it is something that hopefully continues. There are going to be some rough patches, but so far those kids have responded to different things. I think defensively we saw some improvements. We lost a lot of kids defensively last year, so we are kind of starting over there. I like our hustle, and I like what our kids are doing on that side of the ball."
Mark Gibson has brought the Demons six state titles and 12 state title appearances in his 20 years of coaching. The end goal is always a state championship, and they believe this team could do something special. 
"When you're a coach, you're hoping your kids understand what is at the end," Gibson said. "I am hoping you are not just coming out here to be here. I hope you're working toward our goal, and hoping everyone else is on the same page working for that same goal. Our goals have never changed. We want to play in that last game of the year, and we want to go out with a bang. I think these kids all want the same thing, but you have to work for it. Nobody is just going to hand it to you. We have a tough road ahead, but I think if we say healthy, we can definitely be in the mix of this thing.