Pep Band postponed this fall
So far, no pep band events for fall sports have been scheduled.
For decades, the tradition of the 'Screamin' Demons Marching Band has been vital for the football teams and the occasional soccer game of the fall season. With COVID-19 changing the rules and guidelines for the way events are scheduled and what behaviors are tolerated, the Pep Band has been ruled out when it comes to the priorities of the sporting events.
BHS Band Director Robert Peske has been at the helm of the Pep Band for several years. For as long as he has been in charge, nothing quite like this year has conflicted with the band.
"We were notified of the change in late August," Peske said. "I think they [the School District officials]  are just trying to protect all of us by having no performances in September and just see. With all the decisions the District makes, all while trying to stay within the guidelines the Health Department sets out, it can be hard to please everyone."
BHS Assistant Band Director Neil Tafelmeyer personally enjoys the way the Pep Band contributes to the flow and energy of the football games.
"I think the band plays a part in the excitement especially after a touchdown, with the school song adding to the energy of the student section," Tafelmeyer said.    
BHS senior Sean Korsmo has seen the effects that the new measures have on both the students and faculty members.
"I think we all miss everything about the experience surrounding the football games or any of our sporting events," Korsmo said. "Because it brings a whole different level of energy to our school, I think when it comes to the band, they play a large role in the school spirit."
With the space the Community Bowl provides, accommodations might still be possible for a possible pep band reentry.
"The information around how the virus spreads surrounding music, but we are looking at how we can have it again, it's definitely not out the question," BHS Principal David Wisthoff said. "There is a potential for it to come back, but we are trying to limit attendance, [keeping in mind] how can we make it all work with the vouchers for students –  as well as the athletes and also the pep band. So those are the things we still gotta figure out. I think the bowl provides us the opportunity to social distance, so I am hopeful."
View Comments(1)
Your donation will support the student journalists of Bismarck High School. Your contribution will allow us to purchase equipment and cover our annual website hosting costs.
About the Contributor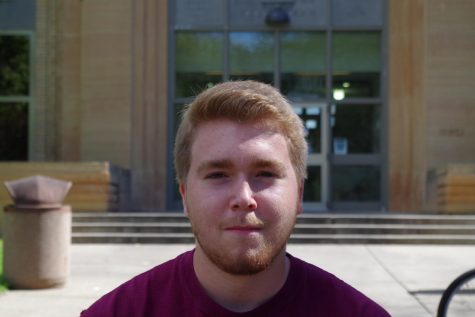 Scott Gotta, Sports Editor
Scott enjoys playing in the band as well as participating in Track and Field. Scott has also self-boosted his career with his own lawn mowing business.