Legends on the Pitch
Since they were freshmen, current seniors Edwin Rasidovic and Mason Weigel have been playing varsity soccer for BHS. Their resume that they accomplished on the pitch during that time will forever be respected by their peers.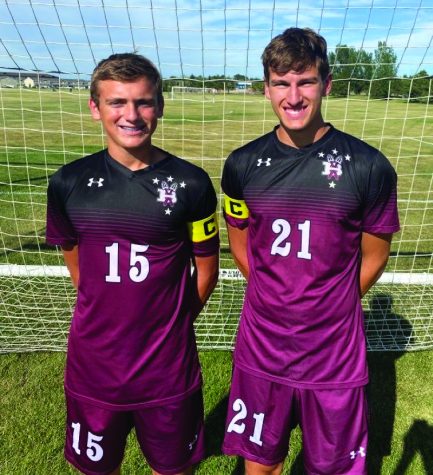 If someone were to go to a BHS soccer game sometime in the last four years, they would have seen Mason Weigel and Edwin Rasidovic on the field competing. Since they were 14-years-old, Weigel and Rasidovic have been playing varsity soccer.
In 2016, BHS was expected to have a big year in soccer. This led to the new freshman thinking they would not get much playing time on this stacked roster.
"I didn't know any of the guys that well," Rasidovic said. "I was expecting what everyone says about freshman year, that I'd have to do the stuff no one wanted to do at practice, but it was pretty much the opposite when I got there. I was expecting J.V. (Junior Varsity)  playing time and sitting the varsity bench, getting garbage minutes here and there."
Andy Foss was the BHS head soccer coach for five seasons. He was able to coach Weigel and Rasidovic for three of those seasons. He knew once he saw them freshman year that they would be ready to play at the varsity level. 
"With Mason and Edwin, they both came into the program with a lot of soccer knowledge, and they worked extremely hard," Foss said. "They had played a lot of soccer before they got to BHS, so they understood the game really well. They were both coachable and were eager to learn more about the game."
In their freshman season, BHS won the state championship. This was a moment the boys would never forget and what would help drive them over the rest of their high school careers.
"That moment was absolutely unforgettable," Rasidovic said. "Even if I didn't play much in the tournament, that was easily the best moment of my high school career. Those seniors always came to practice with a state championship attitude, and it showed on the field how hard they played every game and how determined they were to get the job done."
In 2017, BHS placed fourth at the state tournament, and during their junior year, they once again were state champions. These times were very crucial as it helped them develop into better athletes, all while still able to be very successful.
"Right into my sophomore year, I was a full-time starter playing full 80-minute games consistently, whereas in my freshman year, I had only started half of the season, and my playing time dropped as the season went on," Rasidovic said. "My junior year was big for my development as I was again playing full games and starting every game while making an impact on the team. I started scoring and assisting a lot more, and my role was big on the team for sure. Winning state the second time definitely did not feel as sweet as it did the first, but it was still an amazing experience to be able to win it again. Not many people can say they've won it once let alone twice, and I'm grateful to be able to have been on those teams."
As time progressed during their high school years, they did not only improve their skills on the field, but they also improved their leadership skills as well.
"Their understanding of the game got even better as they progressed through their years at BHS," Foss said. "They understood what we wanted to do as a team and what the expectations were with the team. They grew into the roles that we gave them and excelled with everything I asked them to do. They also both grew as leaders and held their teammates to the standards we set. They matured physically too, which allowed them to be more physical with opponents and control play even better."
Rasidovic has been playing soccer for 15 years now. He has grown into a great athlete and teammate, which has made him a great asset to have on a team. 
"In practices, Edwin was vocal and talking with his teammates and coaches, even as a freshman," Foss said. "He was always naturally a leader. One of the things that I liked was that he asked questions. Some kids would be afraid to ask a question because it might look like they don't know what they're doing, but Edwin wasn't afraid to ask questions because he wanted to learn. Coaches appreciate that, but he also made sure to take what he learned to help teammates during a drill or push himself and teammates during conditioning."
Weigel started playing soccer when he was only five years old. He has always had a great sense of humor that makes him fun to be around in practice. Weigel has also grown into a great leader on the field during his time at BHS. 
"Mason was a little more hesitant to ask questions when he was younger but was always confident in his abilities," Foss said. "He was always outspoken, even when he shouldn't have been, but you always knew he was there. As he progressed, he understood the importance of focusing on the little things and asking questions when he needed the clarification, but he always had a smile on his face and was joking around with someone. It was nice to have someone like that around to keep things light but also positive. He kept everyone upbeat and laughing, but make no mistake about it, both of those guys were two of the hardest working kids on the team every year."
After last season's state championship, Coach Foss had informed his team that he was no longer going to be the head coach at BHS. He was going to move to Fargo to start a life with his fiance. Foss is now an assistant coach at Concordia College in Moorhead, MN.
"Foss was an amazing coach. Everyone loved the way he made this program a family," Weigel said. "Foss made practices fun while getting lots of things done. His attitude towards this team was crazy."
The boys had gotten to know Foss very well over their time at BHS. They will forever remember Foss for everything he did to help them achieve all of their hopes and dreams. 
"Coach Foss showed me what it was like to be a part of Bismarck High athletics," Rasidovic said. "He always told us that it's never just a team of 11 guys that put on a maroon and white jersey and play soccer. It's a family that sticks together through thick and thin. I feel like that was the biggest takeaway from the three years he had with us. He was even helping us out this season, sending us notes on the teams we were going to be playing against at state, and he came to both of our games in Fargo to cheer us on. I'll never forget the years I had with him and all the things he taught me to elevate my game."
BHS Athletic Director Scott Nustad decided that Ricardo Pierre-Louis would be Foss's replacement as the head coach of the Demons. Pierre-Louis was more than qualified to keep this team at a championship level. Pierre-Louis played professional soccer for nine years, including winning a Major League Soccer (MLS) championship in 2008 with the Columbus Crew Soccer Club.
"I was very excited," Pierre-Louis said. "In the past, I have received offers to coach in the MLS, in college, many professional teams in Haiti and recently the Haitian U17 National Team. I declined all these great offers because I would not want to trade my high school teaching profession for anything else. It is a job I would do for free. I have always wanted to be a teacher at a young age. My parents were illiterates. Myself and many five-year-old kids where I grew up had a 50/50 chance to attend school or not. Our future was decided when we were five. I was the lucky one…So when Mr. Nustad gave me the opportunity to coach the high school soccer team, it was fabulous. Soccer is my passion, and education is my life. Being able to do both was a dream come true."
While many of the boys on the soccer team were upset that Foss was leaving, they knew that Pierre-Louis was the perfect replacement to lead this team.
"When I first heard the news that Ricardo was our coach, [it] was amazing," Weigel said. "I was sleeping downstairs when Foss texted me and said 'your new coach was Ricardo.' Ricardo didn't tell anyone that he got interviewed for the coaching job. When I found out, I started screaming. He had been my coach in the past, and everyone loves him. He's such an amazing coach, and he had big shoes to fill from Foss but he definitely filled those shoes."
It can be very uneasy for a state championship-winning senior to come into practice his final season and have a new coach, but this was different, as the boys had Pierre-Louis as a coach in the past during club soccer. They knew he was the right man for the job.
"After losing Foss and seven starting seniors from the 2019 team, it was tough to know what the future was going to be like," Rasidovic said. "Thankfully, Mr. Nustad chose Ricardo to be our new head coach. I already knew what Ricardo was like as a coach, and I knew very high-level training and high expectations from him would be normal. A lot of people told me that we wouldn't be any good this year, and now I look back, and I have to thank Ricardo for changing peoples' opinions on us. He turned us into a really well-rounded team, and I'm so happy that the guys bought into the system that Ricardo had set out for us early on."
The year 2020 has brought a lot of uncertainty in the world due to COVID-19. This was especially true in North Dakota as many were not sure if fall sports were going to be played. Luckily, in June, the NDHSAA (North Dakota High School Activities Association) announced that the state would proceed with fall sports. 
"I was overcome with joy," Rasidovic said. "There have been so many things ripped away from a lot of student-athletes, and students in general, that have meant a lot to them, so to get the 'ok' from NDHSAA meant the world to the team and I."
Even though there was a lot of uncertainty during the spring and summer, the boys made sure they stayed ready if they were given the opportunity to play this fall.
"I did traveling soccer this summer," Weigel said. "We were not able to go to any tournaments, so we just practiced four teams a week. Also, as a captain for this year, we hosted captains practice twice a week with the team to get touches on the ball."
Going into the fall season, Weigel and Rasidovic's leadership was officially recognized. They were named captains of the team this year. Being a captain meant more than just having the letter "C" on their arm. 
"My senior season started off weird in that there were COVID guidelines, a new coach and the fact that I was a senior just put me off a little bit." Rasidovic said. "Ricardo named Weigel and I as captains earlier in the summer when he first became head coach, and he put full faith into both of us to lead the team well. Obviously, there are the big things like being respectful towards everyone and being responsible on and off the field, but it was a lot of the little things that we did that made us really good leaders and captains. We gave rides to the younger guys that needed them, we made sure everyone was working hard, we pushed all the guys to their limits to see what we could accomplish together and we always encouraged people to stay resilient through mistakes and losses. A lot of people have texted Weigel and I and have praised us for our time as captains of the team, including Foss, and I'm proud to have represented the captain's band with Weigel this last season."
Even though the Demons were the defending state champions, many players felt disrespected by others in the public. Many believed this team did not have what it took to stay at the level they were at during the past couple of seasons. 
"I could not count on all of my fingers and toes the number of people that said we would never win anything this season," Rasidovic said. "All offseason long, I was being told that BHS would be terrible at soccer this year. 'You guys lost so many seniors. You guys won't get close to winning again. You guys just lost your coach.' Those are only a few things I heard all summer. Time and time again we proved them wrong this year. As for our goals, they're the same every year: Win the WDA regular season, win the WDA Tournament and win State."
BHS did just that. They did prove the doubters wrong. They finished the season with an 14-2-2 record and won the WDA (Western Dakota Association) regular-season championship. They also took home the WDA tournament crown when they defeated Century in the championship game. Unfortunately, BHS lost in the State Championship, but it was a great season regardless. 
"I can proudly say with my chest that we 'earned' our spot in that state championship game and that we left everything on the field every single time we went out there," Rasidovic said. "I'm unbelievably proud of the boys and the season that we had. Only two losses on the year is an accomplishment that we shouldn't take for granted, even if our season ended without another big ring on our fingers."
Despite all the COVID-19 concerns this year, BHS did a great job with wearing masks and being safe to make sure they were able to finish their season. 
"I was very proud of this team this season," Weigel said. "We needed people to fill big positions that we lost last year and we had guys step up and fill those roles. I'm proud that our team took care of ourselves and stayed safe during this pandemic."
Even though Pierre-Louis was only able to coach Rasidovic and Weigel for one season, what they showed on the field this year will forever be remembered by him and their peers.
"They both are natural leaders and well respected by their peers," Pierre-Louis said. "I have worked with them since they were 11 years old. They are very good soccer players. They created a culture of champions for us this year. They lead by example, they work tirelessly [and] they never complain. They are the types of leaders any coach at any level desires to have. One of the most difficult things to do in coaching is to create a culture. 
With the help of Weigel and Rasidovic leadership skills, Pierre-Louis knew this team had the potential to have something special.
"At the end of the day, it is guys competing for eleven spots," Pierre-Louis said. "With Eddie's and Mason's leadership qualities, it was team unity first before anything else. I capitalized on their leadership right away, I knew we were going to be successful this year because of Eddie and Mason. I have been part of many teams – the team success always relies on chemistry and unity of the group, not just the quality of each player. I learned that BHS soccer has been successful over the past four years because of this reason. We did not have the best 22 players compared to many other teams, but we beat a lot of teams because of the work Mason and Eddie did with the group as leaders from day one. I wish I could have them for another year."
Even though their soccer careers at BHS are over, this school will always hold a special place in their heart, and they are very thankful to have been a Demon.
"I will always remember the strong tradition that Bismarck High has over any other school in the state, no matter the sport," Rasidovic said. "We always outwork everyone else, and we always play for the guy next to us. My favorite moment would definitely have to be winning state my freshman year. There was no better feeling than when the student section rushed the field and celebrated with the team. That moment is unrivaled."
Rasidovic and Weigel were more than just soccer players. During their tenure as a Demon, they forever impacted lives that people will remember for the rest of their lives.
"I will remember Edwin and Mason as two kids that I knew would be successful, but was so happy to see how much they developed in all aspects of soccer and life during their four years," Foss said. "It was an added bonus to be able to win as much as we did with them in our program. Mason and Edwin were extremely important to the success that BHS soccer has had over their four years. I told them after the championship game this season that they not only continued the tradition for BHS soccer, but they added to it."
Besides the fact that Weigel and Rasidovic were very successful on the field, they were also everything a coach was looking for in a leader and a teammate.
"They were all the things that a coach would hope for in a captain, but they were also winners," Foss said. "It's a difficult thing to do to be so caring, so enjoyable, such leaders, but then also to win at the level they did. I was lucky to have coached some pretty good players and captains while I coached at Bismarck High. Mason and Edwin would be near the top of the list in that regard. I couldn't have asked for two better kids to come through a program I coached and was lucky to have gotten to know them and coach them."
Weigel will be studying physical education in college, and Rasidovic will be studying Neuroscience. They both plan on playing soccer in college but are still undecided on where that will be at. The boys finished their high school careers with an incredible resume.
"I would've told them to go give that nonsense to someone else," Rasidovic said. "I still can't believe it's over but at the same time, what a career this senior class has had at Bismarck High. Not many people can say that their worst finish at a state tournament is fourth and that they've won two state titles while being in the running for a third. I'll be forever thankful for the four years that the Demon soccer program has given me along with the opportunities I have been given over those years."