Trick-or-treating revisions?
Trick-or-treating is a spooky tradition that satisfies the craving for old-fashioned fun, but is it worth sacrificing health in an attempt to bring some normalcy to this strange year?
The new normal. That's what many people are calling the whirlwind of changes that COVID-19 has brought. These changes, whether they be wearing masks or following social distancing regulations, have impacted many people's everyday lives, however big or small they may be. They have changed the way we live, work and learn. There are no ifs, ands or buts about it. Life is simply just different now. And with the arrival of fall, the countdown to Halloween has already begun, leaving one vital question unanswered – should trick-or-treating in this strange year be canceled?
That very question has been plaguing the households and minds of many people during this spooky season. To let the candy-collecting tradition commence, or to protect the safety of people's health and prevent the spread, that is the question. Like many questions that surround the novel coronavirus, it has no clear answer. To let the trick-or-treating tradition commence would be a high risk, but outdoor activities are generally safer than indoor ones, so what is the solution?
The first step is to determine the risk of infection within the trick-or-treating target neighborhood. Familiarizing oneself with the environment can help to lessen the risk of spreading infection by steering clear of high-risk areas. Though it is true that the risk is lower for outdoor trick-or-treat goers, the risk may be higher in smaller or crowded buildings, such as apartments, compared to spread-out homes in the suburbs. However, it is more than neighborhoods that one needs to keep in mind. Other factors that should be considered in the final decision to partake in the sweet festivities are health risks to other people around or in the household. If someone has an underlying health condition or is 65 years or older, it is important to put their health first. But these are just the risks of the environment, so what should parents and children be doing to ensure the safety of themselves and to limit the spread of infection if they do decide to trick-or-treat?
Sticking with the current guidelines and regulations is a good place to start. Social distancing from other trick-or-treaters and avoiding congregating on or around porches is a smart move for busier candy-hotspot areas. Another idea to decrease the risk would be to incorporate masks into costumes. There are generally plenty of ways for masks to be added to costumes, and they don't all have to look so traditional. Painting a mouth with vampire teeth, for example, onto one's mask is a great way to throw a splash of Halloween spirit into this perturbing pandemic.
But not only is it up to the trick-or-treaters to stay safe – households that decide to partake in the handing out of candy may also have some things to consider. For example, handing out candy in an outdoor area can significantly reduce the risk of contact. By finding creative solutions and utilizing things such as driveways or sidewalks, the direct contact with things like doorknobs or doorbells can be drastically decreased. Providing hand-sanitizer or pre-packaging candy bags are also ways to stay safe and decrease the risk of infection.
Despite all of the concerns surrounding the virus this spooky season, there are still other hazards that parents and kids should keep in mind while on their quest for sweets. Though they may not have any relation with the coronavirus itself, watching out for traffic while crossing streets and staying on sidewalks are still important aspects to remain diligent about.
So is it completely out of the question to go prowling the streets with a pillowcase this year? No. There are many things to consider while doing so, but the adaptability of society has already been tried and tested, and it is safe to say that people have come out on top. Halloween is going to look a little different this year, but would it really be considered normal in 2020 to have it any other way?
Leave a Comment
Your donation will support the student journalists of Bismarck High School. Your contribution will allow us to purchase equipment and cover our annual website hosting costs.
About the Contributor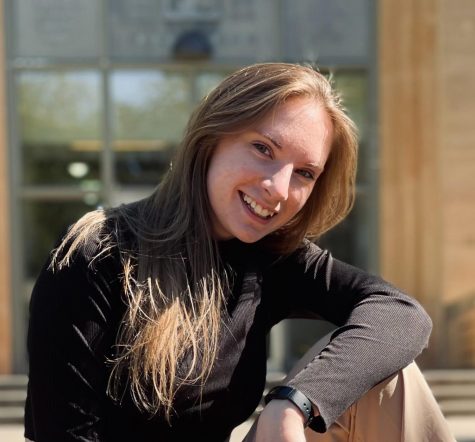 Becky Riepl, Editor-in-Chief
With a passion for the humanities, Rebecca is an art and literature-loving food aficionado. She loves to travel and try new things and is a certified knowledge...