Elementary goes back in-person
Children, and particularly those in elementary school, have a unique perspective on the changes occurring due to the pandemic. One of the most significant of these recent changes is their transition back to full in-person learning.
Masks still cover young mouths and noses in Melody Alme's fourth-grade classroom at Prairie Rose Elementary, but nearly every desk is filled. After about two months of completely distanced learning and one month of hybrid instruction, BPS's youngest learners are back in the classroom every day.
One fundamental difference between elementary students and those in middle and high school is that the former group cannot be left at home unattended while a parent goes to work. For many families, the solution to this involved sending their children to daycare on distance learning days, where they were exposed to more of their potentially infectious peers.
"He was going to the school two days a week, and two days a week he was at daycare. Who knows how many people he was exposed to there?  Times that by how many kids there were at the school," Alayna Gottsman, the mother of Solheim first-grader Olin Gottsman, said. "On their off days, what are they doing, and how many people are they exposed to? At least if they're at school, it's the same pod, per se, that they're exposed to every day."
Alayna describes how Olin's daycare would attempt to cover most of the material that would typically be included in the curriculum, but she felt that the fast pace did not allow her son to fully absorb the information. Like many parents across the country, she attempted to balance work with ensuring that her children were keeping up with their class material.
"I would work from home during the day, and so when they would come home [from daycare] in the evenings, we'd eat and kind of get ready for bed, and then we would attempt doing the distance learning," Alayna said. 
Daycare is often an added expense, which can put pressure on paychecks already strained in some situations by periods of unemployment last spring and summer.  As a result, the school board's initial decision to employ hybrid learning caused stress for some working parents of elementary school students.
"When they came out saying it was going to be a hybrid day, I broke down crying like 'I  don't know how I'm going to swing this with work and [Olin] not playing with friends all day long,'"
 Alayna said.
Parents and teachers are on education's metaphorical front lines during the pandemic. Their lives, and sometimes their expenses, are directly influenced by the school board's decisions, but many additional factors must also be considered when switching fundamental education plans. Of these factors, the engagement of students is among the most important.
"You still have the five that really got into [an assignment], the five that did so-so, the couple that clicked it that they said they did it, so that was the accountability. You didn't know if they actually did some of their things at home," Alme said.
In addition, Alme described that it was more difficult to recognize a lack of comprehension in an online learning situation. Elementary school students are often less able or comfortable to email a teacher to ask for help, and on top of that, facial expressions and body language indicative of confusion were difficult to notice on Google Meets.
"I was very adamant that their camera was on, but how did you know that they were still hearing me and understanding me?" Alme said.
Different elementary classes across the district had different plans for the frequency and amount of time they would meet virtually. Sometimes the length of these meetings would strain childrens' attention spans.
"[Olin] was jumping up and down and trying to pay attention as much as he could, but that was pretty difficult," Alayna said.
In addition to the challenge presented by listening and learning from a teacher on a screen, some elementary-age students were not equipped with the technical know-how to perform basic tasks critical to online learning. These skills might include taking and uploading a picture of an assignment and effectively using a mouse pad, among many others.
"[Olin's] password is his lunch number, and on our home computer, capital 'O' is part of the password. He couldn't get that figured out because he doesn't know how to do shift to make a letter capital," Alayna said.
A question asked frequently during distance learning last spring was whether students of all ages could learn as effectively from a digital image as they could when they interacted with their teacher in-person. Even though older elementary students were more ready to use the technology itself for online learning both during full-distance and hybrid, not physically being in the classroom this past spring hurt test scores for all elementary ages. 
"I believe the upper grades were more successful [with online learning], and our data is even showing that," Alme said. "When the beginning of the year data showed up, our third, fourth and fifth-grade test scores weren't looking as bad as our kindergarten, first [and] second."
However, from an elementary student's perspective, there are some benefits for distance or hybrid learning.
"At home, I liked doing it online, but when I'm at school it's just like I'm too tired to do anything," Solheim fourth-grader Katelyn Wright said. "I have a lot of tests now that I'm back in school. In hybrid, we didn't get tested on anything. We only got graded."
Another benefit cited for the hybrid program was that classes were quieter. Teachers were able to offer more one-on-one attention to individual students while they were in the classroom, which allowed them to better get to know students before the transition to full face-to-face learning.
"I like [hybrid] because then it's more peaceful," Olin said.
In an attempt to allow teachers to be more attentive to their students during hybrid learning in September, BPS arranged for videos to be made of the topics covered on online days. This way, the teachers could focus more of their attention on the activities that their students would complete on in-person school days.
"I think BPS was very proactive. They started right away last spring, setting up these learning boards and putting out that there's going to be the hybrid and the distance learning," Alme said. "[They were] getting resources ready for teachers so that we weren't having to make all the videos of the learning, which is time-saving because they're doing it."
Despite having video lessons pre-made or selected for their students on their off days, teachers were not available for their online students if they had questions on the videos, which differed from last spring in full-distance learning. Instead, in hybrid, teachers were busy engaging with their in-person students.
"This year, the challenge with the hybrid [was that] I wasn't available for my students at home," Alme said. "I put the learning on the board, but if they were struggling with it, who are they going to ask to help? They emailed me, so during lunch, I'd try to get ahold of them. Whereas last spring, I  had three hours and I left the meeting open."
In-person or online, all BPS schools are taking precautions to ensure that their students are safe. When possible, items that are typically shared among students have been divided into individual sets or abandoned altogether, and physical contact has been discouraged, even at recess.
"I miss not wearing masks and touching other people, like playing tag," Olin said.
Overall, each learning plan has benefits and challenges, all of which were taken into account by the school board when deciding how to proceed with education this fall. "The new normal" is a phrase being thrown around in the news and on social media, but frequent changes in educational plans – and daily routines in general – make this 'normal' difficult to define. In their increasingly confusing world, school may act as a source of normalcy for elementary-age children.
"We were so scared that they were so emotionally distraught at home, but I think they were looking for a normal life," Alme said.
From a child's perspective, one of the most obvious changes in their daily life is the cloth or plastic face covering that they now wear in public, as well as at school when social distancing cannot be maintained. 
"We need to wear masks. All the time we need to wear masks until the coronavirus is done," Olin said. "[I get] kind of worried if my mask's beads are at the way end [because then] it will fall off. Good thing I know how to tie and untie it."
From birth, the human brain is trained to recognize faces, which is a connection that masks, by nature, disrupt. It can be hard for a younger child to describe in words exactly what it is like to see only the upper portion of a classmate's or teacher's face, but time will tell whether this has a significant impact on their learning and social growth.
"For some reason, I don't know [why it makes me feel bad]," Olin said. "It's hard to recognize them."
Forming connections with classmates and teachers is a vital aspect of education, especially during elementary school when children are making great strides in their social-emotional skills. In the era of masks and social distancing, unique approaches may be required to develop these skills.
"Corona makes it hard to bond with all of my classmates, " Wright said. 
The long-term impacts of online education- and the pandemic in general – remain to be seen. For now, finding a normal – whether it is a new normal or even a 'fake' normal – is perhaps the best coping strategy for coping with the sweeping changes taking place in education and everyday life. 
"I think you have to keep on living, and we try to make life as normal as possible for the kids," Alayna said. "I'm sure they notice because they're pretty perceptive that something is different, but as you can kind of tell, they don't know exactly what it is."
Leave a Comment
Your donation will support the student journalists of Bismarck High School. Your contribution will allow us to purchase equipment and cover our annual website hosting costs.
About the Contributor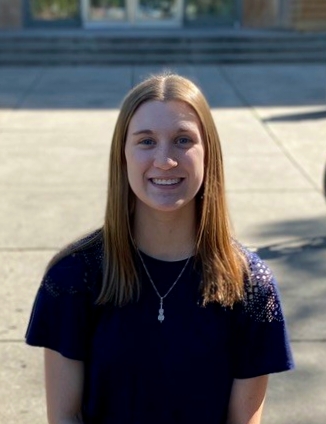 Mackenzie Swenson, Co-Editor
When she is not living and breathing schoolwork, Mackenzie enjoys playing the cello and working at North Dakota's only science museum. Her seemingly unrelated...