New talent leads to new hope
This year's BHS girls cross country team heads into state with full confidence. Fresh new talent on the team has led them to a successful season.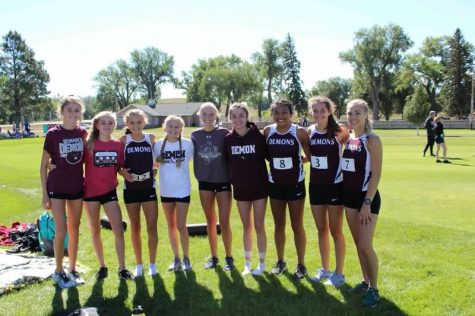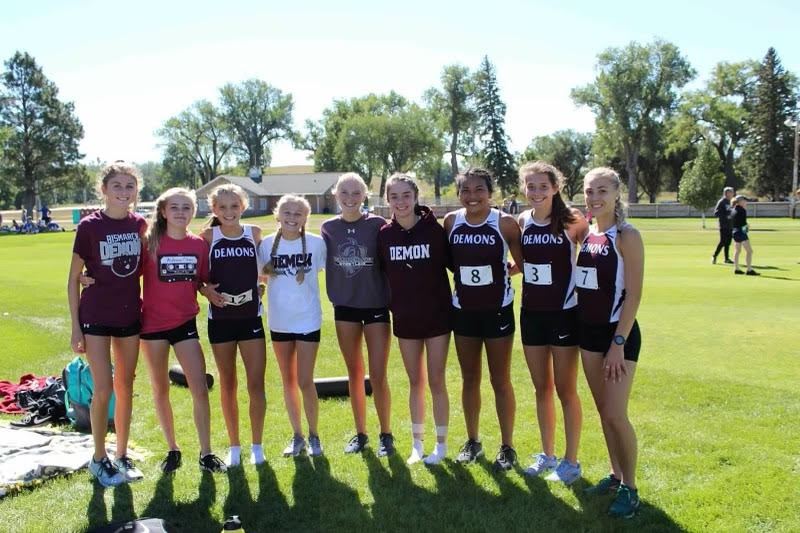 The BHS girls cross country team has had a pretty successful season thus far. Despite concerns of COVID-19, they have been making the most out of the opportunities they have been given. After an unsuccessful season last year, new talent has joined the team and underclassmen have almost filled the varsity team. With more leadership and hard work the Demons have had a way better season than last year.
This season, they won five out of their seven meets. The team was ranked third going into WDA (Western Dakota Association) and ended up taking second and losing the title by one point. The team's main priority  this year was to make individual goals and by so many of the girls reaching them, they have been more successful. 
"Our team has been doing amazing this year, whether it be at meets or at practice," freshman Bayla Weigel said. ¨We always come to practice with a purpose and we are always inspiring and supportive towards others. We are doing better than last year because we all set individual goals for ourselves and we are working to accomplish them daily."
The seniors on the team had a goal of being better leaders. They felt a lack of leadership in past years, and wanted to be helpful and supportive of the rest of their team. They wanted there to be a good team dynamic and make the team a family.
"Our team all shares the common goal of winning and improving," senior Jilee Golus said. "We're all so close and everyone always gets along. We have such a great team and the girls are so fun to be around. There are also so many talented girls which makes the meets and practices so much fun."
This year the team has been dominated by underclassmen. Four out of the five top runners are freshman and under. With all of these new members the team has improved tremendously since last year.
¨Our team likes to joke around, but we work hard at the same time," Weigel said. ¨We encourage each other to get better, and to show up to practice with a purpose. We are always supportive and inspiring towards others.¨
Taya Fettig is the only eighth grader on the team, and she runs varsity. She has been in cross country since third grade and has been a great addition to the team this year. She is a very good example of the young talent their team has. Fettig's goal is to get her personal record at state and place in the top 15. After high school, she plans to hopefully continue her cross country career in college.
"I feel like I have done very good this season," Fettig said. I have been improving week by week. I set many goals this season and I have been working hard to achieve each one. I am proud of how much I have improved from last year and how far I've come."
Despite the flood of underclassmen on the team, Golus still holds the top runner spot. She has been an important member of the team for years and is hoping to win a state title. Last year at state, she made it on the podium and plans to do it again. She has learned a lot from being in cross country and is grateful she gets to have a season despite the state the world is in.
¨The biggest thing I have learned from being in cross country is don't take any day for granted because before you know it, it's over,¨ Golus said. ¨That sounds cliche, but it's true. The season goes by so fast, but along the way everybody gets so close. I've made so many friends from cross country and have become close with my coaches. Cross country has taught me how to keep pushing through the pain of a run or even events in life, and to never give up.¨
Taking second at WDA gave high hope to the girls for state. With them continuing to practice and training everyday they feel confident in themselves and their team heading into their last meet.
"Since my first ever state meet in eighth grade to where we are now, this is the best team I have been a part of," Golus said. "We came into the year not knowing what to expect, just for us to go out and win our very first meet. And from each meet onto the next we have improved. We have a high potential to win state, and that's our goal for the end of the season.¨