Demon Spotlight – Katelyn Vogel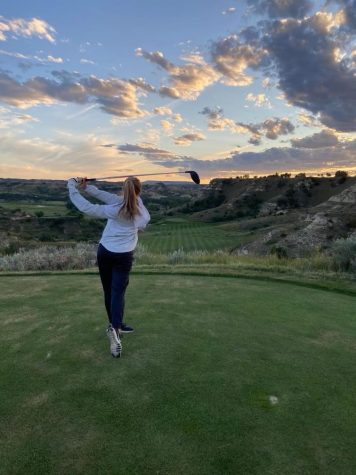 Katelyn Vogel is a junior on the girls golf team. She was one of the girls top golfers this year and helped lead the Demons to the state tournament. Vogel was a large part of the Demons' success even though she started golfing considerably late. 
"I started golf my freshman year and had never held a club before that," Vogel said.
Vogel loves the sport of golf and getting to play everyday, but like every sport golf has some challenges.
"I do not like playing in bad weather conditions and being in the sand trap," Vogel said.
Vogel has things she especially like about the sport whether it is meeting new people or having fun with friends she already knows.
"I like meeting new people in tournaments and having fun golfing with my friends on the team," Vogel said. 
She has worked very hard this season and has done her best to be on top of her game at all times. She works hard at practice and tries to master the skill set of golf. 
"I practice on the driving rangeland putt to get the speed of the greens," Vogel said.
Vogel knows what it takes to be successful in this sport and knows the sport of golf has a lot of ups and downs along the way, but she will keep working so she will hopefully have more ups than downs.
"Golf can be rewarding but frustrating at times, it takes a lot of practice and is very time consuming," Vogel said. 
Vogel will continue to work her hardest and hopes to be even more successful next year, which will be her final year of golf at BHS. Vogel does not want her golf career to end next year however, she would like to keep her love of the game going after high school.
"I hope to keep improving for next year and possibly get a college scholarship," Vogel said.