A Heartbreaking End
The BHS football team faced many aspects of adversity this season. They battled through it all, and had a chance to make the state championship game but they ultimately came up short of their goal.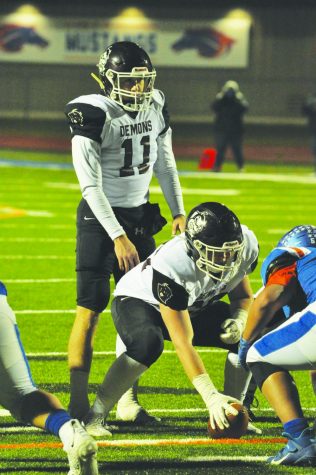 Bismarck High football has a long standing tradition of success over the past 20 years. During that time period, BHS has won six state championships and made 12 title game appearances. This year's football team wanted to implement the same success.
The 2020 football team entered the "AAA" playoffs with a 6-1 record and represented the WDA (Western Dakota Association) with the #2 seed. There was a lot of worry coming into the playoffs with the loss of All-State running back Isaiah Huus, whose season was cut short due to a knee injury. 
"I had surgery back in May after wrestling to remove my bursa sac because it was inflamed and super swollen and the fluid wouldn't drain," Huus said. "After surgery it just never healed 100% and I still had some problems. During football it kept swelling a bit and just got worse and worse. During the Legacy game, I busted the knee open a bit where it kept bleeding and draining fluid out. I needed surgery this time because the knee got infected with Staph."
After the final regular season game versus Century, Huus knew something serious was wrong with his knee and that his season going forward could be in jeopardy. 
"After that game I went to practice Monday and morning lifting on Tuesday," Huus said. On Tuesday though, my whole body and knee hurt pretty bad and I felt sorta off. The whole day I had body aches, a headache and the chills. I went to practice, and I saw Alicia Wells (Head Athletic Trainer at BHS). I had a temperature of 102, so she suggested that I go to the ER after seeing my knee got red and was warm indicating an infection."
When Huus went to the emergency room, the doctors soon agreed that something was wrong with his knee, and that his football season was over.
"At the ER they said the knee was for sure infected," Huus said. "A doctor came in and we asked if I could get on a pill for the infection so I could still play that Friday versus West Fargo and he said yes. Minutes later though, the surgeon came in and told me I had to be admitted into the hospital and would need surgery in the morning. Hearing that news was absolutely heartbreaking, and having to text the team that I wouldn't be able to play and be on the field with them the rest of the season was very hard."
With Huus being out for the rest of the season. This made a lot of people doubt the Demons chances moving forward in the playoffs. The players though, had a lot of confidence in the Demons back-up running back, senior Lucas Miller. 
"When we heard Huus was done for the year it we were more shocked than anything," senior Gunner Swanson said. "But we had lots of confidence in Miller, so we still thought we had a good chance."
BHS matched up with West Fargo in the first round of the playoffs. The Demons, who lost to West Fargo last year in the quarterfinals, were looking for redemption this time around.
"In our first playoff game against West Fargo we obviously had some unfinished business from last year," senior Center Cade Casey said. "Not having Huus and coming off a loss didn't make it any easier, but we knew we were still a good team so we just went out and played hard and ended up winning the game."
BHS did just that, but it did not come easy. West Fargo scored a 75 yard touchdown with 1:19 remaining in the game to cut BHS's lead to 21-20. That was where senior Jack Steckler became a hero. Steckler blocked the ensuing extra point to clinch the 21-20 victory for the Demons, and send them to the state semifinals. 
"The last play in the West Fargo game felt like it was going in slow motion," Casey said. "When I saw Jack block that kick I got so excited because I knew the game was over. After the game the team was so happy that we won because we knew we still had another week."
The Demons had to refocus on the next challenge ahead, and it would be a very big one. BHS took on the undefeated EDC (Eastern Dakota Conference) champions West Fargo Sheyenne in the semifinals. 
"We had a great week of practice, and we still had plenty of confidence going into the West Fargo Sheyenne, even with all the injuries," Casey said.
It was a back and forth game, and BHS took a huge advantage in the fourth quarter. The Demons scored a touchdown to take a 21-20 lead with 6:31 left in the game. At this point, BHS needed one stop to clinch the game, and a spot in the state championship game.
"I was just worried there was too much time left on the clock for them to score," BHS Head Coach Mark Gibson said. "We had problems stopping them all night and I was just hoping we could make one stop."
BHS failed to do this as Sheyenne drove down the field and scored with only 1:46 remaining in the game. The Demons tried to mount the comeback, but it fell short as BHS was intercepted with seconds left. The season was over. 
"The loss was tough," Steckler said. "The thought of never playing for Bismarck High with your best friends again, and not accomplishing what you ultimately wanted to do was the hardest part."
The Demons went to the end of the field in the end zone where they had their final meeting together of the season. It was also very hard because this would be the last time Coach Gibson would be coaching his seniors.
"I don't remember exactly what was said because it is a very difficult and emotional time," Gibson said. "I know they played hard and that is all you want them to do. Sometimes you don't need to win the title to have the sense that you did everything in your power, but it just wasn't good enough."
The boys made their way to the locker room, as they all sat in silence after the realization that their season was over. Many say this is always the hardest part of the season. 
"After the game everyone was heart broken in the locker room," Casey said. "There was a lot of crying and hugging. It was an emotional time for all of us. The feeling after the loss was the worst feeling I've experienced. Knowing that was the last time I'd be playing football with my best friends made it hard to accept. I was proud of my team for playing hard though."
Even though the boys did not accomplish their ultimate goal of winning a state championship, they will always remember all the moments they had together. 
"I will always remember this team for having the most heart I have ever seen," Steckler said. "We were undersized and overlooked countless times. The guys were resilient and always continued to fight back. Everyone gave their max effort everyday and that is something I will never forget."
The Demons describe the team bond as a brotherhood, and they have accomplished many things in their four years together. This group went undefeated their freshman season, and were a part of the 2018 team, who won the "AAA" state championship.
"The past four years have been the best time of my life," Steckler said. "I will certainly miss the practices, games, bus rides, team meals, bonfires and so many more things we did as a team. Having teammates who all feel like brothers to you is such a blessing and something I will forever be thankful for."
This is a tough time for the coaches as well. They put a lot of extra time and effort into this team, and it is very disappointing when things do not turn out the way they wanted. This senior class will always hold a special place in Gibson's heart.
"For the first time in a long time these kids made practice enjoyable," Gibson said. "Many teams I had the feeling that the players were tired of practicing, and just wanted to play the games. This group enjoyed the film sessions, weights and practices in general. This group will be successful in the game of life, regardless of what trophy you may or may not win. That is what coaching is all about. Our future is very bright with this group going forward and making contributions to society."
As the 2021 class exists out of the Bismarck High football program, they want to let the younger generations know to always appreciate their time because it goes very fast.
"Your time at Bismarck High is limited," Steckler said. "Four years may seem like a long time but really it goes by super fast. Cherish every moment you have with your teammates and coaches and always give your max effort."