The Race to Nationals
BHS sophomore Kaleb Marshall is making a name for himself in the sport of BMX as he heads to nationals in Oklahoma.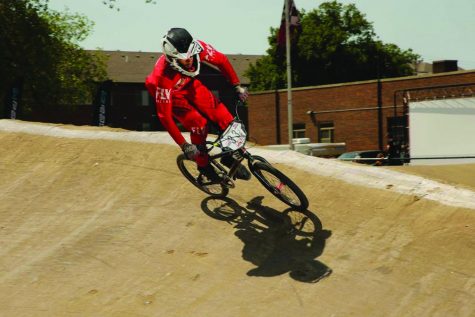 BHS sophomore Kaleb Marshall has been doing BMX (Bicycle Motor Cross) for only two years, but has already proved he belongs with the best as he has qualified for a national tournament that will be held in Tulsa, Oklahoma. 
Marshall's interest in BMX stemmed from him always biking around town. He takes his bike wherever he goes and uses it to get around town.
"I started BMX last year," Marshall said. "I wanted to try it because I always rode my bike around town and everywhere I went I rode my bike," Marshall said.
A national event in BMX is not something that you can join, Marshall had to win or place high enough in qualifying events to be able to be invited to nationals.
"I knew that this year was a great year considering I won three national qualifying races," Marshall said.
For those who do not know BMX is an organized bicycle racing competition on a dirt track. They use pedal bikes and no motors. Marshall likes to use a special bike in particular.
"I use a Haro pro XL and I ride a Redline cruiser and I recently bought a Carbon fiber Supercross Pro XL," Marshall said. 
As of now practice is over for BMX in Bismarck, but usually Marshall practices every Tuesday and enjoys the competition and hanging out with friends.
"My favorite part about BMX is getting to ride with my friends and having a great competition," Marshall said.
One of those friends is sophomore Liv Butler, who is also a BMX racer. She is teammates with Marshall, and they have gotten to know each other through their sport as they became friends and also teammates.
"I got to know Bear through BMX racing," Butler said. "We became friends when he started traveling with our group to bigger races."  
Butler and Marshall love to have a good time on the race track and can be found joking around with each other. They both like to have fun, but they also like to compete. In local races they are no longer teammates, but competitors against one another.
"At local races, we are opponents because I sign up to race in the boys division because there are no other girls that are my age and proficiency level for me to race." Butler said. "I think that [Marshall's] biggest strength is his speed."
Butler is proud of her friend for being able to get the opportunity to compete on a national scale. She thinks he has a good chance to do well and is wishing her teammate the best.
"The type of national that he is going to is insanely large. I think that being an intermediate, he has a very good chance at making the top 8 in his group, I wish him luck," Butler said.
Marshall is grateful at the opportunity that has arised. He cannot wait to show what he has got at nationals. His goal is top place top five as he knows the competition will be tough.
"I'm pretty excited about it," Marshall said.
Marshall wants others to try out BMX because if he never gave it a try he never would have found the sport he now loves. He encourages people that are interested to come watch and give it a chance.
"People should definitely check it out and try it, and if you like it then you could make a hobby out of it like I do," Marshall said.