Silver Key recipient
August Grosz, a sophomore at Bismarck High School won a Silver Key at the Scholastic Art and Writing Awards.
The Scholastic Art and Writing Awards are a set of awards given to students all over the United States, although Grosz won an award in the North Dakota Student Art Region. The awards ceremony was in Fargo on March 15 and people in grades 7-12 or 13 years of age and up were allowed to participate. She chose to submit poetry, although there was an array of art categories. Grosz, along with many of her friends and family, is very proud of this award. 
When asked who went to the awards ceremony and supported them, Grosz responded with "my therapist, BHS English teacher Amanda Nelson, my grandparents, my uncles [and] my parents."
Grosz has been writing for as long as she can remember and has used it as a coping mechanism. She recently started uploading her poetry online so that others could read it and possibly relate, although her ultimate goal as a writer is to publish a material book of her poetry. 
"I want to publish a book so people know that what happened to them isn't their defining characteristic and that you can make art out of pain if you want to," Grosz said.
Nelson was the one who pushed for Grosz to get their writing out there and then to sign up for the contest. With Nelson, Grosz won the award and was recognized as an artist by many people. Although they still have a long way to go in order to meet their goals, they are trying their best to get there someday. 
"I have been writing since I could hold a pencil and read," Grosz said. "I've wanted to try and reach out to the rest of the world with some of the things I have been through."
Grosz decided to start uploading her poetry online because she thought it could help others. She never really felt represented and this was a good way to get that representation out there while also bringing awareness to some of these tough subjects.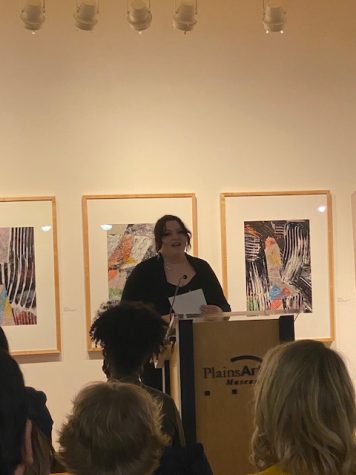 "I was the weird kid and I never saw myself represented in mainstream media whether that was literature or TV shows or movies. I wanted to be represented truly because nobody understands what it's like to, you know, feel so sad at such a young age," Grosz said.
Overall, Grosz wanted to get her art and poems out there, in the public for people to read. She wanted people to be able to read her poetry and to feel something, or even just to relate to it, or to share it with someone who might relate and find comfort in their words.
"That's the only reason I am here today. It's because I know that me, sharing my stories, could impact other depressed teenagers and I think mainstream poetry talks a lot about the traditional heartbreak and losing somebody you love but nobody talks about being the gay fat kid and what it feels like to lose somebody you care about to suicide in such formative years of your life," Grosz said.
Leave a Comment
Your donation will support the student journalists of Bismarck High School. Your contribution will allow us to purchase equipment and cover our annual website hosting costs.
About the Contributor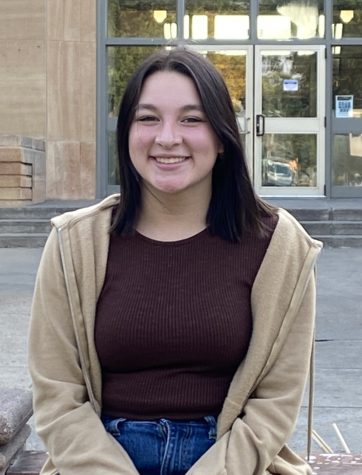 Hannah Sarkilahti, Assistant Editor
Hannah is a very outgoing person. She likes to write poetry, drink coffee, and go on walks with her dog.