Keeping the faith
BHS English teacher Kathleen Lord-Olson started an early-morning prayer group in her classroom this year.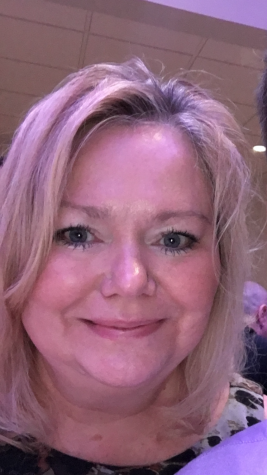 For some students and staff at BHS, being able to pray is an important part of life. Because of that, Lord-Olson started a prayer group in the hopes of strengthening the faith of others.
She decided to do this after talking with the parents of BHS freshman Ty Macdonald and BHS senior Jayden Macdonald. They had heard her mention prayer in graduation speeches and talked to her about the possibility of starting a prayer group of BHS.
"I've always been deeply connected to Christianity," Lord-Olson said. "I didn't realize how passionate students are about faith and prayer until we began our first prayer session."
From there, Jayden and Lord-Olson decided to start the prayer group this year – one where all students and staff are welcome. Jayden was able to spread the word to his peers about this new group so people would show up. When the first session began last February, Lord-Olson enjoyed seeing young people come to her room to better understand God's word.
"We get so caught up in our daily routine," BHS junior Danielle Harrington said. "This study helps break your routine and challenges you to be different."
To keep control and flow of the discussions, Lord-Olson appointed Jayden, Ty and Harrington to be student leaders of the group this year.
"We try to keep the leadership to the group as a whole, but you always need those people to help lead the group in the right direction," Harrington said.
Before school was suspended, the group met Tuesday mornings, and each session lasted from 7:40 to around 8:15 to allow for students to get to their first period. Although not many people have been present thus far, those who have come feel relaxed to talk about the Bible with others.
"I believe the most we have had in one sitting is eight, and it is such a low-key, comfortable group, so all are welcome," Lord-Olson said.
In each session, the group goes over a particular section in the Bible, analyzing both what the words meant at the time and how it can be applied to everyday life. Being an English teacher, Lord-Olson was amazed by how much the students were able to break down.
"I love that I am the student in each session, and the incredible knowledge that the teens provide is well beyond their ages," Lord-Olson said.
The session then ends with a prayer. People can choose to pray aloud for whatever they wish, be it for themselves, their peers, the school or the world.
"This is just really cool to me that we can, as a school, acknowledge that He is at work, is [in] our lives and is always with us," Ty said.
These sessions can allow some to walk out with better clarity. Ty in particular enjoyed coming to the prayer group each week because it helps him better take focus off of himself.
"It puts things back into a different perspective," Ty said. "Instead of seeing things through a worldly view, it helps me to see the world a little more how God does."
Harrington believes having faith is important because it can help give meaning to one's life.
"Having faith gives you a reason to live and a hope for tomorrow," Harrington said. "It is your choice to believe, but it is always good to see what others believe."
In addition, the group encourages anyone who is curious about the Bible and of Christian faith to come – even if they are not Christians themselves.
"We would be happy to see anyone interested come in and see what it is all about," Jayden said.
Even if their time together may have been cut short, Lord-Olson is still grateful to have had the chance to try the prayer group this year. She encourages any and all students and staff to come listen and discuss – if and when school starts back up.
"All who join us will experience peace and positivity," Lord-Olson said. "How much better can a start to a day be?"
Although there may be many issues in the world, because of this group, these people feel stronger in faith and hope that it will help get them through the more difficult trials ahead in life.
"Having faith gives people something constant to lean into, whether they are going through a global pandemic or a more personal struggle," Jayden said.