Making a difference at lunchtime
Due to recent circumstances, Bismarck High School, along with other Bismarck Public Schools, have been giving free meals for families in need.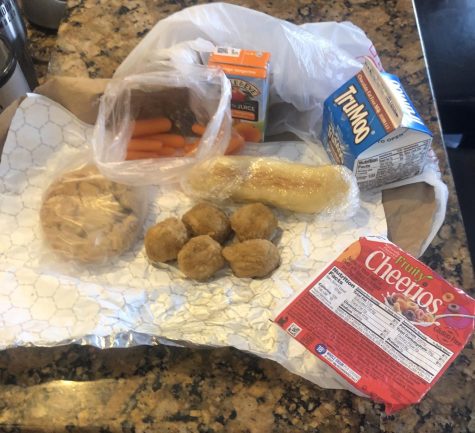 Over the past month, social distancing has affected how many people live in several ways. Since nonessential businesses have been closed, for plenty, it has become harder to have enough money to eat each day. Fortunately, schools across the country, including the BPS district, have been able to help people by giving out free meals.
This service has been backed by the USDA in order to keep students fed each day – especially those who normally depend on eating school-provided lunches. Since BPS already gives out free meals each summer, the district has been able to give food in a similar fashion.
"For some students, this is the only meal they receive during the day, so it's important to continue to provide nutrition," BPS Food Service Director Michelle Wagner said.
Thus, over the course of the pandemic, several schools across the city have been giving out bags of food items, to those who come to school grounds on weekdays. On average, the BPS district has handed out 4400 meals per day, and Bismarck High School in particular has handed out an average of 200 meals each day at the entrance on 8th street.
"I can appreciate how much it means to them to get food for their families and keep the children fed," BHS aide LeAnn Wilson said.
On weekdays from 11:30 a.m. to 12:30 p.m., people can pull up to the BHS entrance and receive meals without having to get out of their cars. Typically, there are two to three people present each day to speed along the process, but when the service was first implemented, Wilson was the only one present to hand out the food. Even as more people come to help, she has continued to hand out meals each day since. 
"I wanted to stay connected to people," Wilson said. "Decisions hadn't been made about Long Distance Learning, and being an hourly staff person, I wanted a little bit of income."
Much is done to ensure that food can be properly given. The child nutrition department is in charge of choosing and ordering the meals for each day. From there, the school kitchen staff has to prepare the meals from the provided food, package them accordingly and place them on rolling carts for distribution.
"It takes a lot of planning to completely upend an operation," Wagner said. "We've fine-tuned our operation and continue to make improvements as we go along."
Each of these bags will usually contain two balanced meals – one being breakfast, the other meant for lunch. For breakfast, there is normally a grain item and fruit cup, fruit juice or vegetable, while a typical lunch will contain one ounce of grains, two ounces of meat or a meat equivalent, half a cup worth of fruits and vegetables and an eight-ounce carton of milk – which is usually chocolate.
"The kids really like that, because maybe they generally don't get that at home," Wilson said.
Over the last month, various parts of this system have been constantly improved and optimized in order for people to more easily receive each meal. For instance, at first, the meals were placed in brown paper bags, but the school would later switch to plastic due to the material's benefits.
"It didn't take long to figure out that with plastic bags, breakfast and lunch could be placed together with the milk and it would be much easier for the kitchen staff, the distributors and for the families themselves," Wilson said.
Plus, as more people have been able to help out with delivering meals, the process has become more systematic.
"We have established a routine or system to keep vehicles moving," Wilson said. "One person tallies the meals we've handed out, while two of us gather the meals and greet the driver of the vehicle."
Those ordering food for others have been advised to bring their own container to transport multiple meals. This way, meals can be given with as little interaction as possible so social distancing can be maintained.
"It is quicker for us as well as easier to get large orders to the vehicle than the family getting the meals into their home," Wilson said.
As Wilson greets the incoming people each day, she has come to expect and enjoy seeing the familiar smiles of people who keep coming to the school.
"I am saddened that so many people who are out and about won't make eye contact, so I try to get them to smile too," Wilson said.
As the pandemic continues on, Wagner can take solace in knowing that schools across the district, along with much of the nation, have been able to help the students in need.
"We know that many students rely on our meals," Wagner said. "It feels good to know we are able to help families during this crisis."
Meals will continue to be distributed by BPS schools each day around noon for as long as the pandemic goes on in Bismarck. Though it may be difficult, Wilson believes the people of this community can get through these tough times together.
"People from North Dakota are wonderfully strong people who face adversity head on," Wilson said. "They don't just identify the problem, they find a way to make a solution possible."