Bringing the community together again
The prominent community event comes back for its 47th year with adjustments to keep visitors safe during the COVID-19 pandemic.
On September 18th and 19th, the Downtown Business Association of Bismarck hosted its 47th Street Fair. The fair is a combination of arts, craft and food. Vendors from across the city and state participate in the 2-day event where they display their products. In past years, the event has seen 60,000 to 70,000 patrons.
Although, with the circumstances of COVID-19, those numbers might not be the same. Nevertheless, the fair will still commence with safety protocols, such as no tables or chairs, children's bouncy games or live music. The amount of vendors has also been reduced, and they will also be spaced out at each booth at a safe distance. Attendees will be "highly encouraged to wear masks."
"I don't know that it's a limitation," CEO of the Downtown Business Association of Bismarck Dawn Kopp said. "I think basically it's just another experience. Since COVID-19 affects everybody, this is one way or another a different type of experience than we've ever seen before." 
With people quarantining, COVID-19 has had a negative effect on local business and their sales. Businesses have and will continue to try and make the best of a rough year. Furthermore, the Street Fair provides a possible outlet for businesses to sell their products to visitors.
"It'll definitely increase foot traffic," Noodlezip owner Marty Lee said. "We don't know if we are even going to make money or not on this fair. Some people might, but this is our first time so there are starting up costs. At the same time, we're just having high hopes that this will carry some words [about Noodlezip] around to people." 
One of the advantages of being a vendor at the fair is being able to expand a company's brand name to visitors. Being able to market and introduce products to people who are unfamiliar is good for business. Since the fair attracts people from not only around the city but also around the state, vendors can appeal to many people in the North Dakota area. 
"I think it will help us out with possibly media exposure," Lee said. "We are trying to make the best out of our business, and participating in the Street Fair can tell out to people that we're still open." 
The Street Fair can also be a morale booster for the city of Bismarck. After most people have been isolated at their home and workplace, a change of scenery can provide people enjoyment from their everyday routine. 
"It's good for people to come together while practicing safe measures," Kopp said. "So wearing masks, social distancing, not shaking hands and giving hugs necessarily. But still being able to see and quickly chat with somebody that you haven't seen for the entire length of COVID is really good for morale."  
Some vendors have participated in the fair since its first celebration 47 years ago, but the one idea that has remained constant to today is bringing the community closer together. The weekend of the Street Fair is one that large amounts of people around the city will mark their calendars for.
"This is the type of celebration that brings so many people around our community together," Kopp said. "Sometimes this is one of the only weekends of the year that people are able to see each other."
Leave a Comment
Your donation will support the student journalists of Bismarck High School. Your contribution will allow us to purchase equipment and cover our annual website hosting costs.
About the Writer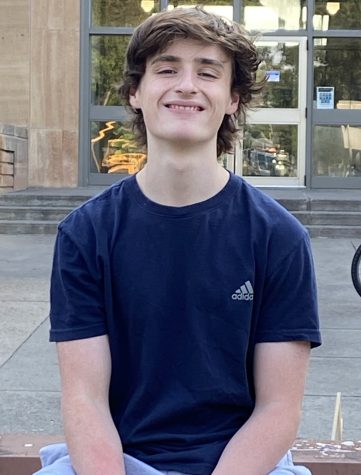 Kaden Boyer, Editor-In-Chief
Kaden likes to hang out with friends and family, and enjoys watching football in the fall.